VIVANT: Pierre Jancou's New Bistrot a Vins, B+
April 14, 2011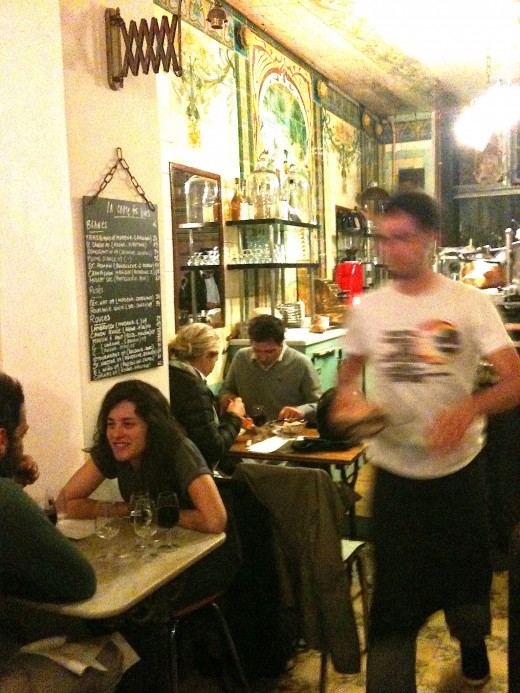 If the area around the Canal Saint Martin has been a bobo playground for several years now, there's no better proof that the 10th arrondissement around this chunk of Paris's gloriously gaudy 19th century town hall is coming on strong as a great new restaurant district than the opening of Pierre Jancou's new Vivant in a stunning beautiful shopfront on the rue des Petites Ecuries. Since the amiable Jancou, a warm smart Swiss born guy who's background is so mixed–Romanian, Swiss-German, French and Italian, that he could be an American, formerly ran the hugely popular Racines, this new spot, only open for four days but already packed to the rafters, is one of the most hotly anticipated openings in Paris this Spring.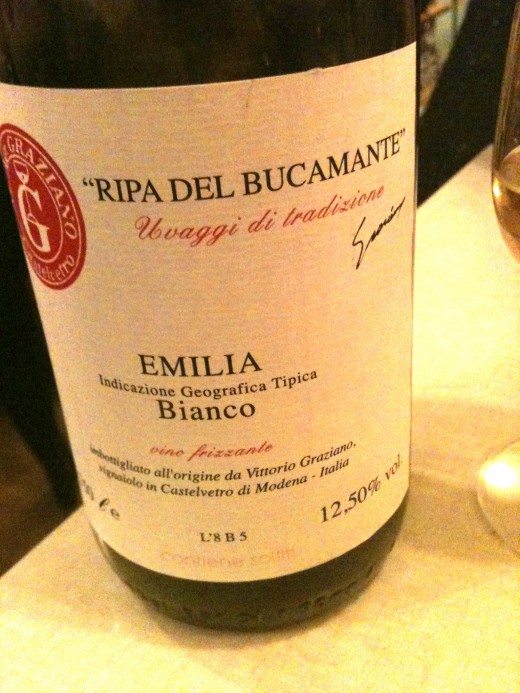 Settled into a snug table with three other Paris-based food writer pals, we began our meal with a cutting board of finely sliced prosciutto and a pleasant Emilia-Romagnan white I'd never had before (this region of Italy is generally better known for its reds than its whites), and I loved dissecting the crowd–mostly other food-mad media types, with a few hip couples from the neighborhood, and also eye-balling the magnificent art-nouveau tile work of this vest-pocket space. As Jancou explained the space to us, this gorgeous little shop had once sold birds, hence the beautiful faience renderings of different avian specimens on the walls.
Next we shared a really sublime slab of beautifully made foie gras that came with a terrific garnish of finely shaved artichokes and a few leaves of salad. Jancou was eager for us to try an Italian rose, also from Emiglia Romagna, with this dish, but alas it didn't arrive until our main courses did, and none of us liked it very much. Jancou has made a name for himself as a purveyor of organic, 'naturel' and biodynamic wines, but if I find that I love his taste in food, I'm less enthused by his wines. Happily, we were able to send the rose packing, and replaced it with a very nice bottle of Moulin a Vent, one of my favorite Beaujolais wines.
With forks flying at the table as we sampled each others dishes, it occurred to me that this new generation of Parisian bistrots a vins (Le Verre Vole and the nearby Tombe du Ciel, both reviewed on this site, and Les Fines Gueles, which I included in HUNGRY FOR PARIS) and the nearby has really picked up the slack left in the neighborhood restaurant category by the sorry demise of the traditional bistro. What Jancou serves is good, solid, carefully sourced and prepared food, with a strong feint at the Emiglia-Romagnan kitchen (He lived in Modena for a while), and this is exactly what Parisians want to eat these days, to wit, grilled slices of Zampone (a pig's trotter stuffed with minced pork) with salad and a really nicely made potato puree; I didn't order this dish, but I sampled it, and it was terrific, although I'd have loved a spoonful of Mostarda di Cremona (fruit preserved in mustard spiked syrup) to go with it.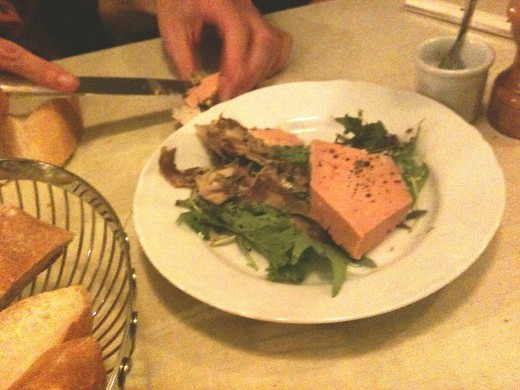 Foie gras with artichokes; Zampone with salad and potato puree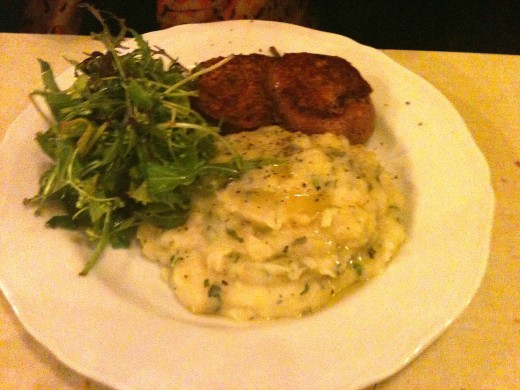 Ever in search of credible risotto in Paris, I gave Jancou the benefit of the doubt, and his was very good, with the rice cooked just past al dente and generously garnished with chopped black truffle and green asparagus tips from producer Annie Bertin, an organic vegetable farmer in the Breton town of Vendel. The plancha grilled poularde (a young hen that's been spayed for fattening) with a saute of mixed winter vegetables was delicious, too.
Over a shared plate of superb pecorino and taleggio, we fretted about whether or not we should give this still fragile young restaurant any ink. The problem, of course, is that people read about these happy, simple neighborhood places in Hong Kong and other faraway places, call in the dead of night to try and get a reservation, and arrive with inflated expectations. What Jancou has succeeded at doing is creating a delightful neighborhood restaurant, and one that real connoisseurs of Paris are likely to really enjoy. As noted, I'm not mad for the wine list, and service was very slow, but everything we ate was delicious, the venue is just beautiful, and there's a great ambience here. So what to do? Well, we asked Jancou if he wanted people writing about his new place in such early days, and he replied: "Mais bien sur!" Et donc voila, and congratulations to this talented, generous and hard-working young restauranteur for coining another wonderful new address in Paris.
Vivant, 43 rue des Petites Ecuries, 10th, Tel. 01-42-46-43-55. Metro: Chateau d'Eau or Strasbourg-Saint-Denis. Open Monday-Friday for lunch and dinner. Closed Saturday and Sunday. Average 45 Euros.