HUGO DESNOYER, Paris: The World's Best Butcher
April 16, 2011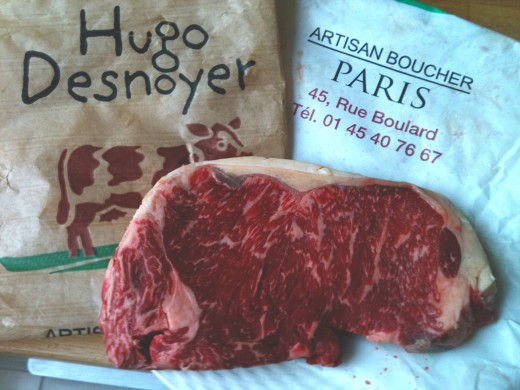 I like to think of myself as an honest man, but in Paris, there's one instance in which I am regularly unfaithful whenever the occasion arises. Most of the time I buy my meat at the Boucherie Chaptal in the rue Blanche not far from where I live in the 9th, but whenever I can persuade Bruno to make an expedition to Hugo Desnoyer's butcher shop in the deep 14th arrondissement, I throw over my local meat man in a heart beat.
Bruno hates going to Desnoyer because it's hard to find a place to park–he's the one in this couple with a car, I've never owned one in my entire life spent between a garland of huge cities like New York, London, and Paris, and even more so, because we always spend a small fortune there. So this morning I bartered a reluctant willingness to shop for new bathroom fixtures against a trip to Desnoyer, and we ran a muck. First, two faux filets of Limousin beef, then a shoulder of Lozere lamb, some veal to cook in a provencale saute, two pork chops, and a small mountain of ground beef, pork and veal to make tomorrow as part of my very favorite meat loaf recipe, James Beard's Three-Meat Meat Loaf from James Beard's American Cookery, one of my most used cook books. Oh, and at the last minute, a slice of veal terrine with pistachio, oxtail terrine, and a small tub of celeri remoulade and a small brick of Bordier butter with sel fumee (smoked salt).
Desnoyer's meat is so beautiful and the service is so good at this place–I loved it every time the butcher hefted some of the meat we'd ordered on to the counter, and muttered, "Boy, is that good," while he went about his work. Since we have a small French freezer and also try not to eat too much meat–at home, we eat a lot of fish, I'd had to restrain myself eventually. So finally our order was totted up, and Bruno gave the butcher a tip, and the whole brigade chorused a big "Merci!" together.
So then we went to buy wine, another favorite chore, did an hour and a half in the bathroom fixture shops, and raced home for lunch after buying a Moisan baguette to eat with all the terrines and the cheese I'd bought yesterday at Quatrehommes, which is conveniently located near my dentist. Bruno was a little cranky in the car, because we'd just spent a lot of money, but hey, Desnoyer supplies L'Arpege, Pierre Gagnaire, and L'Astrance, restaurants I love, but can't afford to go to very often (he also supplies Les Fines Gueles and Le Verre Volee, two of my favorite bistrots a vins), so this pricey order could actually be spun a relative bargain.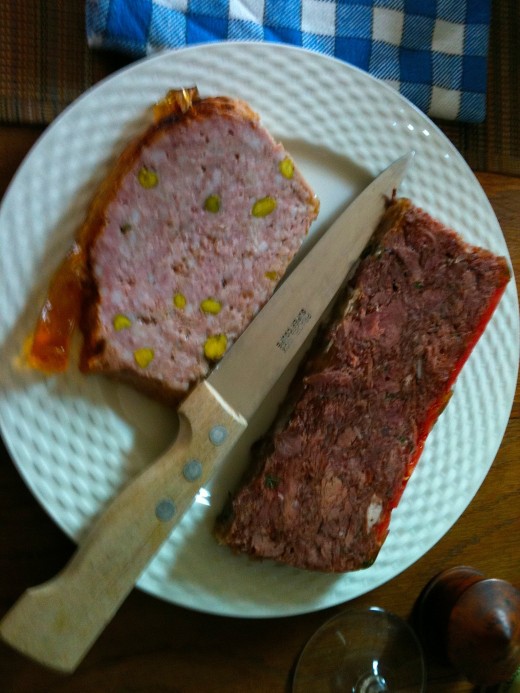 Once we sat down to eat, though, all was well in the world. The veal terrine with pistachios is superb, and the earthy oxtail terrine with a couple of cornichons is bliss, too. In fact both products are so good that they're worth tracking down as the perfect cold meal in a Paris holiday rental apartment or hotel room, or for a picnic or a train or plane meal. When I spoke with Mom in Connecticut last night, she knowingly asked me the most recurrently irritating question that she can fire my way–"When will you ever come home for good?" I told her I had no plans to leave Paris anytime soon, and she asked why. I shunned the question, but think she'd understand a lot better if she were able to sink her fangs into some of Hugo Desnoyer's meat.
Hugo Desnoyer, 45 rue Boulard, 14th, Tel. 01-45-40-76-67. Metro: Denfert-Rochereau. Closed Sunday and Monday, www.regalez-vous.com.