YAM'TCHA–A Brilliant Encore, A-
October 14, 2011
Because I avoid going out to lunch–it's lovely, but takes too much time, and five is the maximum number of dinners out that I'm willing to do during a given week, I don't get back to many Paris restaurants that I've tried and liked as often as I'd prefer. So I made an exception to my life as a shut-in during the day when my freshman roommate from college turned up unexpectedly and called to say that he had a lunch reservation at Yam'Tcha, a wonderful restaurant in one of my favorite Paris neighborhoods, which is that great stretch of ancient turf between the rue de Rivoli and Les Halles in the 1st arrondissement. Despite the fact that the destruction of Les Halles was one of the greatest urban planning disasters any major western city has ever been subjected to, these atmospheric side streets survived untouched and they heave with terrific food shopping–I'll take any excuse to buy a baguette at Julien (75 rue Saint Honore), or browse in the many great boutiques in this neighborhood.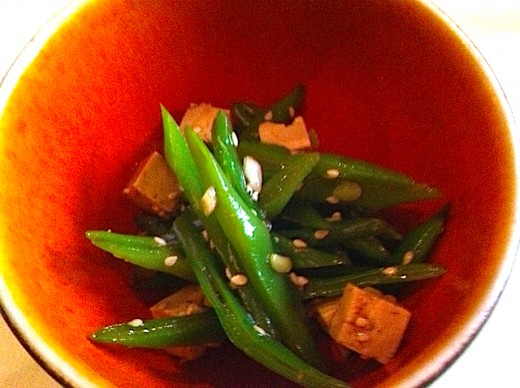 For reasons having to do with his expense account, which I benefitted from, my friend specifically asked me not to mention him by name, so I'll call him Brad and briefly state that he lives in a large East coast city and works as a money man. His real passion, however, is good food, and when we were kids in the Pioneer Valley of Western Massachusetts, he was always game to try the off-beat restaurants recommended in the local counter-culture newspaper with me, our favorite being a Polish place in Hadley that doubtless no longer exists but which made some of the best stuffed cabbage I've ever eaten. There was great pizza in Springfield, too, and a better-than-average Chinese place that we liked in Holyoke. Anyway, between white-knuckle meetings with a couple of French banks, he was rightly keen on trying Yam'Tcha during a day-trip to Paris from London, and since it's a real challenge to get a table here, I was thrilled to be dealt in on the fun.
Arriving, I'd forgotten how attractive this small shop-front place is–old beamed ceiling, exposed stone walls, a pretty Chinese panel of lotus flowers, and also was happy to see that Brad is still as handsome as he was when I was driving him crazy by playing the same Bette Midler record all the time. Since he didn't have much time, we decided on the carte-blanche lunch menu, which includes an amuse bouche, two first courses, a main, and then a choice of cheese or dessert. We also chose the tea-and-wine pairing for this meal–two different types of tea and two glasses of wine, which turned out to be an excellent decision, since the teas were superb and we drank a brilliant white Collioure, one of my favorite wines, and then an exceptionally good Bernard Grippa Saint Joseph.
As we ate our delicious amuse bouche of slivered broad beans with cubes of smoked tofu, sesame seeds and a light sesame-seed-oil dressing, I gave him the back story on delightful chef Adeline Grattard, who works with a team of three in a tiny glass enclosed kitchen just inside the front door. To wit, after cooking with Pascal Barbot at the brilliant three-star L'Astrance, she headed for Hong Kong and became intrigued by the kitchens of China. We both loved the crunchy, savory beans and the silky smoky tofu, and chatted away, with Brad mentioning that he'd run into Abigail, my freshman year girl friend after a fashion, on the street in Boston a few weeks ago. A beautiful woman from Kansas, she's now the happily married mother of four on the North Shore of Boston and doubtless still rues the day she met me, since John and his girlfriend, and the two of us created a perfect rectangle of frustrated desire for about a year. He was secretly besotted with Abigail, while I was secretly besotted with him. Abigail was very keen on me, and Brad's's girlfriend Lizzie was also carrying a quiet torch for Abigail (she's new a distinguished neurosurgeon in San Francisco).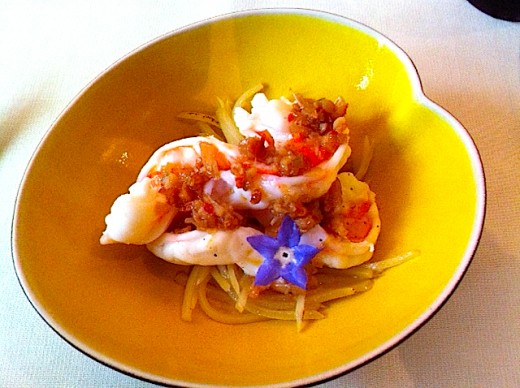 "This is wonderful food, such an interesting mixture of great French produce and Asian flavors and cooking techniques," Brad said when he tucked into our first course, crunchy shrimp (from Mozambique) in XO sauce with dried prawns on a bed of almost raw riced potatoes. I loved the mixture of textures and also the umami notes of the XO sauce and dried prawns with the sweetness of the fresh shrimp, which were served with steamed rice flour rolls.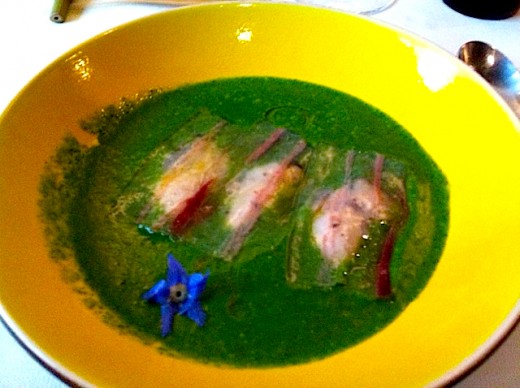 Next up, my favorite dish of this meal, a deeply vegetal and slightly peppery watercress veloute with oysters topped by nearly transparent slices of Bigorre pork. Here, Grattard stayed true to her Burgundian roots, and the soup was also a nice pause from the Asian palate. "You know what's great about this food? It's inventive without being gimmicky or silly," said Brad, and I agreed. Grattard's cooking is deeply personal, gently creative, and unfailingly delicious.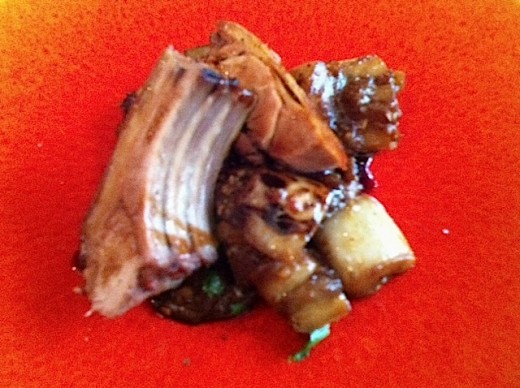 "You know, I always knew that you liked me," Brad said when our main course, wok-sauteed Bigorre pork with Japanese eggplant in a light soy based sauce with microplaned garlic and ginger arrived. "It was sort of weirdly flattering," he added. I decided a Cheshire cat's grin was the best response. "Of course, now with my little paunch and graying hair, I'm sure I've lost whatever appeal I had in those days…." Bemused, I reassured him that he was wrong, and we dug into the pork–a succulent little rack of ribs and a chunk of filet with a crispy golden skin. It was delicious.
"Do you remember the time we went to that party at Wellsley where I smoked pot for the only time in my life and had a panic attack?" I'd never forget it. "You were a really good friend, I mean you could have just dumped me, but you took me outside for some fresh air and I calmed down, and the next day we met my parents and ate lobsters at Anthony's Pier Four." Yikes, memories of that frosty pair from Philadelphia's main line were not going to distract me from nettle-flavored Gouda with hot toast, a perfect conclusion to this meal with a last slug of Saint Joseph.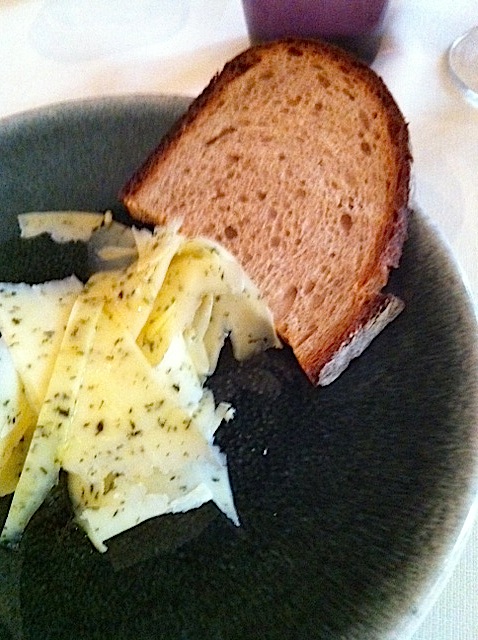 Brad preferred dessert, a perfectly ripe Brazilian mango garnished with blanc-manger, raspberries and passionfruit seeds under a pane of brown sugar, which was served with jasmine scented green tea.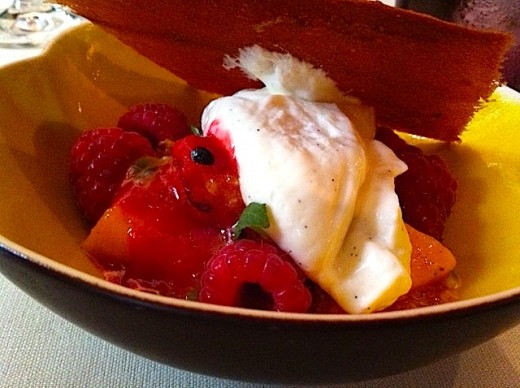 "What a wonderful meal," he said once we'd paid up, and he was enjoying a cigar on the sidewalk outside. And it was indeed an excellent lunch, and one much abetted by really good service. "I can't think of a better basis for a life-long friendship than a love of good food, too," he added, and then I packed him off into a taxi and promised I'd try and get back next summer with Bruno so that he and his charming wife Rosa, a native of Manila, and me can cook up a storm together.
Yam'Tcha, 4 rue Sauval, 1st, Tel. 01-40-26-08-07. Metro: Louvre-Rivoli. Closed Sunday dinner, Monday and Tuesday. Average 75 Euros.