LE METROPOLITAIN–A Tasty Hommage to Mass Transit in the Marais, B-
October 7, 2011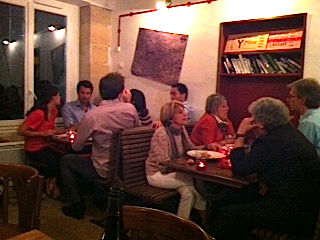 The Marais (traditionally the 4th arrondissement, and in the parlance of local real-estate agents, more and more of the 3rd arrondissement) is one of the most charming parts of Paris, but consistently under-performs other popular Paris neighborhoods in terms of the quality of its restaurants. Why? It's a major nightlife quarter, so many of the people who descend upon the neighborhood from elsewhere in the city are content to have a mediocre pizza or a quick and unmemorable Asian meal before they go bar-hopping.
A friend who lives in the neighborhood recently called me with a baited breathe report on a good new bistro, though, so the other night I met Bruno at Le Métropolitain for a late-ish dinner at the end of our respectively mad busy days. I liked this right off the bat, too, because the welcome was so warm, and I found the decor–it's themed around the Paris Métro, or subway system, cute instead of cloying, right down to the bistro's visiting card, which is the size of a Métro ticket. The walls are covered with white beveled-edge tiles, too, and they're posters, maps and memorobilia connected to Paris's crack mass transit system, too.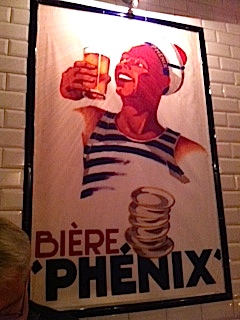 I was surprised that this place was so crowded, and then the waitress explained that their chef, Paul-Arthur Berlan, had been a finalist on the French television show "Top Chef," which is sort of a competitive cook-off thing. It was odd to think that this could explain the crowd, but then I have to acknowledge a major component of my eccentricity in the fact that I don't watch television aside from occasionally flipping on the boob tube in a hotel room to get some news. In fact, the television at our house isn't even plugged in, and though it astonishes some friends, I find my television-free life both easy and pleasant. In any event, I'm also wary of the idea of 'competitive' cooking in the glare of television cameras. There's a lot of pressure in a restaurant kitchen, of course, but trying to pitch gastronomy as a win or lose competitive sport strikes me as sport strikes me as pretty bogus and not at all in the spirit of great cooking.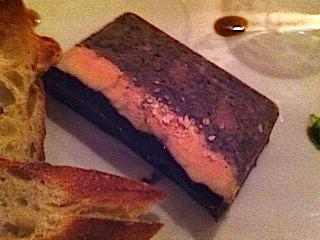 Happily, however, Berlan, a nice young guy with a lot of talent, 'won' the night we came to dinner. Bruno's terrine of shredded beef cheeks, foie gras and beets was beautifully made, and I loved my rich, delicately smoky-tasting royale de lard (silky bacon-flavored flan) topped with a coddled egg and foamy mushroom puree. This was contemporary French comfort food at its best even if was served in one of those squat fiddly mason jars and the pre-coddled egg was cool, so obviously prepared in ahead of time. On the other hand, working in an absolutely miniscule kitchen, Berlan surely has to do as much prep work as possible in advance of every service, so my guess is that the royale was microwave warmed before being topped with the egg and mushrooms.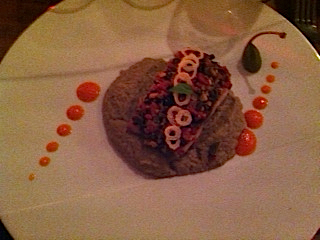 Bruno's main course, a perfectly cooked filet of maigre (shade fish or drum fish, in English) on a bed of deliciously smoky eggplant puree with pretty little dots of red pepper puree that said "young chef" in a loud voice, was delicious. My pluma (succulent Spanish pork) was a bit overcooked and the puree of carrots and ginger that accompanied it wasn't the ideal garnish for this gloriously fatty meat–I'd have preferred something a little acidulated to temper the cholesterol-be-damned richness of the pork, and the other garnish, a fresh carrot slaw with slivers of ginger, was just fine, but also very "young chef."
To finish, I chose the pelardon marinated in olive oil, which was ideal with the rest of our very good bottle of Chinon–the brief wine list here is reasonably priced and well-chosen, and Bruno had a superb tarte Tatin made with pears. Our pleasure during this meal was enhanced by the warm, prompt and charming service of the young team here and the fact that everyone seemed to being enjoying their meals as much a we did. Aside from a couple of forgiveable imprecisions in the cooking, Le Métropolitain is exactly what a neighborhood bistro should be–a convivial, friendly place that serves good, intelligently imaginative food for reasonable prices.
Le Métropolitain, 8 rue de Jouy, 4th, Tel. 09-81-20-37-38. Metro: Saint-Paul. Open Monday-Friday for lunch and dinner. Closed Saturday and Sunday. Lunch menu 17 Euros, 32 Euros. Average a la carte 35 Euros.