YOOM–Paris's First Dim-Sum Restaurant, B-/C+
February 4, 2011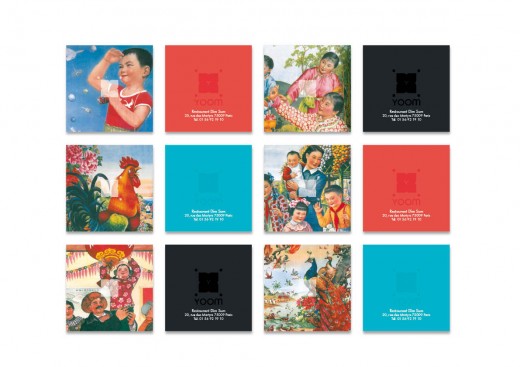 France still suffers from a colonial hangover when it comes to the way it perceives of Asia. If the English have rather admirably come to terms with the loss of their vast once-colored-pink-on-maps-of-the-world empire and only occasionally swoon in nostalgia for the Raj, most of the French still see Asia through the opera glasses of folklore and a rather vain nostalgia. To wit, they want the booming continent with the thousands of churning factories that fill our store shelves to be gentle, alluring, sensual and picturesque. And for proof of my postulation, see what reaction you get when you tell the guests at any Parisian dinner party that the population of Viet Nam is significantly larger than that of France.
To be sure, there's been important immigration from Asia to France for a longtime, but it hasn't created the tissue of a dynamic Asian culinary in Gaul. Compare Paris's Asian tables to those in San Francisco or Los Angeles, for example, and the contrast is generally wilting. Why? Most Asian restaurant owners still 'correct' their food to cater to the French aversion to hot food and strong flavors. Still, when I heard that YOOM, Paris's first dim-sum restaurant had opened down the street from where I lived, my heart started thumping. I love dim-sum, and one of the best meals I ate in all of 2010 was at the Crystal Jade restaurant in Singapore on a Saturday noon when they serve dim-sum only. In fact, what I wouldn't give for an order of their Shanghai soup dumplings right this minute.
Anyway, in the hopes of a brief transit away from the Parisian winter and a good feed, my friend Christian and I padded over their for lunch the other day, and arriving, we liked this restaurant in the rue des Martyrs a lot. The gray tile walls and serving plates with vintage lithographs of Asian maidens or stocky Maoist vintage women harvesting corn were amusing, and the service was surprisingly prompt and very friendly.
We settled in over a bottle of Quincy, and promptly ran amok with the menu, since we wanted everything. The first dish that arrived were our orders of won-ton soup, and it was delicious–delicious deeply flavored broth with delicate meat filled won-tons and a nice floating scrimp of chopped green onion and herbs. Then the grilled ravioli showed up–three to an order, and the pleasure needle dipped down a bit. They were just fine, but lacked a real crust and were under-seasoned.
Then the tower of bamboo steamers arrived. Har Gau, delicate steamed dumplings stuffed with minced shrimp, were pretty good, but the chicken Satay ones were a real disappointment–with a texture that varied between grainy and pasty and no taste of Satay (peanut sauce) at all. Mushroom dim-sum, usually made in Asian with a mixture of fresh mushrooms, tasted more of the can that the mushrooms had come in than the fungi themselves, while "tetes de lion," balls of ground pork rolled in rice and incredibly delicate and flavorful in Asia, had been over-cooked so that the rice was gummy.
If these little mouthfuls were much better than the generally miserable industrially made ones found in most Asian restaurants in Paris, they lacked the lights, depth of flavor and finesse of those you get in Hong Kong or Singapore, where dim-sum is an elegant pleasure-giving art on par with French pastry in its intricacy, imagination and delicacy. In the best Asian dim-sum places, each mouthful is meant to be a brilliantly balanced gastronomic spectrum of distinct tastes and textures; at Yoom, they all started to taste the same after a while.
Still, this place is definitely a step in the right direction for any Parisian or visitor who really loves dim-sum.
Yoom, 20 rue des Martyrs, 9th, Tel. 01-56-92-19-10. Metro: Le Peletier. Closed Sunday and Monday. Average 35 Euros.