LA CUISINE & IL CARPACCIO at Le Royal Monceau Raffles Paris Hotel, B-/C+
February 9, 2011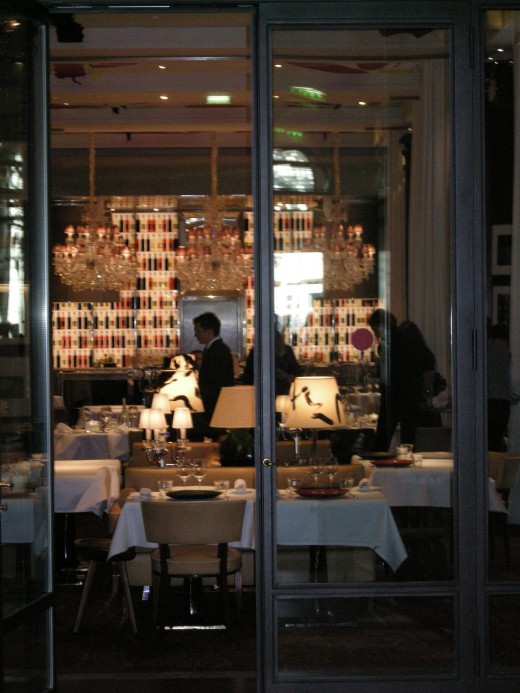 Even though the presence of the four-wheel drive crowd–those blithe young couples who pull up to a restaurant in a gas-guzzling black Porsche Cayenne with 16th arrondissement or Neuilly plates, usually provokes a deep aversion on the part of anyone who's as environmentally conscientious as I try to be (Bruno thinks I'm nuts to mail empty ink cartridges back to Hewlett Packard for recycling), I still tried to give La Cuisine, one of the new restaurants at the recently renovated Le Royal Monceau Raffles Paris hotel a fair shake when I went for dinner on a recent Sunday night.
Bruno and I were actually spending the night at the hotel, and much to our surprise, we really liked our Philippe Starck designed room. It was small, but really well thought out, and filled with visual wit, including TO-DO List scribblings on the lamp shades, a map of Paris with favorite addresses under a pane of glass on the desk, and good modern art. The bed was extremely comfortable, and the white marble bathroom spacious and mostly mirrored. Overall, fun digs if you can afford the whopping 780 Euro a night tab for a night in the arms of Morpheus here (It fascinates me that anyone would actually spend this much money on a hotel room, but there must be a fair number of such feckless folks around, since the place was very busy; myself, I was there for reporting reasons, with someone else picking up the tab).
Anyway, even if there were a lot of facelifts, divorces in the making, and four-wheel-driver types in the crowd, the dining room at La Cuisine was great looking when we went downstairs. The lonzenge shaped space is back-ended by a wall of back-lit bottles, has a high ceiling, and is pretty sexy, so I was feeling cheerful when we sat down at a nicely set table in the discrete side dining room–the main one is for A listers (see the first sentence of this paragraph for a Royal Monceau definition of same).
Service was a bit stiff, though, which was a real contrast to the charming crew at reception, and this dented things before we'd even looked at the menu. The obvious problem is that the dining room staff have been coached to behave as though they're working in a "Palace" hotel, i.e. a top-of-the-heap Parisian lodging, and so this made them a bit robotic.
Though rather gastronomically mannerist, we found things that appealed on the menu and hoped for the best. Then the meal debuted with a lot of tiny flowers. My langoustines were nicely cooked but uselessly garnished with tiny blossoms, as was Bruno's lobster salad–perfectly poached lobster, but underseasoned and afflicted with too many petals. Main courses–Bruno had roasted turbot and I went with a veal mignon, were just fine–good well-prepared produce, but again, lacking a signature and very underseasoned.
Skipping dessert and with a bottle of very good Vouvray sec, this pleasant but forgettable meal thundered in at almost 200 Euros, which is culinary conspicuous consumption at its worst. Pierre Herme does the desserts here–this place is all about designer labels, but I'm glad we saved the extra 30 Euros his nibbles might have run us, even if the beneficiary was a large and very flush publishing company in New York City.
Since the Royal Monceau gets it so right upstairs, and the bar's a lot of fun, I'm hoping that they'll step on the gas and create some original sexy food at La Cuisine some time in the future.
A few days later, I was back at the Royal Monceau for lunch at Il Carpaccio, their Italian table, which, in a previous incarnation, was often very good. In this reboot, the food is pleasant, cerebral and more Vatican than Sophia Loren.
The remodeled Il Carpaccio is very pretty, with views over the courtyard garden and sexy chandeliers covered with sea shells in the grandest traditions of Italian Baroque art. There's also a serious chef in the kitchen in the person of Tuscan Roberto Rispoli.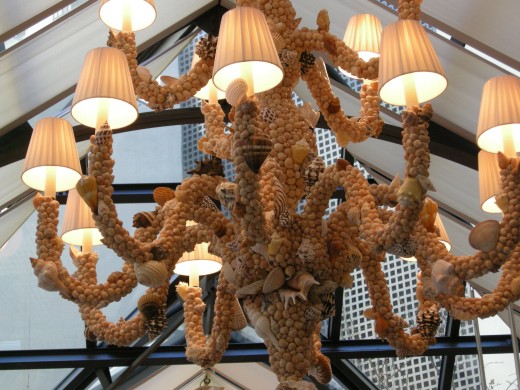 Unfortunately, even though Rispoli's debut dish–mackerel with Italian fatback, preserved lemon and a salad of bitter greens–was very pretty, it was also monastic and very bland, odd for such a full-flavored fish.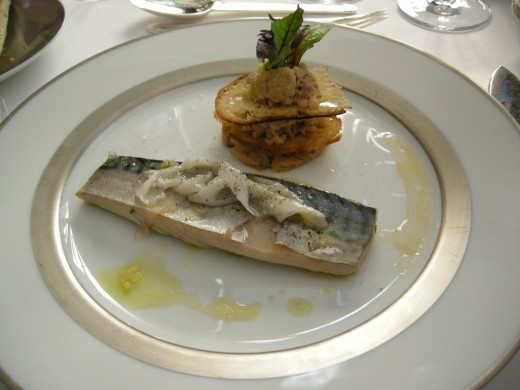 Next up, a fancy vegetable minestrone with garnishes of mussels, squid and shrimp. It also looked pretty when it came to the table, and I was quite keen to tuck in after the waiter had garnished the plate with broth, but again, very bland.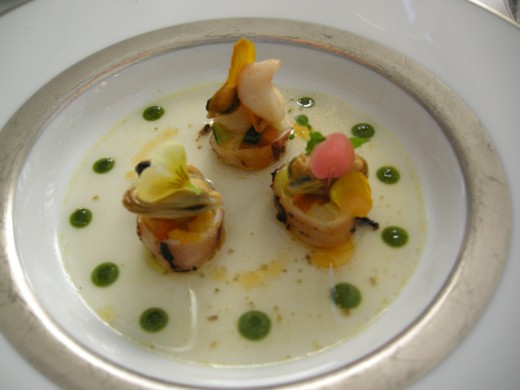 Next, chestnut-flour spaghetti with pigeon, sage pesto, and aged Pecorino, which sounded promisingly earthy and funky, but was again under-seasoned and, in the end, a bit muddy tasting. And so it went, with a main course of sea bass with salsify, roasted potatoes and black-truffle spiked jus--another dish that read as a real tease but came to the table in the most under-whelming of ways.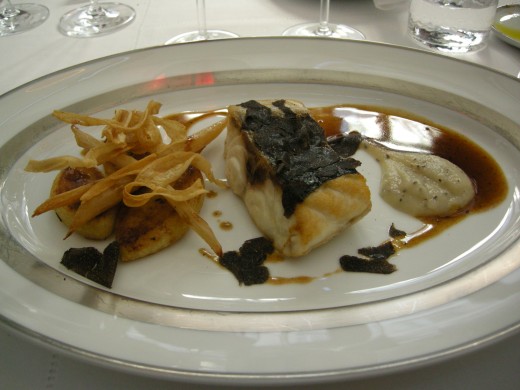 With the afternoon waning and a lot of work to do at home, I had to skip the Pierre Herme finale at this mid-day feast, but in the Metro on the way home, I couldn't help but wondering how this hotel could have gotten it so right in terms of its rooms and so, well, not wrong, but fiddly and rather dull in terms of both of its restaurants.
Le Royal Monceau Raffles Paris, 37 Avenue Hoche, 8th, Tel. 01-42-99-88-00. Metro: Etoile. Both La Cuisine and Il Carpaccio are open daily and have an average meal price for two of 200 Euros.