YOUPI ET VOILA–Hurray, and Here You Go! B-/C+
May 11, 2012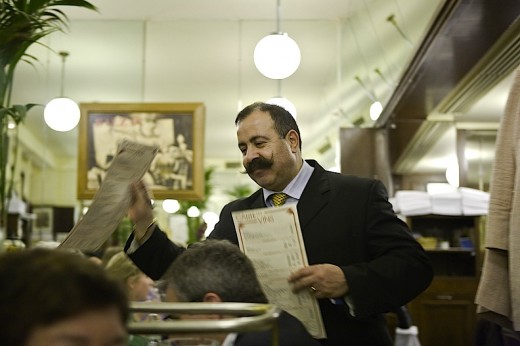 Photo @ Bob Peterson
Just about the only enjoyable aspect of dinner at the Brasserie Balzar the other night was the wry, nimble and thoroughly professional service which animated an otherwise woefully mediocre and overpriced meal. What made this particular occasion all the more noticeable is that the prevailing service style in so many of the better and more interesting new restaurants in Paris these days lacks any trace of the same tonic and tenacious desire to please and the corollary desire to have a good time together that made this meal a perverse pleasure inspite of the insolently industrial quality of the food. For in France, good service is never a one-way street. In its old-school idiom, or the one I was inducted into over a long learning curve when I arrived in Paris twenty-five years ago, your waiter or waitress wanted both to charm and be charmed–to be sure, you weren't under any obligation to be charming, but the badinage of a successful meal, more common in bistros than in three-star restaurants but always present to some degree, informed every French meal.
Now, though, this delightful wait style is becoming rare, as is any service style at all, a reflection of the fact that it seems to have been chucked out as silly, bourgeois, stuffy, or a combination of all three, or like, well, whatever. Hey, I'm here to bring you your food, okay? And if you're lucky, and I decide I sort of like you, I might be nice, but if not, I'm just here to bring you your food, okay? And don't think that just because you're paying, you've got any power over me, because I am really not that into serving you because I'm really not into service. You're no better than I am anyway, so don't even think of giving me a hard time, etc., etc.
Sigh. So much for what Americans used to call "Old World Charm." In restaurants like this–the newly opened Youpi et Voilà, for example, even if some of the food's good, you barely have the feeling of being in a restaurant. Rather, you've just gone somewhere to eat. So youpi et voilà, or hurray and here you go. Arriving here for dinner the other night with my friend David, we were hungry and in high spirits. I'd just seen his terrific new flat in the 11th, was happy for him, and also thrilled to finally be in Paris for a while after epic professional trips to Asia and South America, and I think that by showing me the apartment, he might have finally seen some light at the end of the long tortured tunnel that's any major renovation project.
I also love this funky part of the 10th arrondissement, the blessedly less Bobo east bank of the Canal Saint Martin, and any opportunity to gawk at the former headquarters of the French Communist party, one of the most wonderfully weird buildings in Paris. I'd also read that chef Patrice Gelbart, mostly recently cooking in the Tarn, had recently done a guest stint at the wonderful Le Verre Volé, one of the best bistrots a vins in Paris, and that he uses assiduously sourced local-when-possible, almost unfailingly seasonal produce from Terroirs d'Avenir and other small influential provisioners.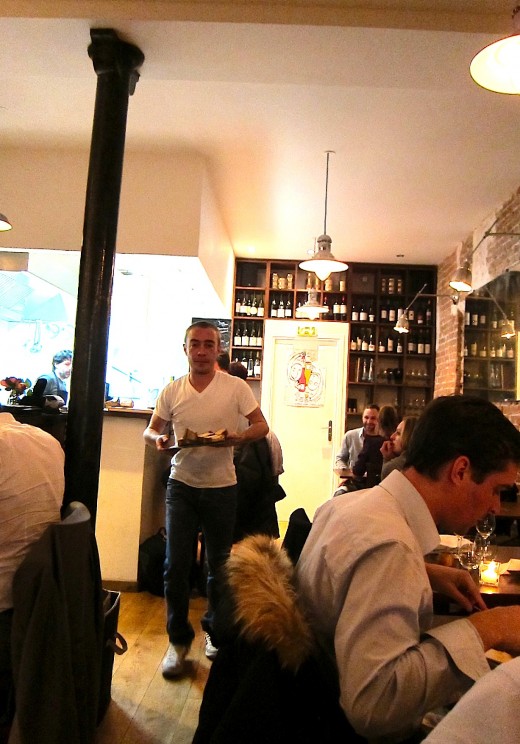 Arriving, the small storefront dining room looked like many of the other great young-chef restaurants that have opened in Paris recently–Chatomat, Le Galopin, etc., and though it took forever for him to get around to us, our waiter was friendly when he finally showed up and sort of teasingly explained they only serve a single four-course tasting menu in the evening. We nodded. He grinned…. So, I paried, how would we know what wine to order with this mysterious meal. "Oh, it's vegetables, fish and meat, with a dessert."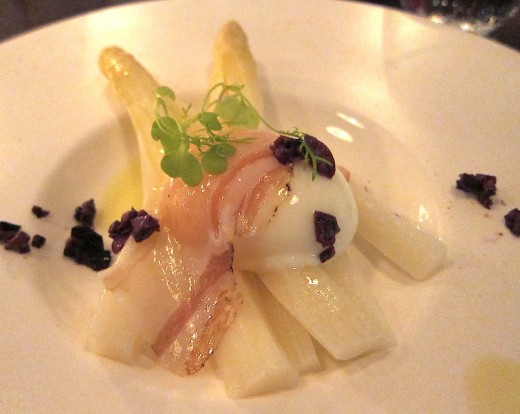 After a half-hour, our first course showed up–white asparagus with a coddled egg, a slice of delicious country ham from the Lot, and a scattering of chopped black olive, or a pleasant cameo of angelic springtime eating I've eaten in many other places. In the meantime, forty minutes passed, which was fine in a way, because I was enjoying our conversation about, among other things, how massively over-covered the Paris food scene is these days relative to the real interest or importance of what's going on here, but finally I was about to signal the waiter and find out what was going on, when he showed up. "Have you had the fish yet?" Nope. Fifteen minutes later, a small salad of shaved fennel with garlic flowers and a tiny piece of seared bonito arrived. It was fine, but hardly memorable, and by this time, the balking rhythm of this meal and cheerfully amateur and disorganized service was beginning to test our patience. Even though I strenuously dislike stuffy, formal, pretentious service, and am, like David, inclined to be very forgiving of the staff or kitchen to a fault, because I've been the one standing, the one cooking, it was exasperating that our meal had become sort of a very slow rolling catastrophe.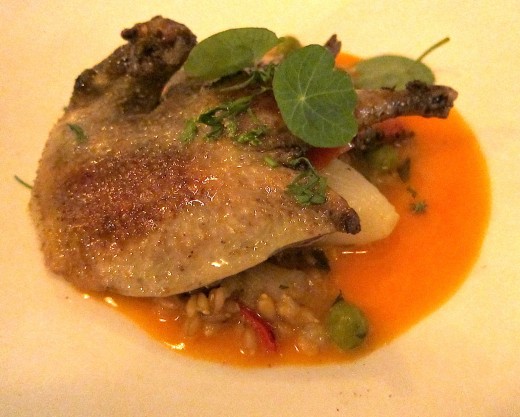 When it finally showed up, the pan-fried pigeon on a bed of bok choy and wheat berries in a red pepper coulis was delicious. The excellent quality bird had been cooked rare, and the garnishes flattered the thick putty texture of the meat and deepened its fine wild flavor. A glass of red wine, maybe a nice Minervois, would have been terrific with this beast, but I knew we'd be done with the dish before it arrived, and it was getting late.
It had taken two hours and fifteen minutes to reach this dish, and even though I can spend hours on end at the table, this kind of short-order cooking didn't justify so much downtime. Dessert, a soggy slice of griddled spice cake with rhubarb compote was dull, and we paid the bill, and dashed off into the night in different directions to catch the last Metro.
I've since spent a week puzzling over this meal, and have concluded the crew here would be much happier if they were cooking and serving their friends instead of running a general-public restaurant, and also that the metier of waiter or waitress that France so brilliantly perfected over the course of many centuries is in danger. Oddly enough, in fact, with the exception of a brilliant maitre d'hotel at the new fish resaurant Helen in the 8th arrondissement, the last few times I've experienced the sort of serious, charming service that used to be a signature of Gallic gastronomy were in New York and Buenos Aires.
Youpi et Voilà, 8 rue Vicq d'Azir, 10th, Tel. 01-83-89-12-63. Metro: Goncourt, Château Landonor Colonel Fabien. Closed Sunday and Monday. Lunch menu 20-25€; plat du jour 15 €- prix-fixe dinner menu 36€.