AUBERGE FLORA–A Big-Hearted Bistro That Will Only Get Better, B-
July 19, 2012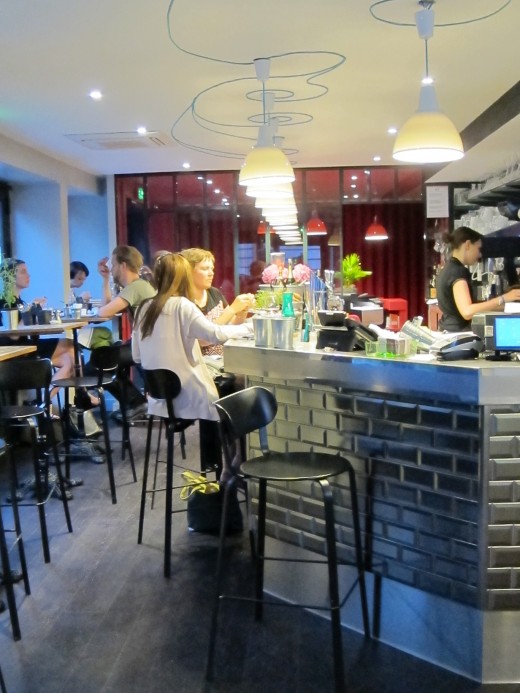 Ever since I first sampled her cooking many years ago when she first opened Les Olivades in the 7th after working for Alain Passard, I've been a fan of Florence Mikula, a really nice woman whose cuisine is as generous and straight-to-the-point as the lady herself. Back then in the mid-eighties, provencale cooking was enjoying a new vogue in Paris that was a reflection of the fact the Parisian media elite had thrown in the towel on the Riviera as being overbuilt and too flashy and was moving north to Provence, and specifically into the Luberon, in search of some peace and quiet and the thing they destroy the moment they find it: authenticity. The TGV had made the Luberon a viable weekend destination, too, and so la cuisine du soleil, or provencale cooking, suddenly started turning up in the food pages of French women's magazines, where it was always rightly noted that it was as healthy–olive oil instead of butter, lots of fruit and veg, as it was delicious.
Mikula, a native of Avignon, not only knew how to cook provencale, but she cooked it really well, which immediately made Les Olivades a huge hit. Eventually, Mikula, who had to fight like a dog to be accepted into hotel school and then to get her first few jobs because of her sex, sold Les Olivades and moved across the Seine to open a very personal bijou table–Les Saveurs de Flora, on the Avenue George V. Though she made some great dishes there–I loved her bortsch with scallops sauteed with foie gras, grilled John Dory with artichokes barigoule, preserved lemon and gnocci, veal sweetbreads with morels and asparagus, and sublime apple millefeuille with salted-butter caramel, I never really took to this restaurant, which catered to a business crowd at noon and a rather anonymous hotel-guest clientele in the evening. In fact it always struck me as odd that someone a vivacious and fun-loving as Mikula would ever have chosen such a decidedly gray-flannel location.
So I was really curious when I heard that the restless Flora had moved on again, this time alighting in an eponymous auberge–Auberge Flora, which she'd created on the northeastern edge of the Marais not far from the Bastille. This location sounded rather promising, and on the way to dinner with my pal Devreaux the other night, I found myself hoping that this time Flora might finally have found a long-running nest of her own. Arriving, the meal got off to a good start, too, since we were offered olives and three different aperitif sables (olive, cheese, chorizo) with our glasses of very good Pinot Blanc. The young waitress couldn't possibly have been friendlier or more helpful either, and we studied the menu with interest.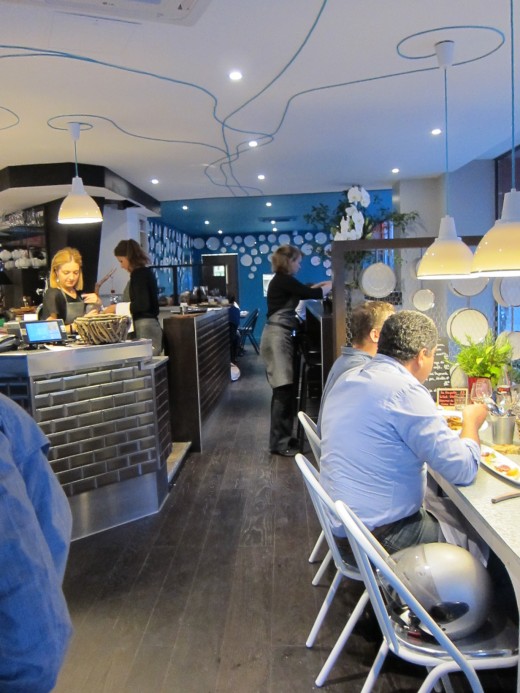 What Mikula's getting up to here is a small-plates menu at a table d'hotes setting on one side of the bar, or a 42 Euro prix-fixe menu seated at individual tables in the other half of the arrowhead shaped dining room. Since we were seated outside at a sidewalk table on a warm night, we decided to start out with several small-plate nibbles and then sample the main courses from the prix-fixe menu, which can also be ordered a la carte.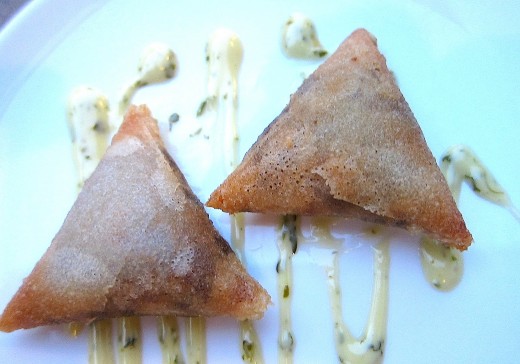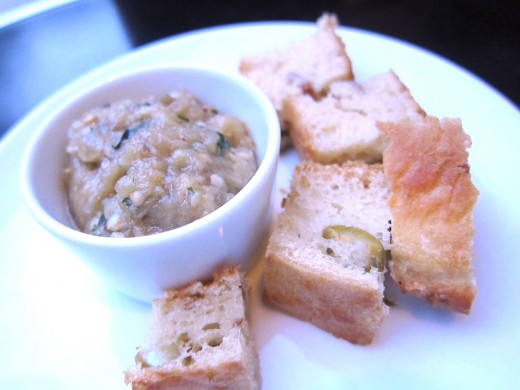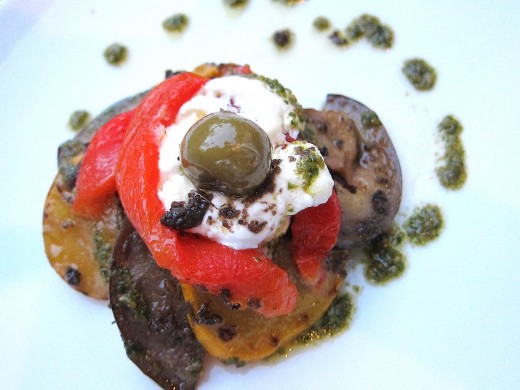 So we zeroed in on a trio of nibbles and ordered a bottle of Bourgeuil, quite reasonably priced at 22 Euros. The samosas filled with shredded duck were crispy and oil-free, and though they lacked any discernible seasoning, they were a perfectly pleasant hors d'oeuvre. Eggplant caviar was good, too, but exhibited no trace of the pistou oil the waitress explained as the reason for its being described as "a la Jordanienne" on the menu (I've never been to Jordan, so I can't say, but this menu poetry doesn't make a lot of sense to me–parsley oil, maybe, but not pistou), and the shotglass serving was niggling for 6 Euros. And finally, grilled vegetables with melted burrata on a sable was a nice idea, but the sable was cement-like and the cheese garnish stingy. And we had to ask for salt, too.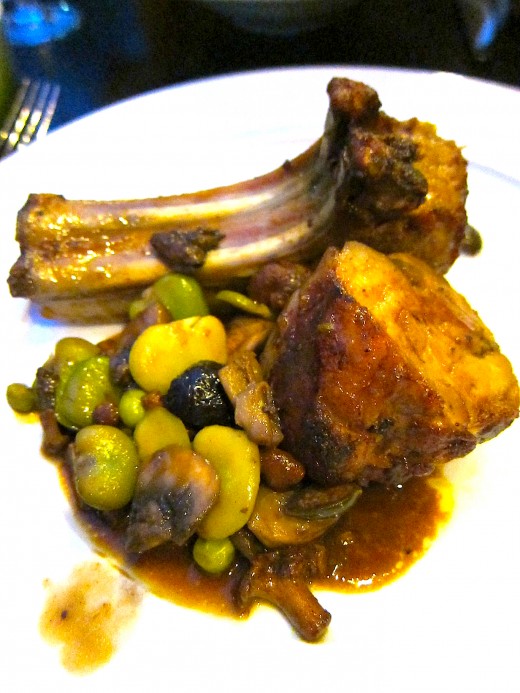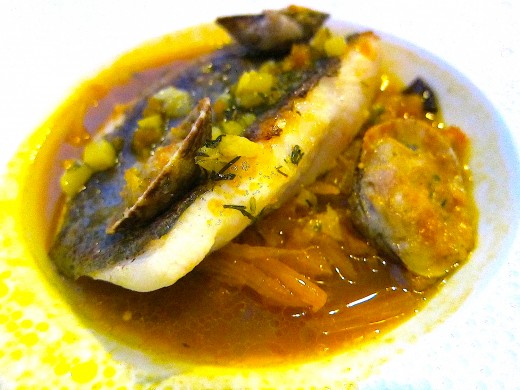 Despite the miscellaneous culinary imprecisions in our starters, I could still detect Mikula's sunny style in every dish, and this was even truer of our main courses. Though it came to the table lukewarm, my rack of suckling pig was beautifully roasted with a nice brittle golden crackling, a generous amount of juicy meat, and a superb garnish of fava beans, mushrooms and black olives in a pork jus. Aside from a hotter temperature, the only thing that might have made this dish better would have been a side of rice, noodles or potato puree to help mop up the delicious sauce. Devreaux's John Dory came as a carefully cooked filet–firm but moist, with a hauntingly seasoned broth filled with wilted fennel and high notes of saffron, fennel and star anise. A well conceived dish, its flaws were that it reached the table less than lukewarm and that someone had run amok with the salt in the kitchen, which made the delicate broth, which called out for a side of steamed rice, an almost shocking brine. As sorry as I was for Devreaux, however, I really, really enjoyed my pork, which instantly reminded me why I've always been so keen on Mikula's cooking.
Since portions are generous, we concluded with a marinated demi Picodon, one of my favorite cheeses, and two tots of Close des Fees, one of the Languedoc's best reds and a joy to find poured by the glass. Several desserts appealed, but the lavender tart which has always been my favorite Mikula finale wasn't on the menu, and in the back of my mind, I decided to hold off, because I know that this is a restaurant I'll very happily be visiting again. Yes, the kitchen isn't up to speed yet, but the menu's fascinating, they work with great produce, the service is charming, and the prices are reasonable. Oh, and they're open seven days a week, and the multi-formated setting makes it a great place for anyone dining alone.
44 boulevard Richard Lenoir, 11th, Tel. 01-47-00-52-77. Metro: Chemin Vert or Breguet-Sabin. Open daily from 6.30am to midnight, Lunch noon-3pm, dinner 7pm-11pm. Light eats available off hours. Average lunch 30 Euros; Prix-fixe dinner menu 42 Euros; average four course small-plates menu 30 Euros.