PAN–Hip and Hyped, C-; La Bigarrade–Take Two, and Still Terrific, B+
July 7, 2012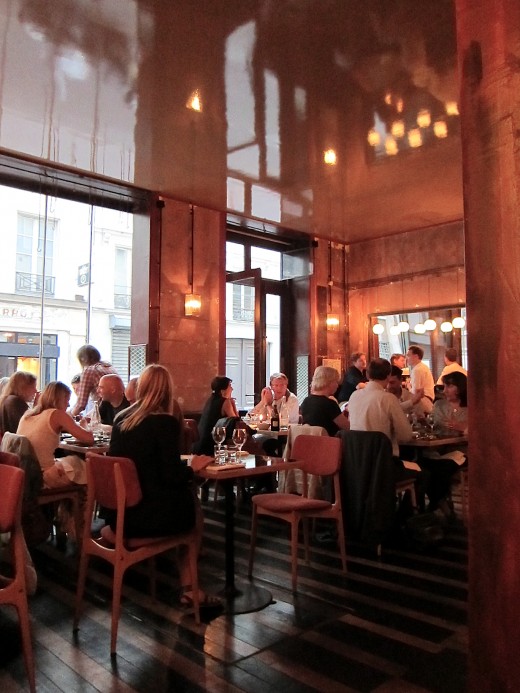 With the accelerating blurring of work and leisure wrought by Twitter, Facebook, email, text messaging and cellphones eroding the old-fashioned idea of what a vacation could and should be in the United States, there's something deeply admirable and profoundly charming about the way France defends the sanctity of the summer holiday. And if Paris doesn't wind down as visibly as it did twenty years ago when shops flaunted the fact that they were closing for a good long time by masking their windows with censorious kraft paper–you'd only know that this was there is if you weren't in Le Lavandou or Saint-Jean-de-Luz, there's still a reliable, palpable and quite bracing deceleration of daily life that implicitly authorizes you to be late for and/or leave work early, and to abandon yourself to what you feel like doing–lying on your bed all afternoon reading a great novel, for example, instead of all the dreary things you should be doing (preparing accounts for your tax person, meeting a deadline, sewing a button back on a shirt, going to the gym, etc.). French media follows suit, too, with a winding down of life-style reporting, including restaurant reviewing, which annually yields an inevitable cannon-fire of lists of the nicest places to have a meal outside or the summer's 'hippest' tables.
This summer, the annointed 'hippest' table in Paris is Pan, a place in the increasingly hip 10th arrondissement, though not the Canal Saint Martin and vicinity, but rather the rue de Paradis and those streets in and around the rue du Faubourg Poissoniere (For whatever it's worth, I fear that a tipping point in the vicinity is inevitable within the next year or two, since the unselfconsciousness and alluring grottiness of the neighborhood just won't be able to withstand this much media attention, especially since this sort of froth fertilizes real-estate prices). Though hipness generally discourages any interest on my part–too many hip restaurants get away with mediocre food, because they're hip–ever hear of the Costes brothers?–a few glowing reviews of this place led me to think it might be a good spot for a much looked forward to tete-a-tete with one of my closest Parisian pals, who, alas, will soon be moving to London. So I met Christian for dinner on a muggy night when both of us would surely have preferred to be sitting outside.
The dining room was beautiful, though, for being an odd and engaging riff on something both Euro fifties via East German design studios–the wallpaper, and sixties–the flea-market faux Danish modern chairs and tables, plus great lighting and a pretty parquet floor. Our server–one of the owners, I think–was friendly, too, so things looked good from the starting block, and I also liked the rather random menu of Mediterranean inspired modern dishes–gaspacho with chorizo, watermelon with marinated feta, etc., and good solid Gallic comfort food. As is increasingly often the case in such 'young' restaurants, our starters–Christian went with the delicious pork rillettes–rich, fatty, smoky, and well-textured, and I had the baby artichoke salad on a bed of arugula with a fresh mint vinaigrette but none of the promised Parmesan shavings, were much, much better than our main courses.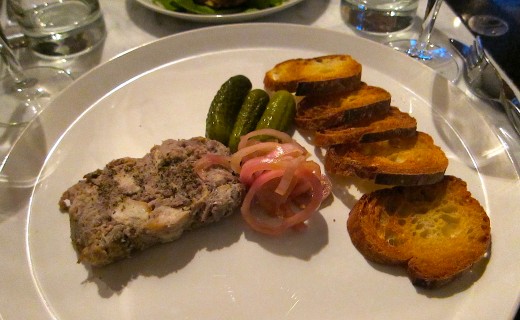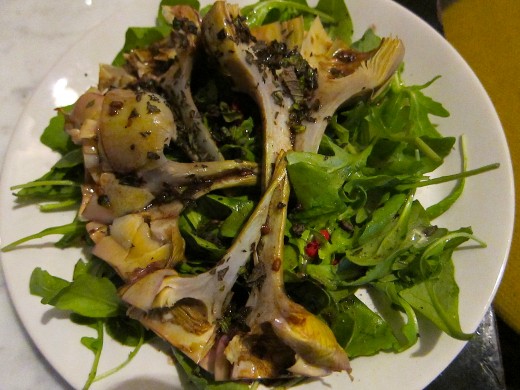 I was surprised by the rather audacious pricing of the wine list, too–I mean the rue Martel is still along way from becoming the Avenue Montaigne, and it took a long time for a our wine to come, but again, the service was pleasant, if sort of cheerfully dissheveled. Then our main courses showed up, and the meal fell off a cliff. I ordered fregola (small almond-shaped pasta) with baby clams and tomatoes, while Christian had ricotta-stuffed ravioli. I could see that his ravioli, which came with no trace of the Swiss chard, hazelnuts or sage mentioned on the menu, were egregiously overcooked, because they were stuck together in a clump at the bottom of a small bowl. More charitable than I am, he described them as "okay," a word I'd never flatter my fregola with. A quick glance at the photo below will document the first problem with this dish–what on earth was the kitchen thinking to garnish a summer pasta with unripe hot-house salad tomatoes? Given the difficulty in obtaining good tomatoes in Paris even during the summer, I think I'd have oven-roasted some Roma tomatoes or used snippets of sun-dried ones instead of these hard, flavorless, greenhouse-grow-light red ones. But the real problem was that the pasta was not only so completely overcooked it had the texture of baby food but it had been seasoned with nothing more than cream and salt. So this was hands-down one of the worst dishes I've eaten in Paris in months, and despite the fabulous company, attractive setting, and pleasant service, there was just no saving this meal. To be sure, I had read that the dish to order here was the hand-chopped steak tartare, but there was still no excuse for this decidedly unappetizing performance.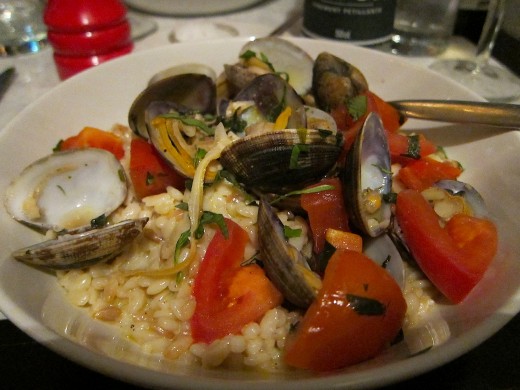 Christian and I adjourned to a sidewalk terrace for coffee and another glass of wine, and on the way home, I found myself wondering how on earth anyone could have vaunted the cooking at Pan. And here's where I found the hitch–in Paris, food writing is more and more often to be found under the umbrella of so-called 'Style' supplements instead of in dedicated settings on its own, which means that it has to play some sort of supporting part in the increasingly frantic chase for fashion, cosmetic and perfume advertising placements. This is the only reason I could find that a place like Pan, an instant favorite of the fashion tribe, would ever get such a major look in from the French papers before they signed off for summer. To be fair, however, not all 'Style' supplements are joining this game, since Francois Regis Gaudry's write-up of Pan in L'Express Styles–the best 'Style' supplement in France in my opinion, expressed a politely bewildered opinion on this place, too.
PAN, 12, rue Martel, 10th, Tel. 09-52-51-63-70. Metro: Chateau d'Eau or Poissonnière. Open Tuesday-Friday for lunch and dinner, Saturday dinner only, Closed Saturday lunch, Sunday and Monday. Average a la carte 45 Euros.
————————————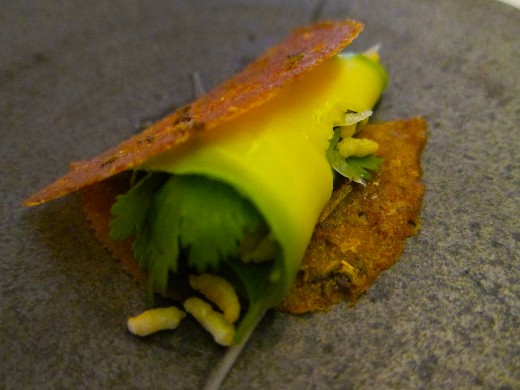 Though some friends I've sent there have been exasperated by the concept of the blind-folded (i.e. unidentified) tasting menu at La Bigarrade, and more than a few have carped about the prices at this tiny little restaurant in Les Batignolles and also the slightly grand demeanor of the service, for me, it's consistently been one of the most intriguing and satisfying contemporary French restaurants in Paris, which is why I was horrified when I heard that chef Christophe Pele, who opened the place, was shipping out.
A friend who lives locally reassured me that Yasuhiro Kanayama, the Japanese chef who has replaced Pele, is equally brilliant, however, so I brow-beat Bruno–who also gets impatient with long drawn-out tasting menus, into going for dinner the other night. And we had a superb meal, which debuted with an avocado curl with fresh coriander and a cumin biscuit and continued with micro-planed cauliflower with shaved squid and an exquisite crabmeat with vanilla-spiked sabayon. The rhythm of the meal was impeccable, too, with these sublime little cameos arriving at exactly the moment that you'd quietly decided you'd like something more.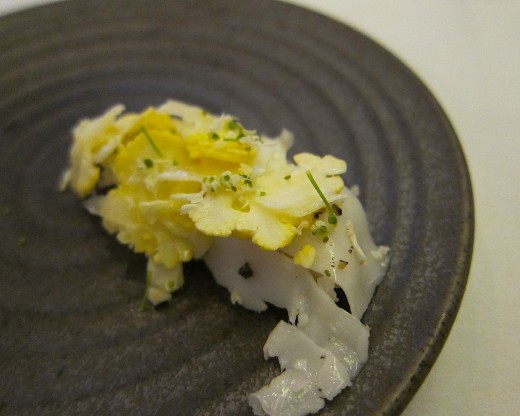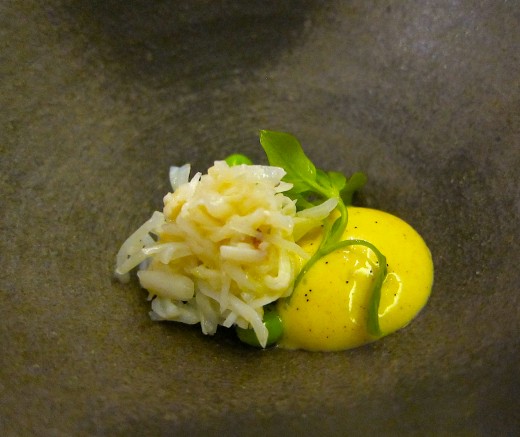 Though compatible with Pele's approach, Kanayama's cooking is actually much subtler and even more quietly provocative when it comes to sensual contrasts of texture, as seen in a sublime little dish of lobster with grilled banana in lemon-verbena foam (who'd have guessed that the acetone in the banana would flatter the lobster's natural sweetness so suavely?).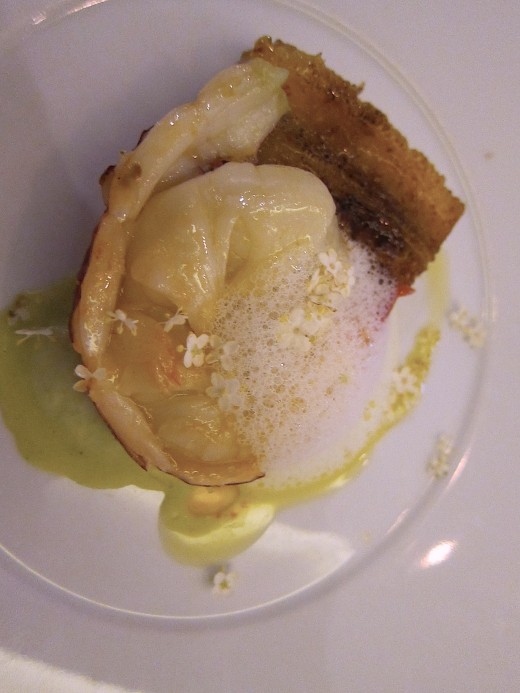 Turbot with bonito broth and smoked eggplant (below) nodded at the Japanese palate without making some sort of awkward Occidental mannerist feint (much too often the case when Western chefs fiddle with Asian food).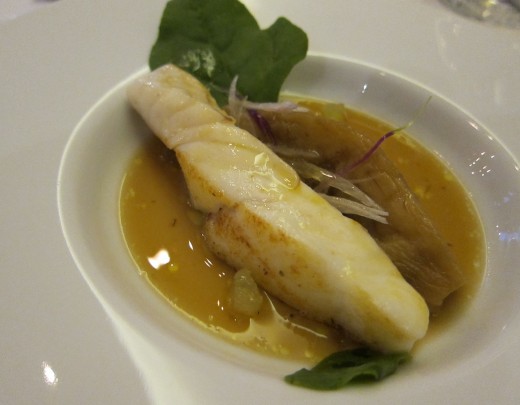 Juicy pigeon breast with cockles and tamarind paste was elegant and deeply satisfying, too.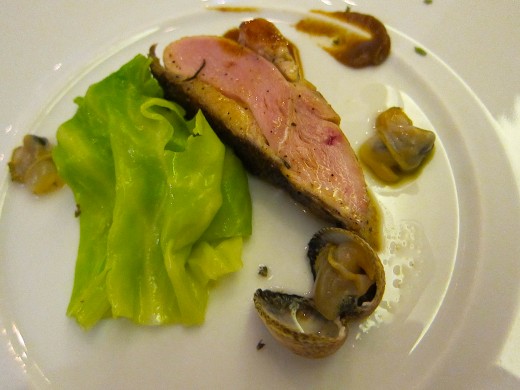 Bruno, the dessert lover in our duo, deemed the chocolate cake with Matcha powder and cream reason alone to return to La Bigarrade. All told, a really superb meal, and if David Toutain at Agape Substance is the one who pulls off this sort of gastro snap-shot performance better than anyone else in Paris right now, La Bigarrade remains an urgently well-recommended restaurant in my book.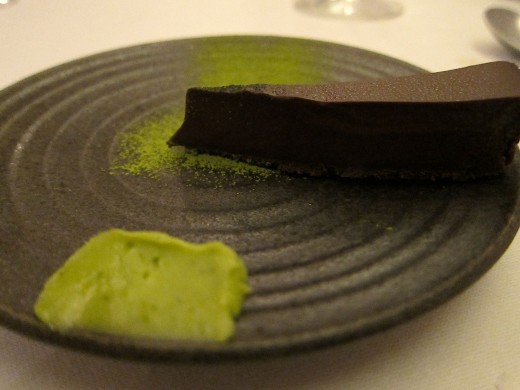 La Bigarrade, 106 rue Nollet, 17th, Tel. 01-42-26-01-02. Metro: La Fourche. Closed Saturday and Sunday. Prix-fixe menus 35 Euros, 55 Euros (lunch), 65 Euros, 85 Euros.