L'ATELIER D'ANTAN–Great Bistro Food and A Really Good Time, Too: B+
June 23, 2011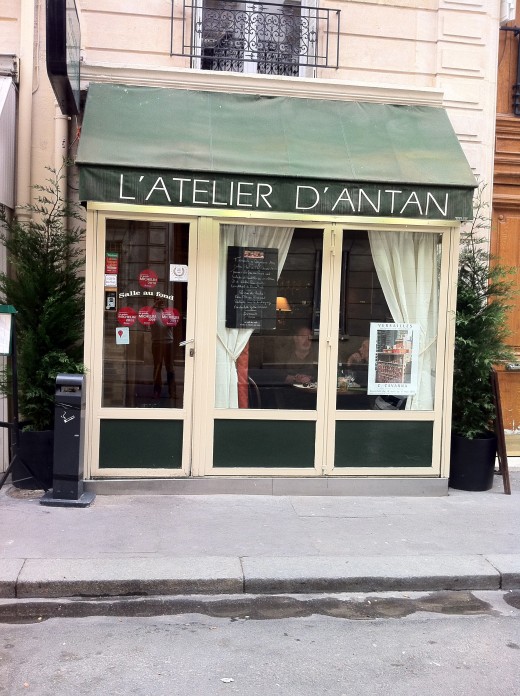 On the way to meet a friend for dinner at L'Atelier d'Antan the other night, I found myself musing on a subject that's been preoccupying me for the last week or so. To wit, has culinary media pushed too hard in terms of insisting that chefs be relentlessly creative? Mea culpa? This thought first occurred to me during a recent trip to central Europe. Arriving hungry at a country inn after a long drive, I spotted grilled white polenta with wild asparagus, cured pork belly and 'mountain cheese' (fresh mild curd cheese) on the menu and couldn't wait for this starter to come to the table. And then it did, and these beautiful ingredients had been subjected to some pretty terrible gastronomic vandalism–a squirt-bottle zig-zag of wasabi cream was scribbled over the dish, which was also incomprehensibly garnished with fresh pineapple and mango, so that what otherwise would have been a really nice plate of food was nearly inedible. The chef wasn't a young Turk, as I expected, either, but rather a very experienced middle-aged woman with a great local reputation.
In a similar vein, I had a chat with a Spanish chef a few days later, and he told me that he was relieved that Ferran Adria had closed, because now "with any luck, food in Spain can become normal again." During the reign of El Bulli, he said, "chefs all over the country were under terrible pressure to be creative rather than to just cook. All chefs are creative occasionally, but not regularly, which is why the Adria effect led to a lot of pretty awful food here." "Now," he continued, "it's back to basics with carefully sourced produce and quieter innovation. I think people want food they can understand again." I sort of think he's right, too.
Anyway, the friend I was meeting, an infectious disease specialist who works for the U.N. in Africa, had booked at a bistro a colleague had told him about and was ravenous for some really good French food during a break in Paris before a round of meetings. I'd never heard of the place before, but was very happy to join him for dinner without second guessing this recommendation.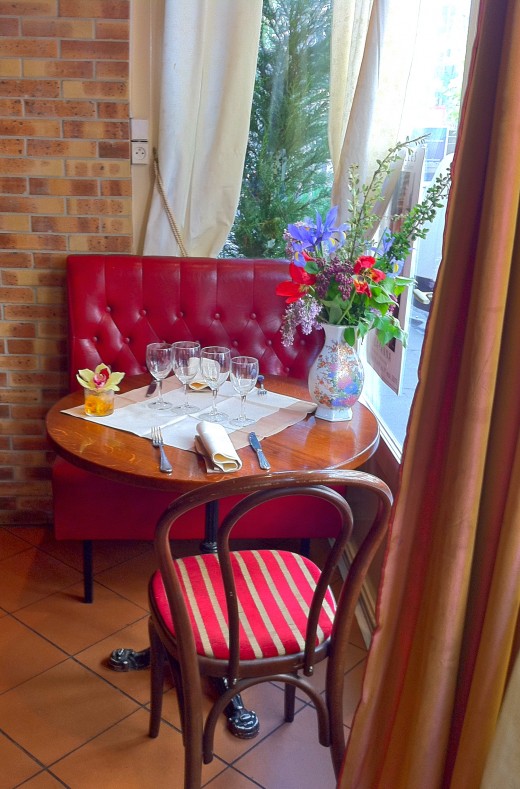 Arriving, the snug little dining room was cute, simple and rather homey looking, and the charming hostess poured us a generous coupe de Champagne and let us study the menu.
There were lots of great looking things on the menu, and the prices were appealing, too. Before we could order from the nice maitresse de maison, the chef appeared at the table, and though I recognized him from somewhere by his memorable naughty choir-boy face, I couldn't place him before he told me that he'd cooked at L'Oeillade, a restaurant in the rue de Saint Simon in the 7th arrondissement for many years. He recognized me as a customer from that restaurant–I used to go a lot when it first opened, and introduced himself as Pascal Molto.
"Ah hah! So you two know each other then," the maitress de maison, the charming Sophie Delenne, teased, much to the amusement of my friend, who had a good chuckle. I was glad to see Pascal, a great cook and a very nice man, again, but a little flustered, because she'd succeeded in breaking down my innate reserve, a quality that sometimes drives my partner Bruno to despair, but which I find essential to the work that I do. To wit, my professional and private lives are still two separate animals, and I wouldn't want it any other way, since I don't know how I could possibly be publicly critical of a chef who was a good friend (She was a ghastly snob, but my Bostonian grandmother always dictated: "With strangers, be cordial but cool," and I've come to see the wisdom of her ways, at least in a professional context). So even though I know and like many chefs, I've never felt that it would be appropriate for me to actually hang out with them, and this is a work style that was also very much ingrained in me by Ruth Reichl during the decade that I worked for her at the late but still much lamented Gourmet magazine.
Chris ordered the foie gras, and I went with the gambas (shrimp) in a Chinese inspired hot sauce as starters, but Pascal decided we'd eat both, so we each started with a thick and really delicious Armagnac spiked slab of homemade duck foie gras. "God is this good," Chris sighed. "You don't know how lucky you are, Alec, to eat such good food all the time." Living in a dusty desert city in Africa, he eats mostly canned goods, and I couldn't help but feeling chastened by the fact that I have the bounty of Paris outside my door every day when he does such important work and lives such a spartan life.
Before I could feel any guiltier, though, Sophie arrived to fill our glasses with really excellent white Sancerre, a wine I rarely drink anymore–it's become too expensive, but have always enjoyed. Warm and funny, she explained that she'd met Pascal when she was working in a cafe that her parents used to own near L'Oeillade and that they'd become great friends, and it is, in fact, their complicity and wily friendship that informs the atmosphere at this small, generous and very happy restaurant.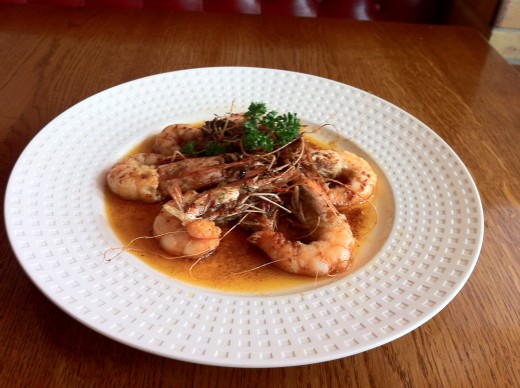 Pascal's prawns were absolutely delicious, too–not frozen, but sweet, fresh and tender, and their Asian sauce struck me as just the right dose of 'creativity' in a small neighborhood bistro in Paris. Oh, and what if I hadn't liked them? You'd know.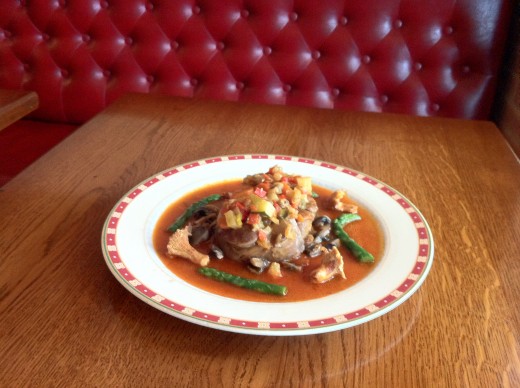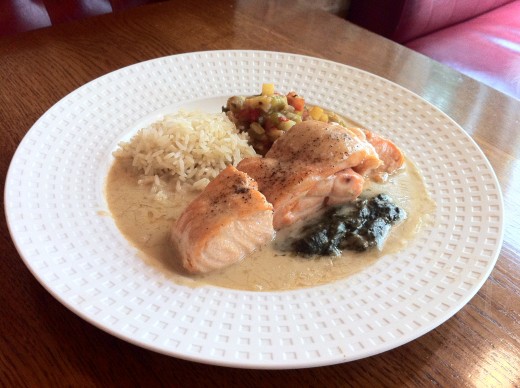 Next, I had a terrific osso buco–full of flavor, perfectly cooked, and garnished with a macedoine of Spring vegetables, several asparagus spears and a couple of girolles, while Chris tucked into some salmon with rice and ratatouille in a light, shallot-boosted cream sauce. He loved it–"I haven't eaten any fish in six months, Alec!," and when he dusted off his rusty French to emphasize his pleasure, saying "Que c'est bon!," the table of six from Nimes nearby could no longer restrain their curiosity about us and we fell into a conversation that was stoked by Sophie's generous and perpetual pouring.
By now, my habitual atavistic stuffed-shirt instincts had flown out the window, and dinner turned into sort of an impromptu party, which reminded me of how really rare it is to have so much fun in a Paris restaurant these days. When and why did food become that serious? I don't know, but dinner at this swell little spot reminded me that a restaurant can be a really good time time and also confirmed my hunch that the creativity bear that seems to be haunting chefs all over Europe these days really needs to be heeled. Media wants New! New! New!, but sometimes, even many times, old is much better as long as it's seriously, sincerely good.
Pascal and Sophie fed us so well that I couldn't imagine dessert–expanding middle-aged girth oblige, but Chris was keen–"Alec, the only sweet I ever get to eat is condensed milk." Jeesh. So I agreed to split a dessert sampler with him, which was terrific: apple tart, chocolate mousse, sorbet and a terrific Ile Flottante.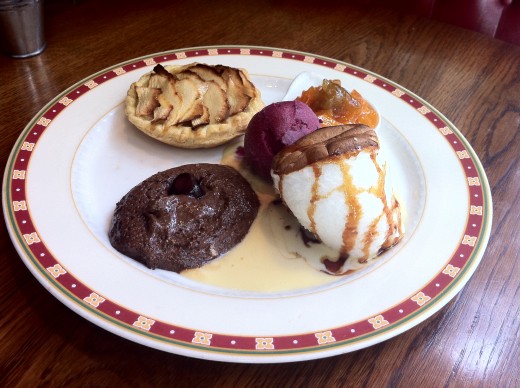 After seeing Chris back to his hotel and recommending some cheese shops that would shrink wrap for export back to his base in Africa (Quatrehommes is good), I decided to walk home on a pretty summer night. It was a long hoof on a full stomach, but along the way I enjoyed a continuous playback of Pascal's wonderful cooking and the very sweet friendship between him and Sophie that informs the atmosphere at the delightful L'Atelier d'Antan.
L'Atelier d'Antan, 9 rue Leopold Robert, 14th, Tel. 01-43-21-36-19. Metro: Vavin. Open Monday to Friday for lunch and dinner. Saturday dinner only. Closed Sunday. Lunch menu 15.50 Euros for three courses, 14.50 Euros for two; dinner menu: 30.50 Euros for three courses, 25.50 Euros for two.