THE SPOTTED PIG: A New York State of Mind, C+/B-
March 17, 2011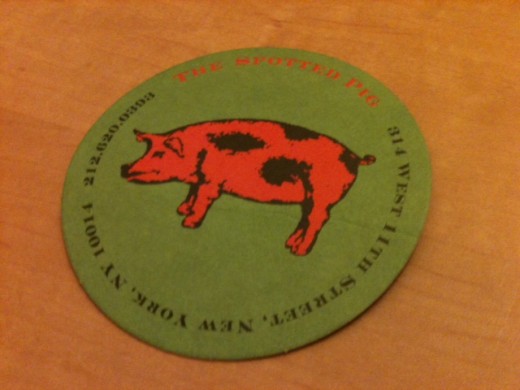 In the days that I was an editorial assistant tucked away in a niche in front of an IBM Selectric type writer and regularly making restaurant reservations for a brilliant editor at Random House, I acquired an intimate knowledge of what powerful New York media people liked to eat. And in the 1980s in New York City, France stilled ruled the roost, since my editor, a wonderful man from the Philadelphia Main Line (that string of affluent suburbs west of the city of Brotherly Love), regularly asked me for a table at Le Veau d'Or, La Caravelle, and a whole litany of other expensive French restaurants on the East Side.
This lovely man really cared about what he ate, too, since he was also the editor of what was then one of the most sophisticated guides to eating in New York City, "The Restaurants of New York," by Seymour Britchky, and once or twice during the time that I worked for him, he invited me to lunch in one of these fancy spots, which made a change from the slices of pizza and hot dogs that were then the noontime fare of publishing juniors. The meal at Le Veau d'Or on the occasion of my birthday was a pig fest, too, since we started with slices of delicious pate de campagne and then shared a roast suckling pig with a stunning bottle of Cote Rotie.
Today in New York, the most important pig is spotted rather than minced, herbed and baked into a succulent, savory loaf, and so for dinner with an old friend on my first night in the city, I was keen to try the Manhattan 'gastro-pub' that won a star from the New York Michelin guide. And all I can say is what a long, strange trip it's been. When I lived in New York in the 1980s, the amazing culinary revolution that had so recently blossomed in San Francisco was just reaching the city, and if New Yorkers have always loved to eat, they were suddenly interested in eating a lot better. Sure, you could still go to dinner at hokey places like Luchow's, the nominally German restaurant on 14th Street or the very good Cafe Geiger in Yorkville, and dozens of Italian restaurants, but France definitely still lorded it over every other country at the table in Manhattan. Still, there was a sudden quickening in the city's culinary hierachy, based on a peculiar mixture of immigration and social prejudices, with the opening of seriously good and adventurous new restaurants like Karen and David Waltuck's Chanterelle which were not only upending the local gastronomic totem pole but delicously mocking it. A flock of 'real' Italian restaurants was also coming on strong, and a Chinese and Mexican food was suddenly becoming much more authentic, too.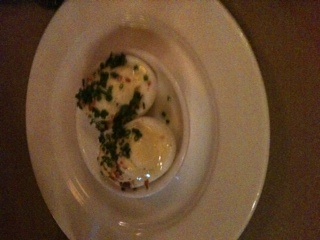 So how, I wondered, did we reach the point that deviled eggs are on the menu at the Spotted Pig, one of the city's most talked about, widely lauded, and most popular restaurants in New York City? Mind you, I loved deviled eggs, but in giving a Michelin star to this place, I think Michelin was trying to strike sort of a hip, irreverent pose, and I'm not entirely persuaded it comes off.
Granted, I like the look of this restaurant, with it's stamped tin ceiling, bric-a-brac, and bare wood floors, a lot, but it doesn't look much different from the dozens of pub-like places that once quietly catered to the large number of single men and women who live in the West Village who don't cook, like to start their evening meal off with a potent cocktail or too, and then go for comfort food like fried chicken or meat loaf, before having another potent cocktail for dessert, and of this genus, Fedora's, also recently rebooted, was a perfect example. These unassuming neighborhood places are more or less extinct now, washed away by the flood of Wall Street money that sluiced through the city's economy during the now discredited 'boom' that ended with a catastrophic financial meltdown (For anyone who hasn't yet seen the brilliant film "Inside Job," an extremely intelligent and lucid documentary that explains that this catastrophe was thirty years in the making beginning with the election of Ronald Reagan, it's required viewing).
So I met my friend Ted here and we were ushered upstairs, which is very dark. There was a nice table for two by the window, though, so I asked if we could sit there and was told we couldn't, because it had been reserved for one of the restaurant's managers, an honest if indiscreet explanation. So we sat on low little stools at a bare wood table and looked at the menu. For fun, we both ordered deviled eggs, decided to split a puntarelle, radicchio, speck and blood orange salad, because I'd never seen puntarelle in the United States before, and then both go with the legendary cheeseburger with its grilled roll, blue cheese garnish and succulent mixture of excellent Pat LaFrieda beef with a bottle of delicious Ridge Zinfandel. This burger has been the object of ecstatic praise in New York, as has the Spotted Pig's chef, Englishwoman April Bloomfield, who was profiled in the last food issue of The New Yorker.
The deviled eggs were okay, but over-salted and lacking the paprika that made my Mom's, or mine–I use pimenton, better. Next the salad, which was a puzzle. In Rome a few weeks ago, I ate puntarelle salad constantly. It's a spring green that requires a lot of handwork to prepare, and comes to the table in thin, crunchy celery-like strings in an anchovy dressing. Here, curiously, there were just a few of the small, tight green puntarelle heads the Roman would throw away, a few slices of delicious smokey speck, some radicchio and a couple of tiny medallions of blood-orange, but the dressing had no taste, so the ingredients with which it was made weren't melded together. Overall, disappointing.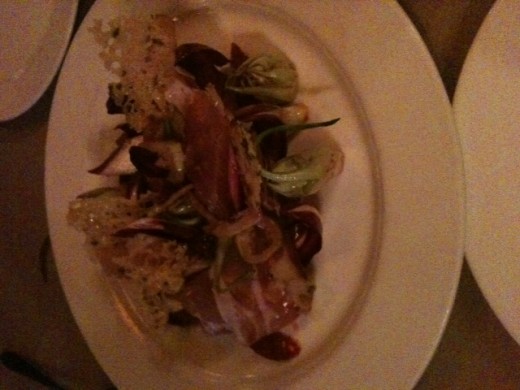 We arrived at 6pm–New Yorkers seem to eat out earlier and earlier, and by the time our burgers, arrived the place was packed with a crowd that was curious mixture of West Village types, including the two NYU film students to our left, one of them with elaborate tatoos, and a couple from New Jersey who were very audibly alarmed by these same tatoos. Or to wit, the crowd was a mix of the few arty types who still survive in the heavily gentrified West Village, plus a lot of braying Wall Street types and Bridge-and-Tunnel couples. The nasty New York snobbery of calling anyone who comes from over the Hudson or the East River 'Bridge and Tunnel' has lost a lot of it's sting now that Brooklyn is so hip, and trendy types are pushing into Queen's neighborhoods like Jackson Heights, but the political and aesthetic short-hand the phrase denotes still applies.
The burgers arrived with an avalanche of shoe-string fries, which look dramatic on the plate but are a non-starter for me, because they're always cold. These were also very heavily salted and lukewarm. Odes have been written to Bloomfield's burger, and because I loved her short-lived John Dory restaurant, and she sounds like a really nice woman on the basis of the New Yorker profile, I couldn't wait to tuck into mine. It was good, too, but not as good as the burger served at chef Michael White at Ai Fiori (he also uses Pat LaFrieda meat, but dresses his up with bacon, cheese, lettuce, onion and tomato, whereas Bloomfield admantly insists on cooking hers with the unique garnish of blue cheese).
The New York press has described The Spotted Pig as a gastro-pub, but for anyone who knows real British ones, it's not. It's a rebooted West Village bar restaurant, with better than average food and the eye-watering prices that only bond traders might find digestible. With tip but no coffee or dessert, this meal cost us both $65, and walking home through the beautiful tree-lined streets of one of the world's most civilized urban neighorhoods, I couldn't help but thinking that this same wad of cash would have bought me a knockout meal at Les Bistronomes in Paris, which I reviewed here two weeks ago. "It's been a longtime since a really exciting restaurant opened in New York," Ted said during dinner. I can't comment on that, but I do find New York menus all read the same these days, with an admirable onslaught of offal and a more puzzling preponderance of brussels sprouts, or to wit, they're admirably earthy and locavore, but not many exhibit the electric creativity you find at such recent Paris openings as Frenchie or Daniel Rose.
The Spotted Pig, 314 West 11th Street, New York, NY 10014 Tel. 1-212-620-0393. A,C,E trains at 14th Street and 8th Avenue or No. 1 at Christopher Street. Average $60.