POTTOKA–Bourgeois Basque in the 7th, B-
September 8, 2011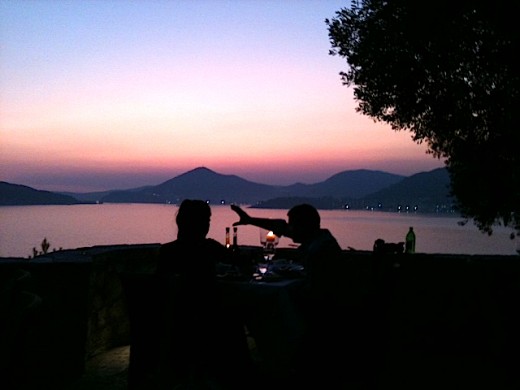 Last supper in Spain
Et helas, all good things must come to an end, including a wonderful holiday in Spain, but I love Paris during la rentree, when the city has an engaging if sllghtly smug and rather self-satisfied energy to it that peters out by Christmas.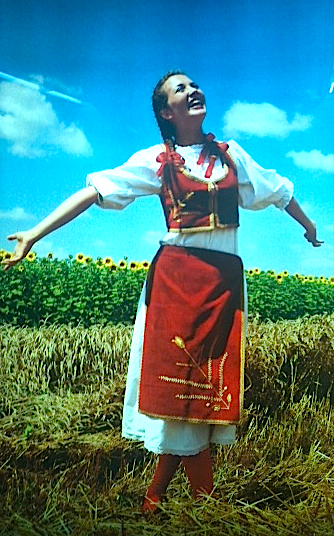 A Parisienne celebrating La Rentree? No, a Serbian farm girl spotted in Belgrade airport And after a long drive home–and recent regime of fideos, paella, jamon and gaspacho, I was hungry for Paris when we got home the other day. I was also curious to try the new Basque restaurant Pottoka, which opened in the 7th arrondissement several weeks ago, because it's so rare these days that anyone launches a new regional table in Paris, and so I met a friend for dinner the night after we got home.
This railroad-car sized space is run by Sébastien Gravé, who chefs, and David Bottreau, who's front of house, and this team met while they were both working at Christian Constant. They then went on to take over Constant's excellent Les Fables de la Fontaine, and this is their first restaurant together. Arriving on a Tuesday night, the dining room had a large number of those men-in-dark-suits who seem to be so indigenous to this particular patch of the 7th arrondissement, and I guessed that they were bankers, accountants, fonctionnaires and marketing guys who get off on Basque and southwestern French cooking as a way of channeling their wilted inner rugbymen personnae.
With the lights turned down low, the decor here amounted to a few Basque words painted on one wall and a long banquette running the length of the one opposite, but since I'm only ever really interested in the food, this anonymousness didn't bother me, especially since the service was so prompt and friendly.
The menu was appealing, too, and my pal decided to try the Ossau Iraty cheese flan topped with gaspacho and served with toast spread with sardine rillettes, while I went for the interesting sounding white beans and girolles with walnut dressing. If his dish was very tasty, especially the sardine rillettes, my dish was really outstanding–perfectly cooked white coco beans mixed with girolles, piquillo peppers, flat parsley and a few slices of smoked duck breast in an excellent vinaigrette. So the meal got off to a fine start, since the bread was good and we both liked our Pic Saint Loup at 28 Euros, too.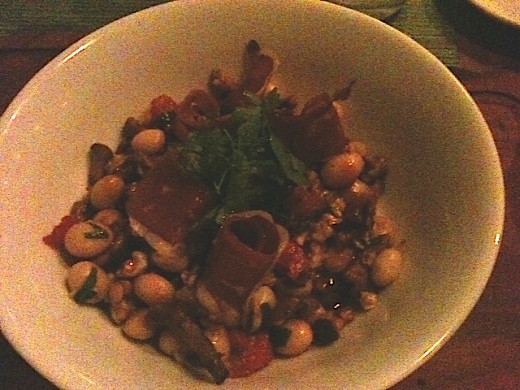 White beans, girollles, and smoked duck breast in walnut vinaigrette Unfortunately, our main courses weren't up to the excellence of our starters. I ordered the Axoa, a classic Basque stew of veal, and it came to the table under a pretty dome of golden pastry, a decidedly citified take on this rustic dish. Piercing the pastry, I was surprised by how dainty-to-stingy the portion of stew below actually was–there was a lot of air space in this preparation, and when the crust was mashed into the stew, the woeful effect was very much that of a Stouffer's pot pie. To wit, too much pastry, not enough stew, and very little flavor. My friend's palombe (wood pigeon), a daily special at a sturdy 25 Euros, was overcooked, too, although it came in a pleasantly ruddy sauce with a side of well-made potato puree. Though the gateau Basque looked delicious–there's clearly a talented pastry chef in the kitchen, we finished up with some bleu de Brebis, which came with a small gritty salad and black cherry preserves.
All told, there's talent in the kitchen here and they work with excellent produce, but as perhaps a reflection of this neighborhood, prices are stiff for rather ungenerous portions, the axoa needs a rethink, and cooking times need real attention. Still, I'd happily go back to try the cod fish and chorizo croquettes with a coulis of piperade and the Ospital sausages with potatoes and béarnaise, and it's good news that Paris has a serious new showcase of Basque cooking.
Pottoka, 4 rue de l'Exposition, 7th, Tel. 01-45-51-88-38. Metro: Ecole Militaire or La-Tour-Maubourg. Open Monday-Saturday for lunch and dinner. Closed Sunday. Lunch menus 17€ and 22€. Average a la carte 50€