CHATOMAT–The Sweetness of a Just-Hatched Bistro, B
September 16, 2011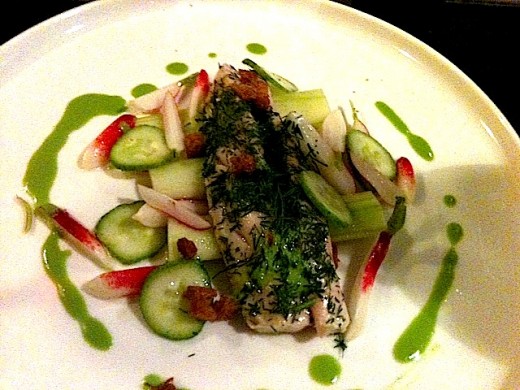 Marinated mackerel
Meeting a friend at Chatomat, a sweet little restaurant that opened this past summer, I found myself thinking that the Paris neighborhood where it's located–on the border between trendy Menilmontant and earthier but increasingly gentrifying Belleville, has just the sort of rough urban charm I like. I love the almost antic mix of people from all over the world who live here and the fact that everything hasn't been scrubbed up, municipally tidied or fast-buck renovated. For me, this is a real city neighborhood just the way I like them, but I'd have to admit that I suspect a fair number of anglophone visitors to Paris might find it just a tad too rough around the edges for their comfort zone. So there–I've warned you, although a warning, as such, isn't really necessary, because this neighborhood is perfectly safe, instead it just looks, sounds, smells and feels different from such zealously overgroomed and sociologically pasteurized precincts as Saint-Germain-des-Pres, which I'd wager is just about the dullest patch in Paris these days.
Oh, and in case you were wondering about the name, which sounds like some kind of alarming seven-speed device you might find in a Tokyo sex shop, it has no meaning but rather is just the verbal whimsy of the young trio who run this place. Arriving, I liked it right away, since the old shop-front space is well-lit, well-designed–painted white, with exposed stone walls, and black suspension lamps, and has a sort of witty visual post-industrial vibe. So Dilow, my pal, and me studied the brief menu–three starters, three main courses, prepared in a small kitchen by Alice and Victor, who cooked all over the place–the Gavroche in London and Ledoyen and Arpège in Paris, as well as Scandinavia and Asia, before opening shop here. Then the waiter, a smoldering young Brazilian, came to take our order and announced, "Je suis Antonio,"which somehow resonated as, I am Mandingo. Antonio did a terrific job all night long, though, and set us up with some very good accras–salt-cod fritters, to accompany our aperitifs of Coteaux du Giennois.
Dilow's first course of marinated mackerel predicted much of the rest of our meal, too–sweet and pleasant, but too timid. The kitchen here works with good produce, and the chopped dill, an herb rarely ever seen in France, tipped a card to the Nordic Lights that obviously inspired this dish, which was garnished with radishes and cucumbers and a green sauce that was pretty but had almost zero taste. Still, it had that angelic quality that distinguishes the best new Nordic cooking, or a sort of chick pecking its way out of the shell innocence that's hard to resist. I liked my starter much better–a thick slice of roasted celery bulb in an excellent Parmesan foam with shavings of the same cheese. This needed a bit of salt and pepper and maybe a few matchsticks of chorizo to wake it up, but it was delicious.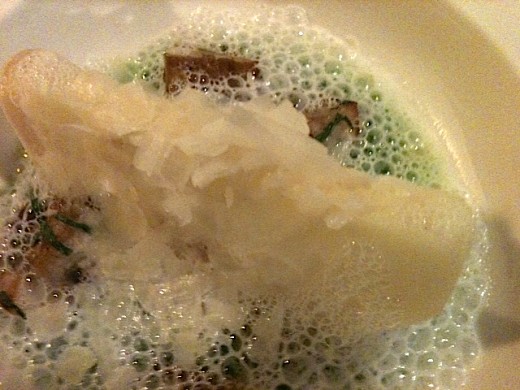 Baked celery bulb in Parmesan cream
If both of us basically liked our first courses, this sense of well-being was amplified by the pleasure of being in a young restaurant that's clearly succeeding–you could tell that the crowd here had come from all over Paris, not just the neighborhood, and I don't doubt it'll become international soon, too. Next, Dilow had a steak, which was good beef nicely cooked and garnished with a few baby potatoes, a sprinkling of various salad leaves and another sauce that had almost no taste, and I did much better with my perfectly cooked cod, accompanied by grilled baby romaine, a scattering of little black olives, a mound of slightly overcooked red quinoa and an anonymous sauce. Aside from the excellent quality of the fish, what gave this dish a voice was a few sprinkles of dried black olive crumbs. Good as the cooking here may be, it's not at the level of what Bertrand Grébault is doing at Septime, because it lacks his authority and sophistication.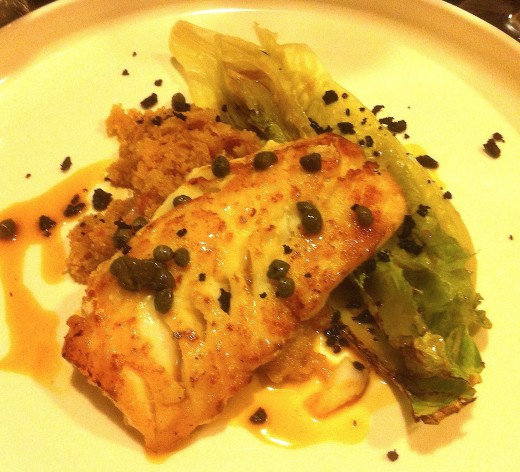 Cod with grilled romaine, black olives and red quinoa I'd liked to have concluded this meal with some cheese, because we were finishing up a very good bottle of Chinon, but as there was none, we split a forgettable chocolate dessert. All told, for a newborn, Chatomat is good, and as the cooks in the kitchen come up to speed and find the confidence to dare more authoritative and inventive seasoning, it'll surely become even better. One way or another, it's a fun night out for students of new restaurants and lesser-known corners of Paris.
6 rue Victor Letalle, 20th, Tel. 01-47-97-25-77. Metro: Ménilmontant. Open for dinner from Wednesday through Sunday. Closed Monday and Tuesday. Lunch service likely to start soon. Average 40 Euros.