LE GARDE TEMPS–A Barely Better-Than-Average Bistro, C+
September 23, 2011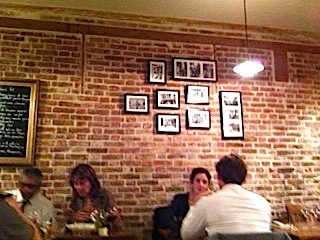 Le Garde Temps dining room (intentionally blurry photo)
Now that the French food press, much of which indulges in a long-standing tradition of effectively shutting down for a month or two during the summer–a luxury few Paris-based Anglophone food writers can afford, is catching up with everything that's happened in Paris during the last few months, I've been reading rave reviews of a new place, Le Garde Temps, which is just a few streets away from where I live in the 9th arrondissement. The deal on this place is that it's the new table of chef Benoît Gauthier, a clever restaurant manager whose Le Grand Pan in the 15th serves some seriously good meat, and restaurateur Marc Rosenzweig, who's also run several popular bars on the Left Bank.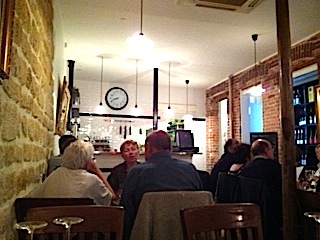 So two weeks ago I met my beautiful Turkish friend Ona Tshirta for dinner here. She started with a thin but tasty white bean soup goosed by a shot of Xeres vinegar, and I had the 'cremeux' of mushrooms with a poached egg and a bacon chip to start. Both were fine, period. Then she had a veal mignon with a side of gritty girolles mushrooms, and I tucked into some seriously dull cod with a side of pablum like polenta, both dishes garnished with an odd curl of pickled red onion. The dining room was busy, though, and the service friendly, so I decided that maybe this underwhelming meal was due to having misfired in the always scatter-shot process of ordering, or to wit, every restaurant has some dishes that are better than others.
So now I've been back several times, and after dinner here last night with three friends, I find myself pretty much mystified as to why this place has been getting good reviews. Bruno's 'millefeuille' of marinated salmon and pasta leaves was one of the dullest things I've tasted all year, and if I always enjoy Eric Ospital charcuterie, the two pals who ordered the 'cremeux' of mushroom gave their biceps a good workout with the salt shaker. Though reasonably priced, the wine list in rather incoherent, too, with a sort of B team list of natural or organic wines, including the Boone's Farm apple wine like white Anjou we unhappily ordered to start. Ultimately, though, the limited ambitions of this kitchen are best expressed by the fact that not a single dish I've eaten here comes with a proper sauce, which means that it's basically just a nicely decorated grill joint.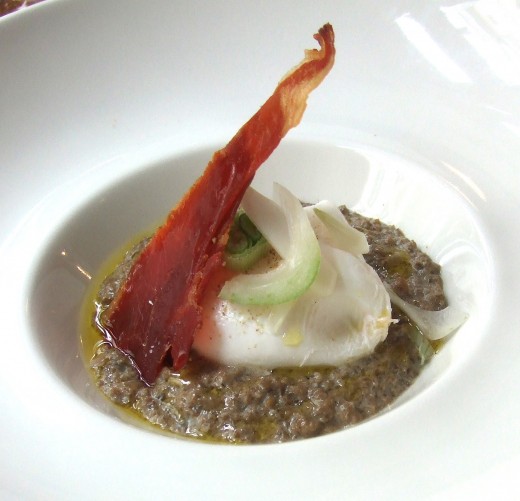 Poached egg, hashed mushrooms, bacon chip
Main courses were similarly decent but point blank dull, too. The only interest in the faux filet steaks that Bruno and I had was accidental for that matter–there was a slightly fishy taste to the meat that doubtless came from a certain promiscuity on the grill. Our consolation prize was a bowl of excellent fat fresh and crispy frites in a style that would be called 'steakhouse' in America. The other two had roasted chicken with a side of sweet potato puree and the same dull veal mignon with gritty girolles that I'd already eaten twice.
With its white Metro tile back wall, suspension lamps, exposed stone wall on the left and brick one on the right, this place clearly aspires to copping a New York state of mind, but New Yorkers would never go for such dull food. For anyone hoping for a sweet finish to a meal here, they offer chocolate mousse, a macedoine des fruits, and rice pudding on their chalkboard menu, among other desserts, but cheeselovers will have to head home for any lactic fun, this place being another sad example of how the French are forsaking their brilliant dairy heritage.
All told this place is a studious but uninteresting rehash of many small Paris trends that's clearly aimed at a lazy Bobo locals suffering from empty-refrigerator syndrome, but what I like best about it is its location, since the rue Fontaine still has an intriguingly sinister array of faux naughty old-fashioned hostess bars where unwitting business men in cheap suits might be shocked back to marital fidelity after paying 100 Euros for a bottle of 'champagne' and a finger fumble. If you've worked up an appetite after skulking around the dying sex emporiums of Pigalle, perhaps the least erotic square footage on the planet these days, or need to fuel up before a night at the Bus Palladium club across the street, this place is just fine. Otherwise, there's no real reason to come here. Did I say dull?
19bis rue Fontaine, 9th, Tél. 09-81-48-50-55. Metro: Blanche or Pigalle. Closed Saturday lunch and Sunday. Average 35 Euros.