CITRONNELLE & GALANGA: A Wonderful Family Affair, and Alec's Second Pig's Foot
February 25, 2011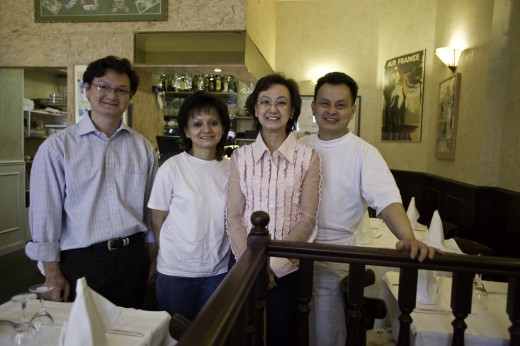 The Ta Family @ Bob Peterson
It was a hot August afternoon the first year that I lived in Paris, and a Sunday to boot, which meant back in that much more idle time in my life, I'd spent most of the day lying on my bed reading a novel so brilliant, "The Locusts Have No King" by Dawn Powell, I hadn't even had lunch. Suddenly it was 6pm, and I was still wearing a bath robe and sipping the same pot of cold tea I'd made that morning. In this little corner of Paris, I wasn't the only one having a lazy day–I could see my neighbor Francoise Ménard, a brilliant painter (why, oh, why didn't I buy one of her beautiful paintings?), taking a timeout from her easel with a cigarette and a glass of white wine in the open window of her apartment next door and over the tall ivy-covered wall that was meant to protect the neighboring convent from prying eyes, a nun with a tent of aluminum foil cooking the hair dye on her head was watching television. The clock ticked, and the heat of the day was starting to break. I had to get up and get dressed, but this book was so good, I hated the idea of going out for dinner. If it hadn't been for the fact the meal I was going to with my friend Rise also included her visiting mother, I probably would have called her and begged off.
Instead I took a quick shower, pulled on the same polo shirt and khakis I'd been wearing the night before and walked briskly through Saint Germain des Pres to meet them for dinner at a little restaurant in the Latin Quarter chosen by Rise–Au Coin des Gourmets. Walking past the busy cafe terraces in an otherwise summer slackened city–everyone who wasn't off at the beach or in the mountains was out for a cool drink and in the hopes of a catching a breeze, I wondered what we'd be eating. Rise has told me it was a Vietnamese restaurant, but I'd never had Vietnamese food before.
Rise and her lovely Mom were sitting at a wobbly table on the sidewalk drinking rose when I showed up, and conversation was immediately easy because Mom had gone to the same college as mine did. Rise suggested she order our starters and that we then all chose our own main courses, which was fine with me. Glacing around, I noticed that the restaurant was full inside, and recognized the actress Leslie Caron in the crowd. When I mentioned her, Rise's Mom was thrilled, too.
So then we ate–small deep-fried spring rolls that I learned to call Nems and which you wrapped up in a piece of lettuce with fresh mint and dipped in tangy pale orange fish sauce, pellucid Vietnamese ravioli stuffed with chopped pork and garnished with bean sprouts and deep-fried onions, and a delicious beef salad bright with herbs and chili peppers. Everything was delicious, and I immediately loved the freshness and lightness of this kitchen.
Next, boned stuffed chicken wings for me–golden, crispy and filled with fine rice noodles, bean spouts, herbs and shredded chicken and an Omelette Saigonnaise for Rise and her Mom, a big crispy folded shell that was more crepe than omelette-like filled with shelled shrimp, bean sprouts and herbs. Everything was so good that I went back again a few nights later, and slowly got to know the proprietor, the lovely Virginie Ta, who moved to Paris from Cambodia in 1973. Through the years, as my knowledge of Southeast Asian cooking grew, I realized that Au Coin des Gourmets is actually more of an Indochinese restaurant than an exclusively Vietnamese one, since the menu also includes Cambodian dishes like Na Taing–ground pork cooked in coconut milk and served with puffed rice crackers, and Laotian sausage.
A few years ago, after I'd moved to the Right Bank, I was delighted when the Ta's opened a second restaurant, where you'll often find the delightful family member who opened New York's celebrated restaurant Indochine–when it was time to flee Pol Pot, part of the family went to France, others to the United States.
The second address is very good, too, but I've always remained a die-hard customer of the original Left Bank address–perhaps until last night.
The Tas have now opened their third restaurant, Citronelle & Galanga, in the rue d'Aboukir, and it's run by Chhim, who's on the left in the family portrait above. This long, narrow, sleek space is has a small bar up front, two round tables for larger parties, and then a long row of tables facing a banquette along the walls, which are hung with the same nostalgic and often rather beautiful 1950s and 1960s Air France posters vaunting travel to exotic Indochine as you see on the walls at Au Coin des Gourmets (The second Au Coin des Goumets in the rue du Mont Thabor is more contemporary looking and casually elegant).
Citronelle & Galanga Bruno and I were hungry when we got there, and enjoyed a wonderful glass of Nicolas Maillet Pouilly Fuisse–Chhim knows and loves his wines, while we studied the menu to see how it would be different from the two other restaurants. Immediately we we thrilled to see that they had the rouleaux de douze legumes–sublime all-vegetarian spring rolls that are only available at Au Coin des Gourmets on Sundays, on the menu, and had happily if rather predictably decided on these and raviolis Vietnamienne when Cchim came to take our order and allowed as how he wanted us to taste the special pig's feet that chef Yann Preci had invented. Bruno and I shot each other a glance, but it was clear there'd be no way around this impromptu degustation.
'But wait! You'd never eaten pig's feet before! What a sorry omission for a food writer.' Well, hold on. First of all, I had once memorably nibbled at a pickled pig's foot when I was a kid. It was the day that President Kennedy was assassinated and we'd been let out of school early. The nice Welsh crossing guard at our elementary school was sitting in a folding chair when I crossed the street. He greeted me by name, told me that I was spindly little thing, and then offered something from a large mouthed jar filled with murky liquid. I plucked something out of it and couldn't imagine what it was. "Try it," he said, and I ended up with a vinegary mouthful of skin, fat and cartilage. Somehow I managed to walk a block with all of this in my mouth before I spat it into the bushes.
So after that additional trauma on the saddest day of my childhood, I'd never been tempted since. I also don't really buy the Tarzan-swinging-on-a-vine school of death-defying eating that says you have to love, or more likely pretend to love, absolutely everything, and the current fashion for extreme eating popularized by TV food shows–"Here you go, here's your live ant sandwich," is, I think, a bore.
So the pig's feet arrived, and we were relieved to see that they were small and actually looked very appetizing. Bruno had never had one before either, so we tucked in together, and were amazed that they were actually delicious. Chef Yann Preci, who's half-Vietnamese and half-Franco-Italian, had infused them with five-spice powder and poached and then grilled them. When he cleared our plates, Chhim asked us if we thought they should go on the menu, and we said yes, definitely. And we really meant it.
The raviolis Vietnamienne and rouleaux de douze legumes that followed were excellent, but decidedly tame after the pig's feet, and if the pig's feet were delicious, I think we both also loved the fact of having tried something new. Next, chicken in fresh ginger sauce and scallops in coconut milk, both of which were excellent, especially with a glass of Lamy Pillot Pinot Noir de Bourgogne. All told, a wonderful meal, and since this place isn't far from home and is currently quiet at dinner so that it'll be easy to get a walk-in table, I know I'll be going back often. "I can't believe how good they were," said Bruno in the car on the way home. I couldn't either, but I also loved nursing the thrill of having added a new food to my repertoire, but also regretting that aside from live ants, there's almost nothing left on any menu I haven't tried now. "Pig's ears?" Bruno asked. "Yes, grilled in Romania." "And what was the weirdest thing you've ever eaten?" he continued. "Fruit bat curry in the Seychelles." "Argh, was it good?" "I wouldn't advise Cchim to put it on his menu."
Au Coin des Gourmets, 5 rue Dante, 5th, Tel. 01-43-26-12-92. Metro: Maubert-Mutualite. Open daily. Average 30-35 Euros.
Au Coin des Gourmets, 38 rue du Mont Thabor, 1st, Tel. 01-42-60-79-79. Metro: Tuileries or Concorde. Open Monday-Saturday for lunch and dinner. Closed Sunday. Average 40 Euros.
Citronelle & Galanga, 15 rue d'Aboukir, 2nd, Tel. 01-42-21-05-62. Metro: Bourse, Sentier, Etienne Marcel. Open Monday-Saturday. Closed Sunday. Average 35, lunch menu 15 Euros.