KEI: Impeccable Contemporary French Cooking, B+/A-
March 11, 2011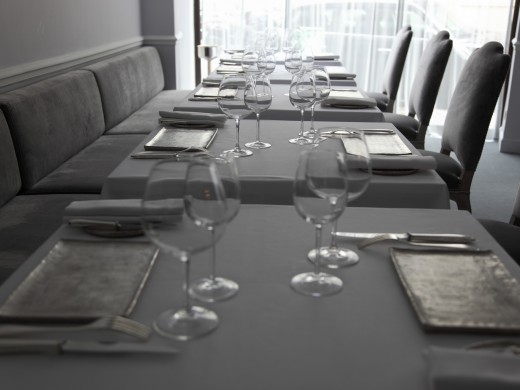 Dining room at Kei Heading off to dinner at Kei, the new restaurant in the space formerly occupied by Gerard Besson, I couldn't help but think of several memorable meals I'd previously had at this address. Among several, one immediately came to mind, a lunch with the editor-in-chief of a big London paper who seemed impatient to get through the meal and claim the post-prandial prize of a big snifter of Armagnac. He was ostensibly in town to check in with the Paris offices of his paper, and I was surprised when he called and invited me, a lowly free-lancer, out for a sumptuous lunch.
We hadn't met before, but I wasn't surprised to find a florid, leonine man sitting at the table I was ushered to. We chatted about the bistro story I had recently done for him, he made several inevitable remarks about how it was surprisingly literate for a piece penned by an American, and then ordered a feast of game in halting school-boy French that surely left a good swath of Loire Valley forest in a decimated quietude with a superb bottle of Burgundy. If the conversation required constant nursing, the meal–a tourte de gibier and roast pheasant, was absolutely superb, so good, in fact, that I found myself drifting off into a haze of pleasure once or twice during his diatribe about the first President Bush. Then we finally arrived at the moment when the solemn waiter placed a snifter in front of him and filled it with Armagnac. Rather alarmingly, he gulped it down in a flash and signaled for another pour. Midway into this second glass, he suddenly got teary and told me his wife had asked him for a divorce because she'd taken up with the carpenter who was doing work on their country house. In vengeance, he'd gone to a maison des filles the night before, and had had some difficulties performing with an Eastern Bloc temptress.
Stunned by his confession, I ordered a snifter of Armagnac and bogusly commiserated with him on the perfidy of the British building trades and the natural awkwardness of finding himself flummoxed by a Slavic beauty half his age. While babbling, I noticed the bemused expression of the Cheshire cat like maitre d'hotel who had clearly overheard and witnessed this entire situation. The grand finale occurred when the bill arrived, and the editor realized that he didn't have his credit cards or enough cash to pay the bill. I contemplated the 1400 plus franc bill with quiet horror, hoping against hope that I wouldn't get stuck with it, and then the maitre d'hotel intervened. "Would Sir like the bill to be sent to the offices of the publication that had made the reservation? It would be no problem." So aside from the superb cooking, this old war horse of a place instantly became a Paris restaurant that I would forever hold dear, which is why I was really sorry to read last year that Monsieur Besson had retired, because they just don't make restaurants like the one he quietly ran for many years on the edge of Les Halles anymore.
With all of this in mind, I really wondered if any new place could possibly live up to the storied reputation of the previous occupant as Bruno and I were seated in the sleek dove-gray and white, and so very Dior, dining room. All of the vieille France paraphernalia–including a large collection of faience cocks, had been swept aside, and a dapper young team had replaced the waiters of yore. But from the very first bite of this meal–a tiny fragile pastry cone filled with cauliflower gelee and crabmeat topped with caviar, I knew that young Japanese chef Kei Kobayashi was a devoted disciple of the finest traditions of Gallic gastronomy, and so he would be after twelve years in France, cooking first at brilliant chef Gilles Goujon's three-star Auberge du Vieux Puits in the Languedoc-Roussillon and most recently as a student of Alain Ducasse at the Plaza Athenee.
The modish style of a single menu also seen at other excellent recently opened Paris restaurants like Jean-Francois Piege's Thoumieux (gastro table, not brasserie), Kobayashi proposes 6 or 8 dishes, with a choice of meats and desserts. Habitually wary of tasting menus, since they invariably go on longer than I am either hungry or want to remain at the table, we opted for the six course meal, which began with a sublime shot glass of gently sweet and deeply flavored corn soup garnished with a black-truffle topped biscuit. Next, a sprightly and very pretty presentation of surprisingly airy foie gras garnished with flowers and shaved baby vegetables, which the sommelier wittily paired with a glass of vin doux from the Cap Corse region of Corsica.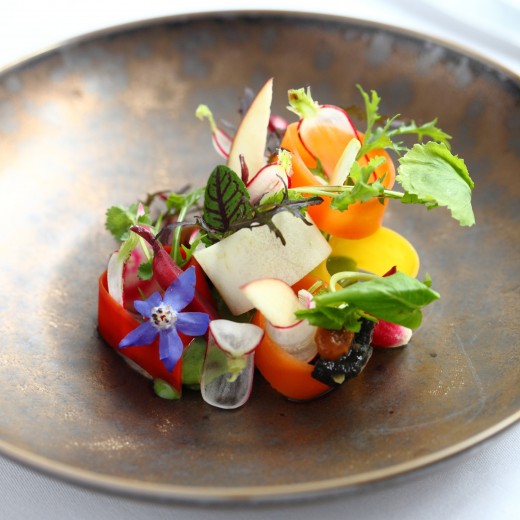 Cooked en cocotte, two perfectly cooked lobsters followed, garnished with grilled baby leeks and an excellent sauce of red and yellow peppers. "He's a very good student of the French kitchen," Bruno observed while we ate this luscious crustacean, and he was right–Kobayashi is a very serious young chef, with impeccable technical skills and an obvious reverence for French produce and technique. He's so dutiful, in fact, that we rather searched for his signature, but finally decided that this intense studiousness is indeed the chef's calling card.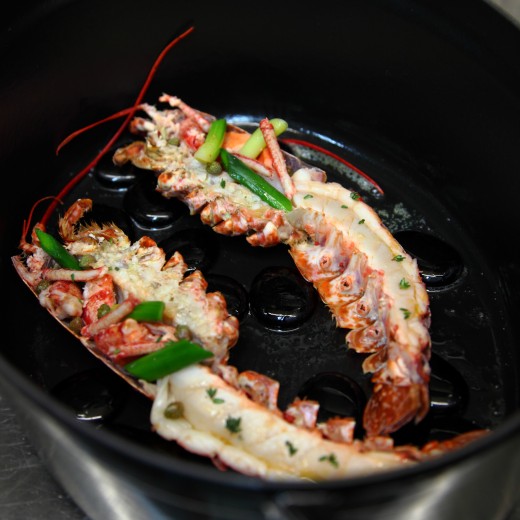 Kobayashi's restaurant also confirmed my earlier hunch that Paris is indeed in the midst of a very welcome revival of a certain type of well-dressed adult table with seriously gastronomic cooking, with other excellent examples of this new take on the tables bourgeoises of yore being 39V, Les Tablettes and Frederic Simonin, all of which have opened within the last few months and all of which I have recently reviewed on this site (please use the search engine to read these reviews). What's interesting and quite heartening about this development is that is evidences a serious generational renewal in Paris's gastronomic landscape–now it's not only the city's bistros that are being rebooted for a new century, but it's gray-flannel tables as well.
Next up, a succulent rack of baby lamb from the Pyrenees with a crunchy golden crust, a nob of lamb's liver, a Noirmoutier potato, a spear of wild asparagus and a gossamer jus that was rich in flavor but impressively fat free. A lovely cheese course followed–don't miss the two year old Comte, and then two charming desserts, a layered chocolate mousse for Bruno and behind of pretty meringue grill in a deep bowl, a refreshing melange of fresh citrus segments and sorbet for me. The mignardaises were final evidence of the top-of-the-class technicity of this solidly talented young chef, too–a Matcha tea macaron, shortbread wands to be dipped in melted salt caramel, and a lush dark-chocolate petit four.
All told, a really excellent meal, and since the slightly balky service will doubtless find its groove and this place develop a more perceptible personality once the breathe-held-tight nervousness of its opening days are behind it, this is an excellent address for a romantic meal, a special occasion, an extravagant tete a tete, or an important business meal.
Kei, 5 rue Coq-Héron, 1st, tel. 01-42-33-14-74. Metro: Les Halles or Louvre-Rivoli. Lunch menus 38 and 48 € (4 or 5 courses), Dinner menus 75 et 95 € (6 or 8 courses)