LA MAISON MERE: A New York State of Mind in the 9th, B
February 20, 2011
Since I moved to the 9th arrondissement some ten years ago, I've delighted in the fact that this central Paris neighborhood with wonderful architecture and some fine little museums has remained so little known. Unlike Saint Germain, where I lived in a tiny apartment near Le Bon Marche for many years, the 9th is still a Parisian's Paris neighborhood, with lots of unusual little shops, excellent food shopping, and a strong sense of community. The difference between these patches of Paris turf was really driven home to me recently, too, when I went to a lovely dinner party on the Left Bank, and all of the other guests were Americans with nearby pied a terres. While I'm not surprised that they love the neighborhood, the problem is they're now so many part-time foreign owners in that swath of the Left Bank between the Seine and the boulevard Saint Germain it's long ago started to feel slightly denatured. Foreigners pay prices that make the French blanche, and part-time visitors don't provide the volume necessary to keep grocers and bakers in business.
Within the last few years, though, the 9th has slowly been rediscovered by that cast of Parisians known as bobos, short for bohemian bourgeois types, or affluent young working couples with cosmopolitan tastes and liberal attitudes. Among other things, Bobos love Asian food (see my recent post on Yoom), New York City and American comfort food, especially hamburgers. So I wasn't surprised when several locals pals raved to me about a new restaurant in the neighborhood called La Maison Mere. "It's just like Nolita (North of Little Italy) or SoHo," they crooned, adding that it was also open daily.
While I love a good cheeseburger, I've had so many mediocre ones in Paris through the years that I wasn't exactly galloping out the door to try this place, but on a recent Saturday, Bruno suggested we go out for lunch somewhere nearby before doing an afternoon of errands, and I thought, Okay, let's give it a crack. Right next door to the Hotel Amour, this little mother of a restaurant clearly aims at that same Bobo crowd who've made the lounge of the hotel their local hang-out, and because I have an instinctive aversion to places that are aggressively stylish–the food usually takes a back seat to decor and attitude at such addresses, I didn't expect to like this place.
But I did–it's fun, the service is friendly, it really does look like New York, although the vintage French school room tables and chairs give it a decidedly Galic slant. I ordered a bacon-cheeseburger, and Bruno something improbably described as an "Assiette Long Island," or a Long Island plate. I couldn't quite imagine what this might be, and then it arrived.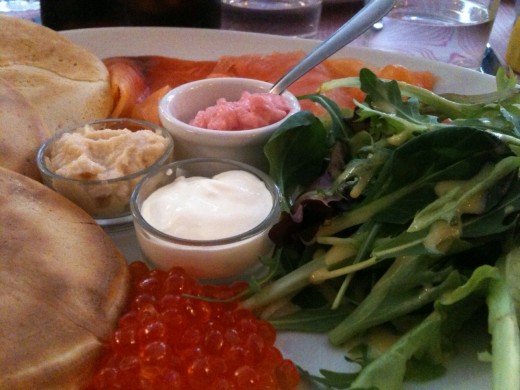 L'Assiette Long Island
Ah ha! So it was really sort of an Assiette Russe, with smoked salmon, salmon eggs, two types of tarama, salad and blinis. The salmon was good quality and generously served, but the blinis might have been made from old floor tiles. Since the baguette that was also served was very good, Bruno ignored the leaden blinis and was overall happy with his meal.
At this meal, I was the lucky one, however, since my cheeseburger was very good, with a perfectly textured meat patty that was full of flavor and cooked medium rare as ordered. Aces for the crispy bacon, too, and if the cheese had little taste, the hamburger roll was brioche like and perfect, a big change from the heavy, cake-like buns that are the norm in France. The accompanying side salad of mesclun was nicely dressed, and the frites were delicious. Though surely meant to add a touch of authenticity, the French's mustard was as acrid tasting as it always is, but overall this was a very nice lunch.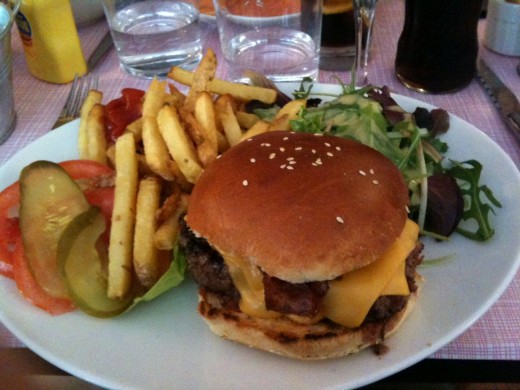 Bruno was disappointed that they're wasn't a Caesar salad on the menu–for some reason, they're only served at brunch, but had we come here with a heartier appetite, there were lots of other dishes that looked good, too, including a veal T-bone, a Bavarian cote du boeuf for two, and steak tartare. All told, I liked this place, and it's nice to know that I can nip out the door for a much better than average cheeseburger if I'm looking for an excuse to flee the keyboard of a give day.
What's curious, though, is that American style comfort food should have become so popular in Paris–they're burgers on the grill all over town these days, a real surprise for anyone who remembers the days when Heinz ketchup was stocked in the 'Exotic' food section of local supermarkets, if at all. At this rate, though, maybe some brave soul will open a restaurant that features a delicious market-driven comfort food menu like those found at Danny Meyer's restaurants in New York City. I'm sure the local Bobos would love it, and also that a branch of La Maison Mere would be a big hit in Saint Germain des Pres.
La Maison Mere, 4 rue de Navarin, 9th, Tel. 01-42-81-11-00. Metro: Saint-Georges or Pigalle. Open daily. Average 30 Euros.