DANS LES LANDES–Southwestern French Tapas and a Really Good Time, B
May 5, 2011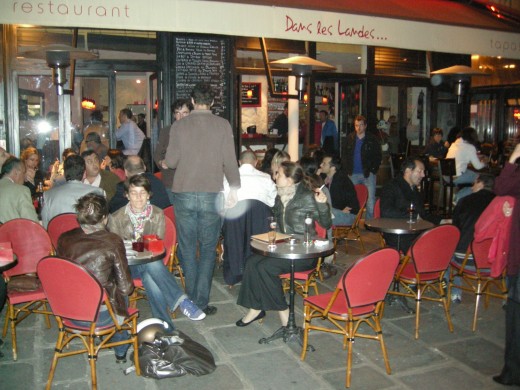 After flying from Seattle to Paris, most people would probably be in bed by 8pm, but my wonderful food mad friends Bob and Lynn would never dream of wasting a meal in Paris, so I had to think of a casual new place with great food and wine where we could sit outside (who doesn't want as much fresh air as possible after many miserable hours aloft?) for their welcome-to-Paris feast, and the new Dans Les Landes came to mind immediately. Since I'm a big fan of Afaria, chef Julien Julien Duboué's first restaurant in the 15th arrondissement, I've been to his latest addresses a half-dozen times, and it's quickly become one of my favorite places to eat in the Latin Quarter.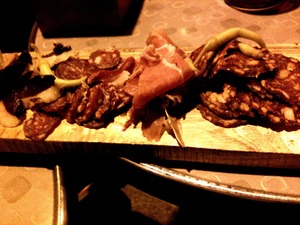 Sitting outside on a Friday night, the terrace was packed with a jolly crowd of dating couples, older academics and a gang of rugby players (the sport is very popular in southwest France), and even though we'd had to wait a bit too long for our table, we were happy once we settled in over a platter of Eric Ospital's sublime Basque charcuterie with a bottle of white Irouleguy, a terrific Basque wine.
These first nibbles also gave us time to study the arm-long chalkboard menu and try and tamp down our desire to order one of everything, since all of the food flying by us looked delicious. Then the waiter came and plonked down a napkin-lined plate of irresistible crunchy sticks that turned out to be white polenta garnished with smoked duck. We hadn't ordered them, but had already eaten half of them by the time he realized his mistake. I excused us by saying there was just no way to hold back hungry friends who'd just flown hours by long haul, that the sticks were delicious, and that I thought we should order, and instead of getting snarky, he grinned and got out his pad. Among its other attractions, and they're many, Dans Les Landes is a very friendly place.
So we went at it and ordered tortilla (potato omelette) with truffle cream, deep fried chipirons (baby squid), baby clams with chick peas and avocado, the best little barbecued pork ribs I've ever eaten in Paris, a plate of witty Landaise spring rolls (rice paper wraps with salad, duck foie gras and duck breast), grilled quail breasts, and doubtless a dish or two that I don't remember.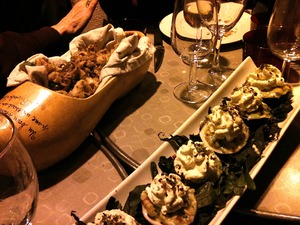 Unfortunately, everything came at the same time, which meant that our two tiny cafe tables were groaning with food. Aside from the Landaise spring rolls, the most amusing presentation of the evening was that the chipirons–crispy, tender and irresistible, were served inside of a sabot, or one of the wooden shoes that were once worn by farmers in the muddy, swampy Les Landes region. The tortilla omelette was unremarkable–it could have used some onion and a pinch of piment d'Espelette and the truffle sauce had little taste, but everything else was excellent, and with a couple of carafes of red Tursan wine, a lesser known southwestern French pour, the weary Seattlers wolfed down this feast in no time flat.
Probably more for his own amusement than anything else, the waiter eventually returned to see if we wanted to order main courses. Several of them looked very tempting, including guineau hen roasted with chestnuts and grilled pork breast with white beans, but all we could manage was a couple of shared desserts, including a millasou Landais croustillants with confit de vieux garcon. These turned out to be sticks of sweet corn polenta served with an alcohol spiked chutney of fruits–figs, prunes, grapes and apples. "Vieux garcon' means batchelor in French, and I can only say from the reference here that these old boys had figured out a pretty good way to take the sting out of their solitude.
19 bis rue Monge, 5th, tel. 01-45-87-06-00. Metro: Censier-Daubenton. Closed Sunday. Average 35 Euros.