LES COULISSES–The Making of A Great Neighborhood Restaurant, B
May 13, 2011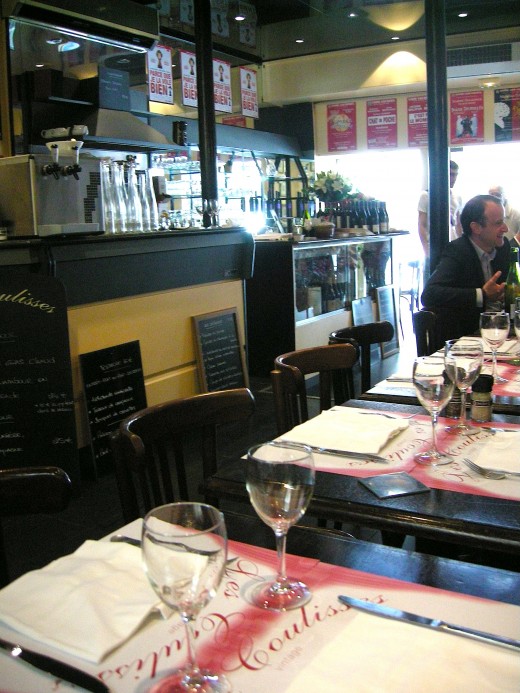 Its a tough challenge to create a successful neighborhood restaurant in Paris these days. Almost by definition, prices should be low enough so that the locals will reflexively come for a meal, and the profit margins on affordable dining in Paris these days are razor thin. Then there's the question of the menu, which can be very tricky, too. In the 9th arrondissement in the heart of Paris where I live, the locals like traditional French bistro cooking but also appreciate the novelty of more inventive contemporary French cuisine. Curiously, though, very few restaurants in the neighborhood have thought to create the type of really clever and very appealing menu served by chef Frédéric Barette at Les Coulisses near the Place Saint Georges.
I rarely go out to lunch, because I'm too busy during the day, so when I do it's a real treat. A couple of weeks ago, I let myself be tempted by a friend from Hamburg, a great Cuban guy, whom I hadn't seen in a longtime. Jorge was staying in a hotel nearby, and told me that the people at the fashion company he'd come to visit–curiously enough, just across the street from my building, had recommended a restaurant that had recently changed owners as having terrific food and also for offering excellent value for the money. So I met him for lunch at Les Coulisses without knowing a thing about this restaurant.
We settled in over a glass of white wine, and got to chatting with the very friendly owner, who used to be in the armaments business before deciding he wanted a different life. Since it was noon, we both wanted to eat light, so we shared an ordered of perfectly cooked white asparagus with a piquillo pepper garnish–I'd never have thought to pair piquillos with asparagus, but it was delicious. Jorge said he'd been dreaming about eating steak tartare ever since his plane took off from Hamburg (he doesn't eat it there, he says, because the beef isn't very good), and he was thrilled with the hand-chopped beef and generous portion of homemade frites that came to the table. My salade gourmande with foie gras, smoked duck breast and a coddled egg was prepared with excellent produce and very generously served, too. It was also fun when the woman dining alone at the table next to us leaned over after she'd paid her bill and told us that she hadn't had so much fun eve's dropping in years (Jorge originally left Cuba on Czechoslovak scholarship to study nuclear biology at the University of Bratislava in Slovak, got a Ph.D., and today, bien sur, is a buyer of high-end fashion for a Hamburg boutique).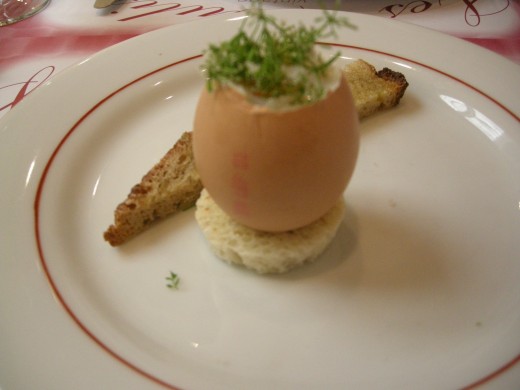 Walking home, I was elated to have discovered another really good restaurant in my 'hood, and so when a few days later, I went for dinner with Adelaide, a favorite French pal (for whatever it's worth, Bruno's on a draconian diet at the moment, which means that I'm catching up with a lot of old friends). The great-looking forties decor of Les Coulisses looked terrific in the evening, and I was surprised when we were served an amuse-bouche of gently coddled eggs with salt-cod foam, a cracking good combination.
Having gone the traditional bistro route with Jorge, this elegant feint took me by surprise, but the best was yet to come, since without my having particularly noticed, Les Coulisses has a brilliant two-speed menu that lets you go red-blooded bistro or opt for something more adventurous. Adelaide's "Hure d'anguille fumée et foie gras, aspêrge à la milanaise, condiment mostarda Xeres," or a sublime jelly of smoked eel and foie gras with breaded asparagus spears and an intriguing condiment of Italian style fruit mustard spiked with Xeres, was an really impressive amount of serious cooking. It was beautifully plated, too, and garnished with a sprig of acacia flowers and a small salad of mesclun.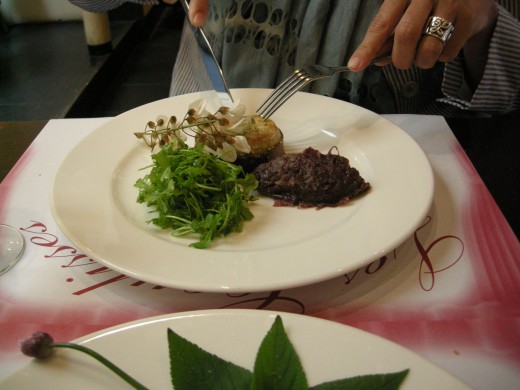 My sauteed foie gras was excellent, too, and both of us were delighted with our main courses. Adelaide, a wonderfully hearty eater (she's a master class equestrian, among other things), had the roasted pigeon with carmelized onions and I chose a daily special of sole meuniere. While waiting for our main courses, we happily signed a petition to plant more trees in the 9th arrondissement, an excellent idea not only for this part of the city and especially the barren rue du Chateaudun, but many other foliage deprived Paris boulevards.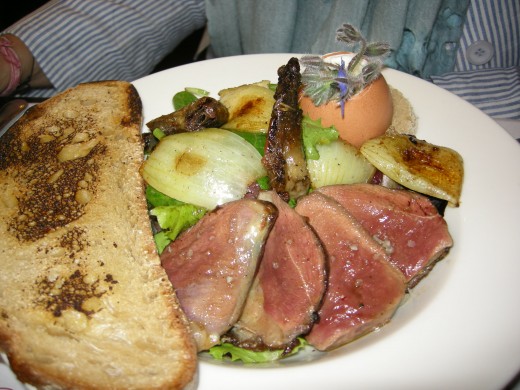 I couldn't quite understand the toast that came with Adelaide's pigeon but it was impressively succulent and perfectly seasoned, as was my sole, which came with perfect garnishes of boiled potatoes and a mixture of new peas and fava beans. Finishing up with huge servings of a help-yourself bowl of epically good chocolate mousse, Adelaide delivered her verdict. "This is almost haute cuisine level cooking at bistro prices–what a terrific restaurant!" And as if to emphasize the veracity of her judgement, which I shared, freshly baked honey madeleines were served on a bed of fresh thyme with our coffee. Les Coulisses is terrific, and I am planning to become a regular here.
19 rue Notre Dame de Lorette, 9th, Tel. 01 45 26 46 46, Métro: Saint-Georges. Open Mon-Fri for lunch, Mon-Saturday for dinner, closed Sunday. Prix-fixe menus 29.50, 39.50, average a la carte 30 Euros.