LE PETIT CLER–A Great Little Bistro for a Casual Meal, B-
May 2, 2011
I doubt that it will surprise you to learn that I get dozens of emails every week asking for advice on where to eat in Paris. Unfortunately, giving everyone who writes a personal response could quickly become a full-time job, so I'm obliged to refer them to HUNGRY FOR PARIS, my book, or this blog. In a similar vein, I am the anointed restaurant choser among my friends, and because I'm grateful to them for accompanying me on so many of my weekly missions, this is a role I happily accept, although I really wish someone would invent a robot secretary to give me hand with all of those reservations.
Sometimes, however, I'm thrown for a real loop, which is what happened last Friday when I had an email from three wonderful friends who live in Rome saying they'd been in Paris over the May 1 weekend and asking if we could have dinner. I already had plans for Friday and Saturday, so Sunday was the only night I could suggest, and I immediately went to work trying to figure out a place we could go. These delightful women know and love good food, and don't come to Paris very often, so I really wanted to bring them to a good solid French meal. As if Sunday night wouldn't already be a challenge, it was also May 1, when many restaurants that are normally open are closed. The obvious way out would have been a brasserie, but since most of them are mediocre and over-priced, I immediately nixed that idea. Then I thought of La Fontaine de Mars, a good bistro in the 7th that I knew would be open, but was blocked on this place by the fact that other friends who'd be joining the party are a bit strapped at the moment.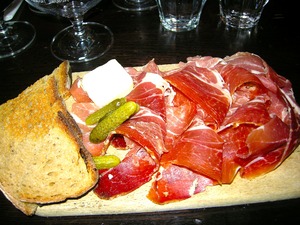 Jambon cru with Poilane toast and a few doomed cornichons
But fiddling around on the Fontaine de Mars website, I noticed that they had a second address, Le Petit Cler, which I'd be unaware of and that the menu was both appealing and quite affordable. So I booked us there and hoped for the best.
Arriving on the rue Cler, I liked the look of this place right off the bat. It was a warm night, and they'd opened up the front of this busy restaurant, so that we had a lot of fresh air and less noise. We started off with a pleasant bottle of Gascon white for a very reasonable 16 Euros, and then when the waiter heard me translating the menu, he thoughtfully returned with several English-language ones.
Since none of us had ever been here before, we rather wildly over ordered when it came to our first courses–the portions were so large, that four starters could quite happily have fed six, but then the jambon cru I got was so good, I scarfed it all down without a problem. Several of the others had the terrine de campagne, which was also very generously served, obviously homemade and quite good. Two others unwittingly went with what turned out to a meal-sized goat cheese salad, which was nice with the exception of a very un-necessary squirt-bottle dribble of Balsamic vinegar–a terrible idea with good quality goat cheese, and Bruno thought he'd be eating light with a poached eggs with spinach, Parmesan, lentils and tomatoes, a delightful starter that was also substantial.
Though this place is a simple–and obviously very popular, neighborhood bistro the quality of the produce here was impressive, not surprising given the fact that everything comes from the same suppliers as those chosen for the very good La Fontaine de Mars. Main courses were similarly abundant and also very good, including the daily special of roasted chicken with potato puree, a terrific cote de boeuf for one, steak tartare, and a lavishly well-served planche complet.
As good as the food was, however, service here could use some fine tuning. When we were finally able to stop one, the waiter was friendly, but the cote de boeuf and roasted chicken could have been warmer, and I had to get up and go to a service station myself in search of salt and pepper. On the other hand, this place was mobbed, the price are low, the quality quite respectable, and the mostly French crowd here the other night generated a friendly, contented atmosphere.
We finished up an appealing 'bio' (organic) Cotes du Rhone with an excellent selection of cheeses from the nearby shop of Marie-Anne Cantin, one of the best cheesemongers in Paris, a slice of fair-to-middling tarte Tatin and a respectable moelleux au chocolat (melted chocolate cake), and at barely 30 Euros a head–it would have been much cheaper if we hadn't so grievously over-ordered, we all agreed that this place is a great bet for good simple Gallic grub on a night when they're not a lot of other choices available.
Le Petit Cler, 29 rue Cler, 7th, Tel. 01.45.50.17.50, Metro: La Tour Maubourg or Ecole Militaire. Open daily for breakfast, lunch, and dinner.