DESSIRIER–Landing a Really Good Catch in the 17th Arrondissement, B+
January 14, 2014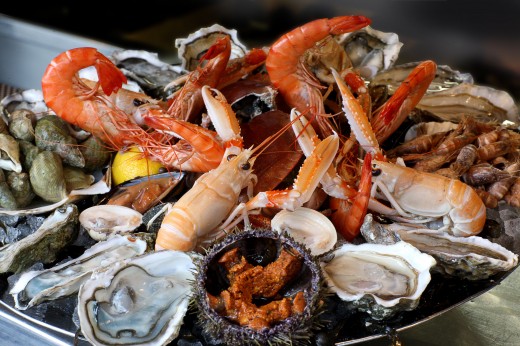 When a beneficent old friend from L.A. with a hefty expense-account called and suggested dinner on Sunday night not too far from his hotel in the 17th arrondissement, I had to think for a while. I hadn't been wearing my restaurant cap for a couple of weeks after the holidays–like many food writers I know, I'd been eating very simply and leaving the corkscrew untouched in the kitchen drawer for a while after being rather too lavishly well wined and dined during the previous couple of weeks. Then, too, the fact that he's also a vegetarian threw me a curve ball, the first one being that it was a Sunday night.
Myself, the one thing I knew I was really in the mood for the other night were oysters, and maybe a nice grilled sole, and this got me to thinking. Though they're several brasseries that might have been an obvious choice in the 17th, I find myself mostly giving a wide birth to them these days, because their quality seems to have declined almost as quickly as their prices have been going up. As luck would have it, a friend who lives in the 17th called for a chat that afternoon, and I asked her if she had an idea. "What about Dessirier?" she said. "It's expensive, but there's also a 48 Euro menu that's great value for the money." I probably wouldn't have thought of chef Michel Rostang's seafood brasserie on the Place du Maréchal Juin, but a quick glance at their website made my mouth water, so I booked Gregor and I for dinner and spent the rest of the afternoon looking forward to some oysters.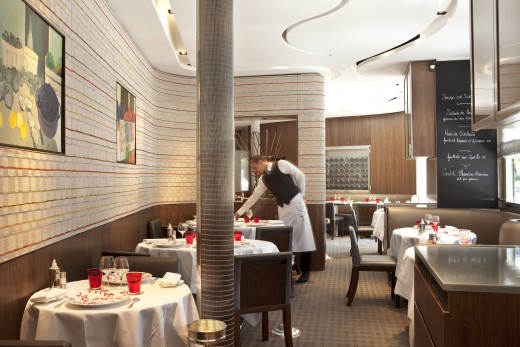 @CBiesla
Gregor, whom I've known since Junior High School in Connecticut, was waiting for me when I showed up late, having taken the trouble to try and look half-decent after a wonderful for being so rare lazy Sunday afternoon reading a great book–Any Human Heart by William Boyd. Ever since we were kids, he's always been one of the nattiest men I know, and now that he's a very successful art dealer in Los Angeles, I fully expected he'd be dressed to kill. He didn't disappoint me either, with a beautifully cut Tom Ford suit and some new Berluti shoes, and even beyond his expensive clothing, he radiated the aura of someone who's powerfully confident in his own success. As we perused the menu and ate very good cod rilettes on zucchini mousse while sipping flutes of Champagne, I became aware of the fact that the beautiful woman with a much older man across the aisle couldn't take her eyes off of him, which wasn't surprising, because with a Norwegian mother and Russian father, he's tall and very handsome, with wavy blonde hair, a Roman nose and green eyes.
Though the 48 Euro menu would have suited me to a T–I could have had oysters and then a cod aioli, one of my favorite dishes of cod with garlic mayonnaise, and a baba au rhum, he batted away this suggestion and insisted we order a la carte. There was a brilliant selection of oysters available, including meaty beauties from Utah Beach in Normandy, and a line-up of pedigreed bivalves from famous producers, including Gillardeau and David Hervé from the Marennes Oleron, Prat-ar-Coum and Cadoret from Brittany, and Florent Taboureich from the Etang de Thau. What really caught my eye, though, were the Spéciales Perles de l'Impératrices by Joël Dupuch, an amiable sixth-generation oyster farmer from Arcachon in the southwest who also has a very good seafood restaurant in Bordeaux, Joël D. You don't see them that often in Paris, and they're just plain superb. So it was the Empress's pearls for me and then grilled sole with sauteed spinach, while Gregor was keen for something "very French" and ordered the lobster vol au vent and scallops with garnishes of brussels sprouts and chopped Morteau sausage and potato puree. To my delight, he chose a really good bottle of white Givry, and we were off.
"I wish she'd stop staring," he said while we were waiting for our main courses. "I think I must be one of the very few men in Paris who isn't interested in cheating on his wife," which makes sense, since she's a delightful Argentine woman who's also a very talented painter. While we were waiting for our food, he pulled an iPad out of his bag and asked me if I'd have a look at the work of some of the artists he represents. Not everything he showed me was to my taste, and when I told him, he looked serious. "The problem right now is that there's too much money chasing too little talent," he said gravely. "They're so many new museums being built all over the world, and they all need something to hang on their walls. This is why we're all so desperately on the look-out for new talent."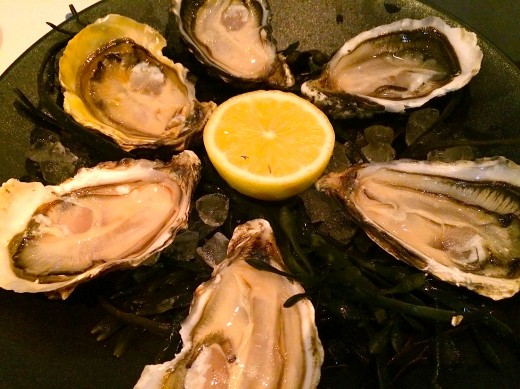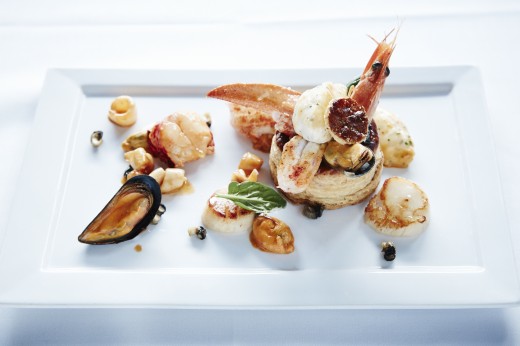 When the charming head waiter showed up with our starters, we promptly sailed away from the gravity of the current state of the American art world and had one of the best seafood meals I've ever eaten in Paris.
The only thing that disappointed me about my big meaty oysters with their resonant tones of salinity is that there were only six of them, while Gregor loved his vol au vent, which fascinated me for the remarkable precision with which the lobster claw, langoustines, quenelles, coques, and mussels that composed it had been cooked. "This was exactly the kind of thing I had in mind during the long flight from California. How amazing it would be to live in a city with seafood of this quality!" I offered that in my opinion Paris is the best seafood city in Europe, since at it's very best, at Dessirier, for example, the city's shellfish and fish are supplied by small boat fisherman who catch by line, as opposed to nets, to preserve the quality of the fish, and it's sourced from both the Atlantic and the Mediterranean. Then no one in the world produces better than oysters than the French, and their mussels are excellent, too.
"Well, we've certainly come a long way from the Clam Box," said Gregor, referring to an old-line seafood place in the town where we grew up. "I was telling my kids that I hoped I'd see you, and that you were the only person I knew who'd eat anything when we were growing up. Do you remember the first time we ever had sushi when we went into New York?" I did. Gregor's aunt took us to a sushi place in New York where I ate my first sea urchin when I was fourteen, and he spent most of the meal surreptiously moving the contents of his plate to mine, because he couldn't wrap his head around the idea of raw fish. "My aunt sure loved you for that sea urchin, Alec!"
On a Sunday night, most of the other diners at this attractive restaurant with a contemporary decor punctuated by pops of color were well-dressed couples, including many men in suits even on an off-hours evening, but to my relief–I'd worried that this rather bourgeois power-brokers' table might be stuffy–the atmosphere was relaxed, and the waiters courteous, alert and good-humored.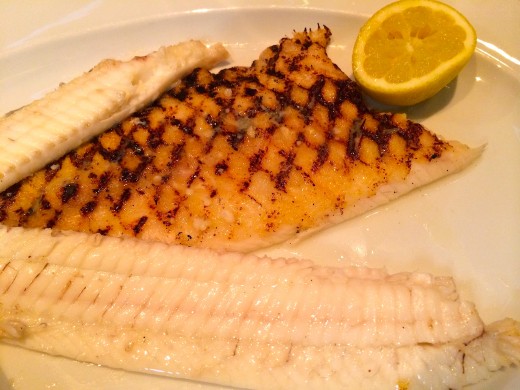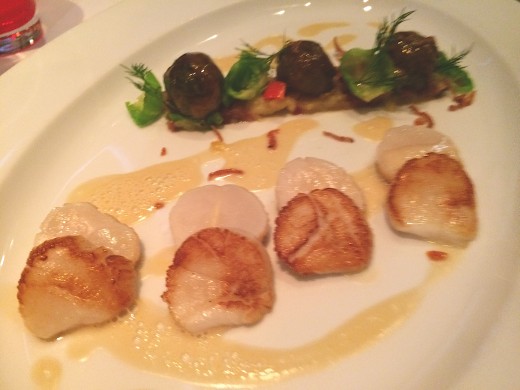 One way or another, it was delightful to see Gregor and nothing could have stopped me from enjoying an impeccably grilled sole with racy black scoring. Gregor was very happy with his seared Norman scallops and the gently smoky taste of the Brussels sprout and Morteau garnish flattered their sweetness, too.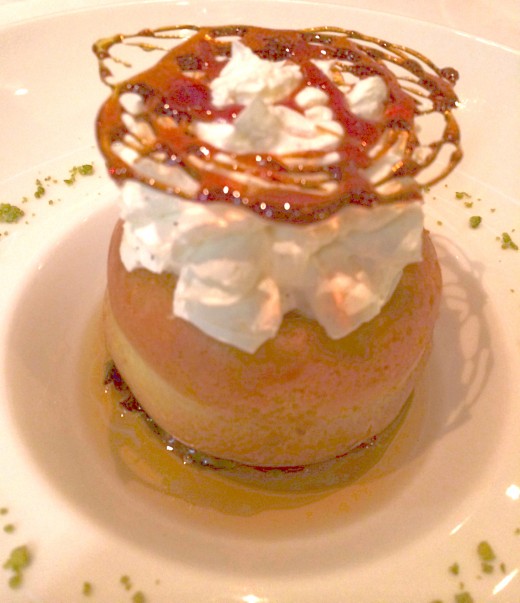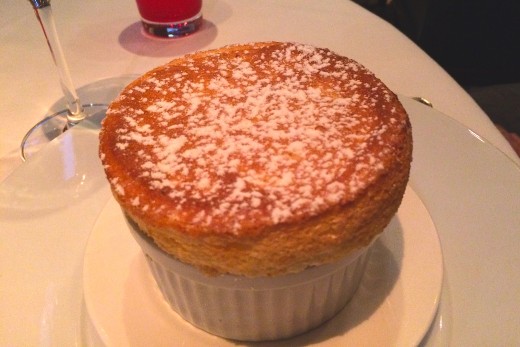 We finished up this excellent meal with a baba au rhum, which I lashed with a couple of squirts of superb deep amber Martinique rum that pleasantly smelled like an old leather-bound book, and an elegant little Grand Marnier souffle for Gregor. After dinner, he nicely waited with me for my bus (I know he was puzzled as to why I didn't just hop in a taxi, but I calculated that a point-blank return to reality was the best idea after the feast he'd so generously offered us). "That was such a nice meal, Alec. I really enjoyed it, and it was such an interesting mixture of old-fashioned and modern fish cookery," he said as my bus barreled towards us. And in the bus, I thought about how he'd said more than he might have known, since Michel Rostang's seafood brasserie really does offer a clever two-stroke experience of great French fish cooking–the traditional version with sauces and the minimalist version that's been championed for some twenty plus years by restaurants like Le Duc and the now gone Paul Minchelli. Here, you can have it your way, and that's the whole point of this privileged place. For my part, it was a felicitous discovery, since given the prices for top-drawer fish in Paris these days, the 48 Euro menu is such a good buy that I certainly intend to be back here again in the near future.
9 place du Maréchal Juin, 17th, Tel. 01-42-27-82-14, Metro: Pereire. Open daily. Prix-fixe menus 38 Euros (two courses), 48 Euros (three courses). Average a la carte 75 Euros. www.restaurantdessirier.com