Faggio, Paris | Great Pizza, Lousy Name, B
October 5, 2015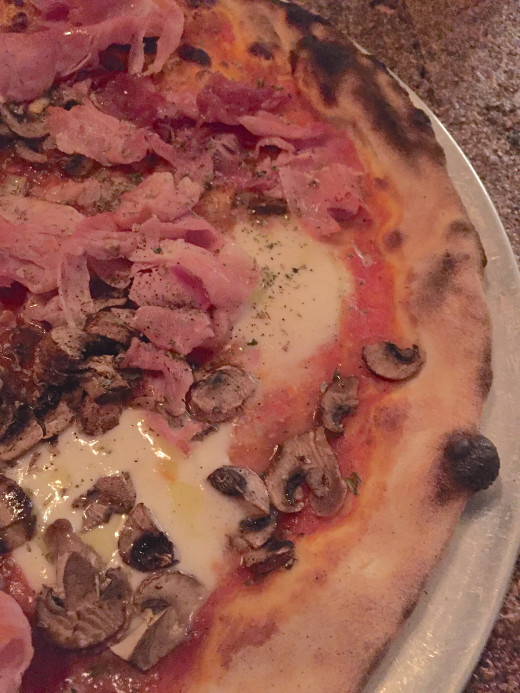 So I'm having a cautious flirtation with Faggio, the ur hip new pizzeria in ur hip Pigalle in Paris. I'm not sure if it will last for lots of different reasons, but for the time being I've found a pizzeria that makes me really happy. The thing is, though, when it comes to pizza in Paris, I've fallen in and out of love dozens of times. The reason is that I come from the best pizza belt in the United States, or the long urbanized band of the American East Coast that runs from Boston to Baltimore and which luckily received millions of Italian immigrants a century ago. This is why every major city in this zone-Providence, Rhode Island; New Haven, Connecticut; Trenton, New Jersey, etc.-has at least two or three seriously good pizzerias. And this is why I've never found a pizzeria in Paris that measures up to my American baseline, the late and hugely lamented Apizza Center in Fairfield, CT, which predictably bit the dust after an ill-fated attempt to make it modern. much less those I've so rapturously eaten in Naples.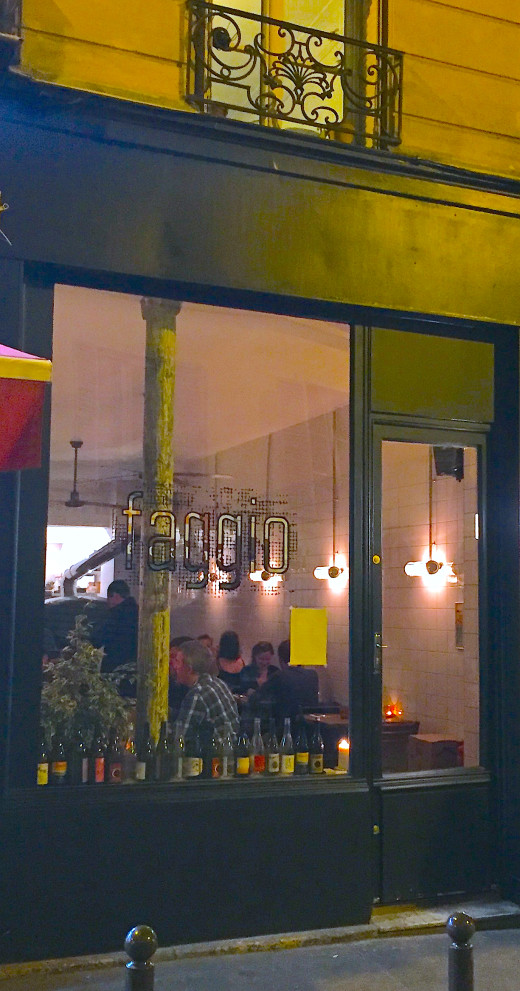 Those were the pizzas we ate as a family on Sunday nights, and I loved going with my father to pick them up, since I was as fascinated by the inferno-like coal-burning pizza oven as I was by the teenagers on dates, greaser boys with tattoos and girls with teased hair and dark eyeliner. I loved sitting in the second front seat of my father's Saab, too, with the three cardboard boxes piled on my knees, and the smell of hot cardboard mixing with those of melted mozzarella, yeasty dough, and the sharp tomato sauce that came out of big cans with Italian writing on them was my favorite perfume of desire before puberty. Ultimately, it was that tomato sauce that made these pizzas so good, since it was sharp, almost acidic, and a perfect foil for the mozzarella and occasional garnishes of crumbled Italian sausage with fennel seeds or mushrooms, real mushrooms, not canned, that had been hand sliced and sauteed.
In Paris, I liked the pizzas at Chez Bartolo in Saint-Germain-des-Pres until they became absurdly expensive and the service so aggressively unfriendly that this little place became infrequentable, and Da Mimmo, which I stopped going to for the same reasons. Il Brigante in Montmartre is still pretty good (the pizza-maker at Faggio used to work there), as is La Briciola, but I find the quality at Al Taglio isn't what it was. And I won't pay the eye-watering prices they charge at the dreadfully named Pizza Chic either.
Recently, though, Paris has been in the midst of a wonderful little pizza revolution, as a variety of excellent new pizza places open to rival the sad-sack addresses found all over the city–you know, the places that use frozen dough, pre-shredded mozzarella, cheap tomato sauce and pizza-makers without work permits. Several months ago, I liked the pizza at East Mamma but what I've really been wanting is a great pizza place that's within a ten-minute walk of my front door in the 9th Arrondissement, or a perfect bolt-hole pizza place for a Sunday night.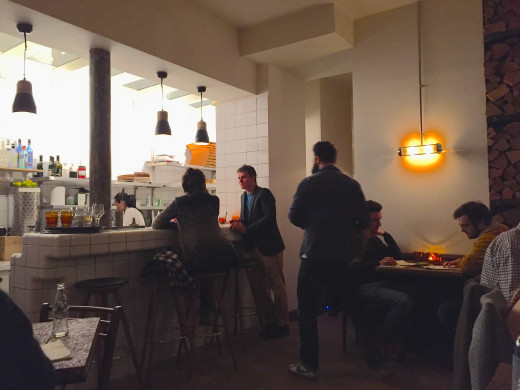 I'd been hearing good things about Faggio in the neighborhood, so last night we ankled over there for dinner. Arriving, I had SoPi (South of Pigalle, as this almost comically trendy neighborhood has become known) on my mind, and so I was amused when we were lucky enough to find a table in the white-tiled back dining room with its Edison bulb fixtures, and Bruno guilessly remarked: "This place makes me think of New York." And of course it did, because the room was full of men with Rutherford B. Hayes beards, including owner Fabien Lombardi, ex-bartender and co-founder of l'Entrée des Artistes, and young women with jeans with artfully ripped knees.
What augured better for dinner were the bags of excellent quality Italian Caputo flour stacked on the floor adjacent to the tiny kitchen with its tiled wood-burning pizza oven. Ignoring the three starters, we ordered a Regina topped with Prince de Paris ham, mozzarella and mushrooms for me, and a Montanara, with Parma ham and delicious smoked stracciatella for Bruno, and amused ourselves by watching the local fauna in the exposed brick-walled room during the long wait before the pizzas arrived.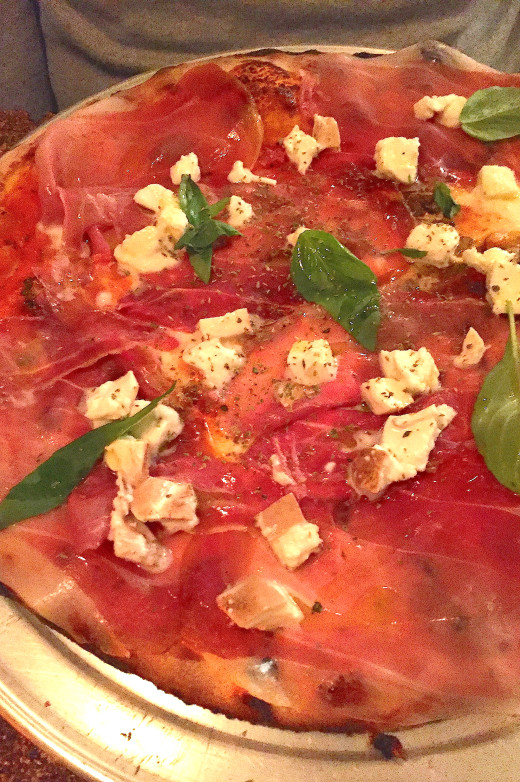 When they finally did show up thirty-five minutes later, they were very good, but we'd drunk deep into our bottle of biodynamic white from the Veneto, which is exactly what happened the other night during dinner with friends at Dilia, a new Italian bistro in Menilmontant. To wit, hipster tables seem to assume an amiably blithe indifference to the apparently dispensable niceties of good service. At Faggio, it wasn't that anyone was unfriendly, but rather that no one was going to acknowledge that you'd had a long wait before being fed. And of course the wine list was really top-heavy in terms of pricing, since the only way to make the rent if you're running a pizzeria in Paris is to sell a good amount of pricey wine. So our bill for two pizzas and a bottle of wine was 58 Euros, and the very good white I chose was one of the least expensive.
After dinner, I wasn't sure if I'd go back, but today I know that I would, since it's lunchtime and I want nothing more than a pizza Montanara to magically appear on my door step. Next time round, though, I'd probably do take away, and I might also tell the owner that his probably knowing jeu de mot of the restaurant's name isn't very funny. In Italian, the official meaning of faggio, is beech, as in a beech tree, but it has another slang meaning as well. Per 'The Urban Dictionary:' "Faggio: Scooter from the GTA video game series. It is a derogatory, effeminate play on the name of the Italian scooter brand Piaggio, as scooters (sometimes referred to as vespas) are generally perceived to be only a slightly less emasculating mode of transportation than the segway, the pink tricycle, or an electric barbie car. Secondarily, It can be interpreted as a clear insult directed at the effeminate owners of such modes of transportation (see artfag). Examples: "This beige cream faggio certainly is a slow and gay mode of transportation," or "That faggio owner certainly looks gay slathered in beige cream."
72, rue de Rochechouart, 9th Arrondissement, Paris, Tel. (33) 01-40-37-44-02. Metro: Anvers or Poissoniere. Open Monday and Thursday-Sunday for lunch and dinner. Closed Tuesday and Wednesday. Average 20 Euros (without wine)