QUI PLUME LA LUNE: Pretentious and Over-Priced Franco-Asian Cooking, C-
April 22, 2011
A long time ago the space occupied by Qui Plume la Lune, a new Franco-Asian restaurant near the Cirque d'Hiver in the 11th arrondissement, was occupied by a very sweet little restaurant called Au C'Amelot, and since this was a place I liked a lot, I set off for dinner with my friend Judy, another very long-time American-in-Paris, with the hopes that we'd find the latest gastronomic incarnation of this narrow dining room with exposed stone walls to be as happy as its predecessor. I arrived before she did, and was immediately puzzled by by the desultory welcome of the two-member team here. Despite having made a reservation, I instantly had the impression of being an intruder on these premises, but I ordered a glass of Quincy and decided that maybe it wasn't them, it was me, since I'd had a very busy and rather trying day. This reflex seemed pretty fair, too, since even before we show up in a restaurant, we're arriving charged with our own good or bad mood.
Still, I found myself musing over the fact that the first thing any restaurant should do is offer you a warm welcome and assure that you're comfortably seated before your meal begins, but for reasons that escape me, they're a lot of new and very popular restaurants in Paris these days where one feels as though one's presence is an imposition of some sort. To wit, the bluff attitude you experience when you arrives says 'we're hot, we're hip, you're lucky to be here'. For my part, I wilt as soon as I detect this posture, because the most essential motivation of any chef and his team has to be a desire to offer people pleasure and the decision to have a meal in a restaurant is a profoundly optional choice.
Then Judy arrived, and as we studied the menu, I knew she wouldn't be happy about the prices–there was a two-course 43 Euro menu, a 53 Euro menu–two courses and cheese or dessert, and a 63 Euro four course menu. Many of the dishes were rather mysterious sounding but it didn't occur to the waitress or the restaurant manager to explain them, so we had a lot of questions when the latter came to take our order. Responses were terse, and a request for a carafe of water was met with exasperation, since we'd already been asked several times if we wanted mineral water, which we didn't.
So we ordered and chatted about the ridiculousness of the San Pellegrino restaurant awards, an annual rating of the world's 100 best restaurants that has produced risible results year in and year out. Le Figaro's fearsome food critic Francois Simon wrote a spot-on post about same the other day, and Judy had a good laugh when I showed her the list of the "World's Best Restaurants." Among other truly ludicrous results, it seemed nuts that London's Hibiscus should have ranked higher than Restaurant Alain Ducasse au Plaza Athenee. Perhaps what's most surprising about these rankings, however, is the attention they receive.
Then our amuse bouches arrived, and as best we could fathom, these identical dishes were comprised of a small piece of barbecued eel on a bed of wilted bean sprouts and cabbage in a bright red sauce that was described as a reduction of red wine, but had been sweetened with something, probably Mirin. Our bouches were not amused, but our first courses did offer a chuckle when they arrived.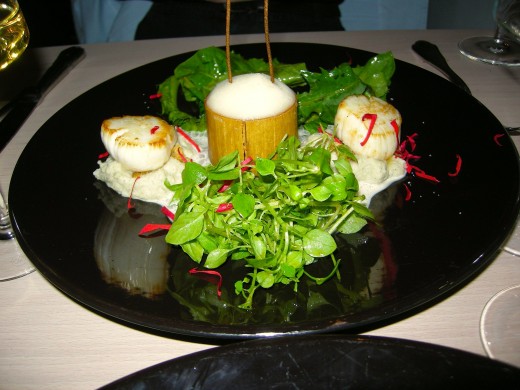 Scallops with primitive radio transmiter Judy's pair of seared scallops sat on two little beds of anonymous sweet baby-food-like puree and were accompanied by a small salad of purslane and a ball of sorbet in a bamboo holder with two strands of toasted soba topped with a tangle of purslane, an object that resembled some sort of primitive radio transmitter. My tataki of salmon proved a better choice, although it was rather monastic–a slab of lightly griddled salmon garnished with a generally appealing assortment of baby vegetables, including an asparagus spear, several Jerusalem artichokes, a baby carrot, a radish, a green onion, several fronds and that dead giveaway of a young chef trying too hard, a starchy purple potato.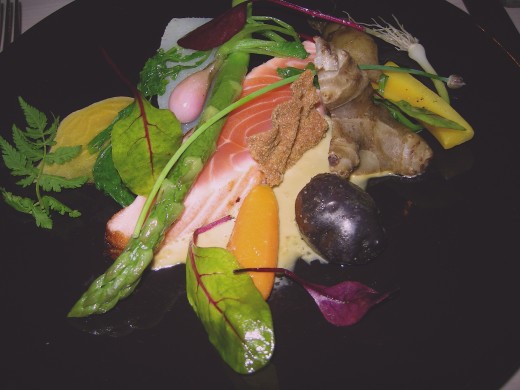 Salmon tataki If my salmon was pretty to look at, generously served, and intelligently sourced, it was also decidedly ascetic. I had chosen this restaurant because I'd liked the cooking of chef Jacky Ribault when he cooked at Shozan in the 8th. Ribault has an impressive resume, too, having cooked at Taillevent, Pierre Gagnaire, Arpege and with Pierre Herme, so I was expecting some really interesting food. Neither of these dishes delivered, but to be fair, I'm not a great fan of sorbets as a garnish and my palate prefers umami and salt to anything sweet in the context of savory food.
Main courses were peculiar as well. Judy's small pieces of poached sea bass were topped with strawberries, an idea that pleased neither of us, and came in a small white pond of timid tasting liquid at the bottom of which was a very good puree of fresh peas.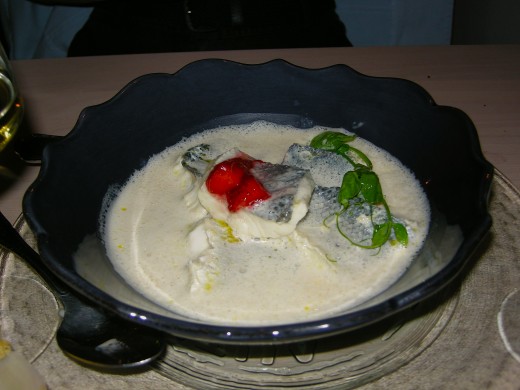 Sea bass with strawberries–why? My lamb was perfectly cooked rare, tender and flavorful but unappealingly slathered with an unpleasant green paste, tinted by Matcha tea, but not tasting of same, and the garnish was identical to my first course. An orange sauce added some color to the black plate but had no discernible flavor.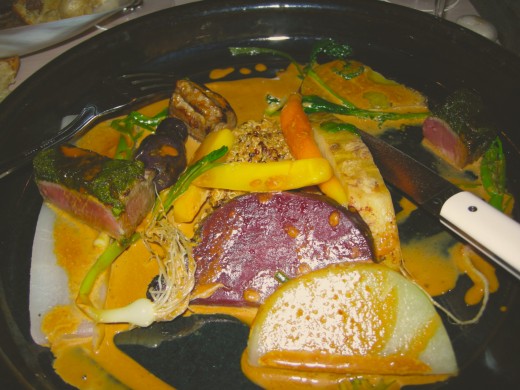 Lamb with legumes bis Since the service seemed to grow tetchier as the evening progressed, and it was a beautiful warm night, we decided to stop here and head for a sidewalk terrace on which to enjoy a coffee. Cheerfully received at the nearby (and good) Vache Acrobate, it was a relief to get a breathe of fresh air, and to have escaped from the precious and slightly hostile atmosphere of Qui Plume la Lune. I don't know who plumes (plucks) the moon, but I do know who plucked us, and I couldn't help but contrasting this disappointing meal with a delicious dinner I'd had on Wednesday at La Regalade Saint Honore, which I reviewed here last Spring. We were eight at this dinner, and aside from an imprecision here and there–David's cabillaud demi-sel was too salty, the food was delicious and the prix-fixe menu at 33 Euros remains one of the best buys in Paris, especially when you can get at dishes like scallops with Parmesan and tiny croutons, black rice with shrimp and garlic chips, and Ospital pork belly with lentils. So again, bravo to chef Bruno Doucet!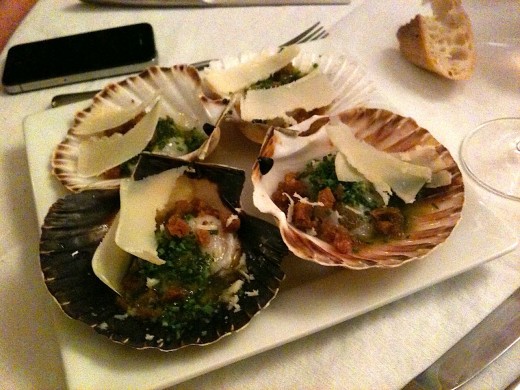 Scallops with Parmesan at La Regalade Saint Honore
Qui Plume la Lune, 50 rue Amelot, 11th, Tel. 01-48-07-45-48. Metro: Sebastien-Froissart. Open Tuesday-Saturday. Closed Sunday and Monday. Prix-fixe menus at 43 and 53 Euros, lunch menu 23 Euros.