LES TABLETTES–Chef Jean-Louis Nomico's Superb New Restaurant, A-
February 15, 2011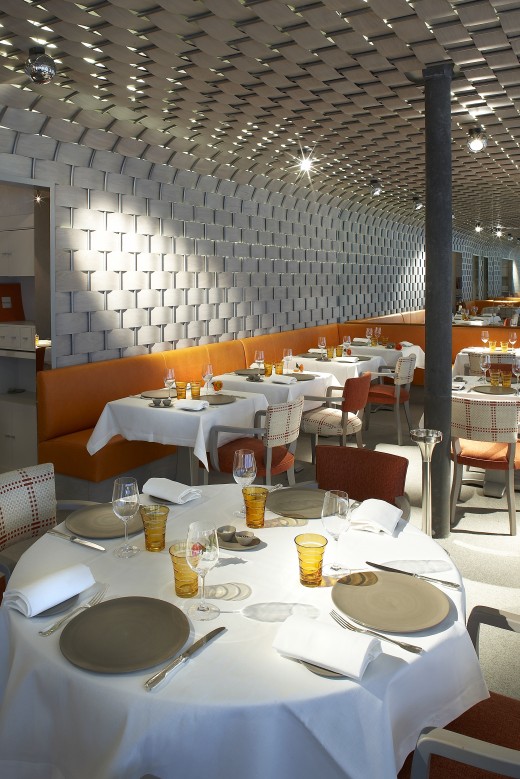 Photo @ Marc Schwartz
It's always exciting when a talented chef spreads his or her wings and opens their first restaurant, and at Les Tablettes, Jean-Louis Nomicos's handsome new restaurant in the 16th arrondissement, there's a subtle but exhilirating whiff of liberty in the air. Nomicos went to work for Alain Ducasse in Juan-les-Pins when he was just eighteen, and was subsequently placed by the same maestro as head chef at the lovely La Grande Cascade in the Bois de Boulogne before most recently running the kitchen at Lasserre.
I always liked his cooking at Lasserre, but occasionally suspected that this really nice guy from Marseilles found this old-line luxury house a bit constraining. Delicious proof that he did is the really good and very appealing menu at Les Tablettes, which includes many suavely Mediterranean influenced and inspired dishes.
"The melting pot of Marseilles, which has terrific restaurants representing many countries around the Med, had a big impact on the way I like to eat and cook," Nomicos told me at dinner in this natty and surprisingly hip for the stolid 16th arrondissement dining room. What Nomicos does really well, in fact, is produce sunny contemporary French dishes that manage to be sincere and homey and sophisticated at the same time.
If Bruno and I were initially distracted by the radiant presence of actress Olivia de Havilland, a wonderfully happy and elegant looking lady in a beautifully cut black dress, having a tete a tete dinner in the corner of the dining room with a winsome young relation, our attention was instantly riveted to our own table when we were served a delicious amuse bouche of creamy duck foie gras garnished with anise seeds. Next, baby artichokes and squid with a jus barigoule a la bergmot for me and a fennel and sea urchin royale for Bruno. Both artichokes and squid were perfectly cooked and bathed in a gently tang jus of white wine, lemon, onion, carrot and thyme, a wonderful riff on a classic southern French dish. The bold taste of sea urchin was urbanely flattered by the fennel in Bruno's dish, another witty parsing of two provencal products par excellence.
Before the main courses arrived, the lovely waitress asked if we'd like to sample Nomicos's ravioli stuffed with pureed potato and black truffle. I can't imagine who'd say no to such a suggestion, and they were outstanding—fine pockets of pasta filled with buttery spuds and just a subtle note of black truffle.
Midway through this excellent meal, I realized that there were several reasons beyond the food that we were having such a nice evening. First off, the good-looking and interestingly mixed crowd in the dining room was clearly here to have a good time, too, and then the staff gets it just right with service notable for both its well-drilled precision and solicitousness. This somewhat awkward dining room, which previously housed Ghislaine Arabian's restaurant and most recently La Table de Joel Robuchon, has also had a great makeover by Anne-Cecile Comar. A curving basket-weave half arcade makes the room intimate and bittersweet velvet banquettes add a racy note of color to its visual impact.
I was curious to what the "lemon caviar" would be on my ris de veau, and loved the simplicity of the fact that it translated to carefully dissected individual grains of lemon pulp. They added an appealing brightness to this rich dish, as did the fennel and bread crumb garnish on which the sweetbread sat. Bruno's veal chop with sage and Parmesan was a massive piece of tender, flavorful meat cooked just pink, and though he went at it with gusto, he could barely finish it all.
Portions were so generous in fact that we could only manage to split a green Chartreuse souffle for dessert, a sort of pitiful performance compared to that of Ms. de Havilland, whose admirable appetite made us looks like real wimps.
Oh, and the name 'Les Tablettes'? I-Pads are brought to the table at the beginning of the meal loaded with a little film about black truffles. Nomicos says that he soon plans to add another film on his asparagus producer in Provence and that the idea of the I-Pad was a way of providing further detail on his produce and also giving anyone who might be dining alone some discreet distraction, a very nice touch at a very nice restaurant, and a place which proves that a "grown-up" restaurant, i.e. a well-dressed table with serious cooking and sturdy prices in that niche on the Paris culinary totem pole just below haute cuisine, revival really is well under way in the French capital.
16 Avenue Bugeaud, 16th Arrondissement, Tel. 01-56-28-16-16. Metro: Victor Hugo. Open daily for lunch and dinner. Lunch menu 58 Euros; Tasting menus 80, 120 and 150 Euros; a la carte 90 Euros.