LA REGALADE CONSERVATOIRE – Another Superb Performance from Chef Bruno Doucet, B+; L'AFFRIOLE – In Top Form After All of These Years, B
February 23, 2013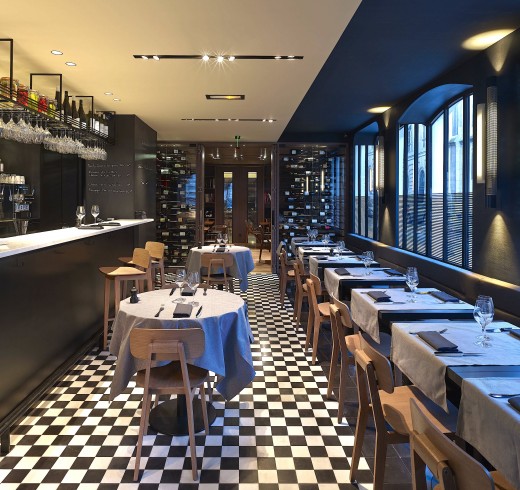 Ever since he took over the original La Régalade in the 14th arrondissement from founding chef Yves Camdeborde in 2004, Bruno Doucet has continued to delight bistro-loving Parisians with his shrewd and technically impeccable modern French bistro cooking. First he rebooted the menu at La Regalade, making it brighter and more modern than what Camdeborde had originally been doing, and then he opened a branch, La Régalade Saint-Honoré, in the 1st arrondissement.
For anyone who hated trekking to the outer reaches of the 14th arrondissement–and most people did, this second address was a real blessing, not only for its convenient location, but also because the contemporary bistro cooking served here is so outstanding. Now Doucet's launched a third address, La Régalade Conservatoire in the gorgeous new Hotel de Nell, which opened two weeks ago and has already become one of the hottest boutique hotels in Paris.
Arriving with Bruno, Tina and Francois on a wintry night, we had a drink in the bar with a glass room behind reception, and enjoyed the gorgeous hand-made oak furniture that is a major component of the interior design that brilliant designer Jean-Michel Wilmotte did for the hotel. Here, Wilmotte, black-and-white checkerboard floor, solid oak chairs, and tables with beige runners create an atmosphere that's profoundly Parisian, but modern by teasing the usual nostalgia this term so often implies when used in a decorative context with strong graphics and a rigorous Zen design aesthetic. This is the second restaurant I've recently dined in by Mr. Wilmotte–the last one was Yannick Alleno's Terroir Parisien, and I have to say that he's become one of the best restaurant designers working in Paris today.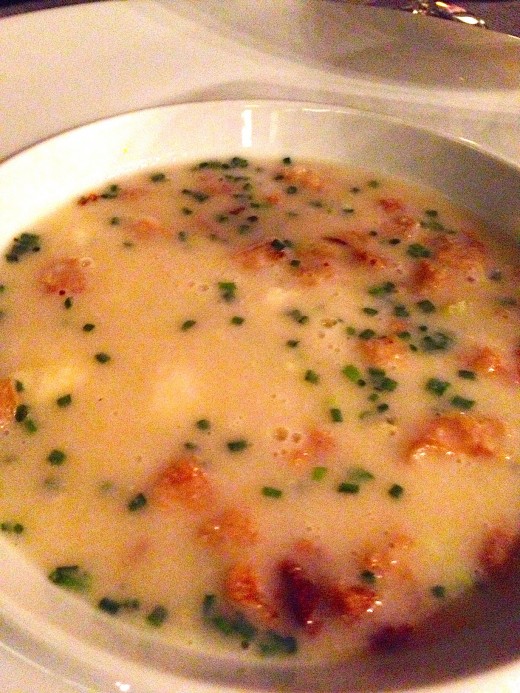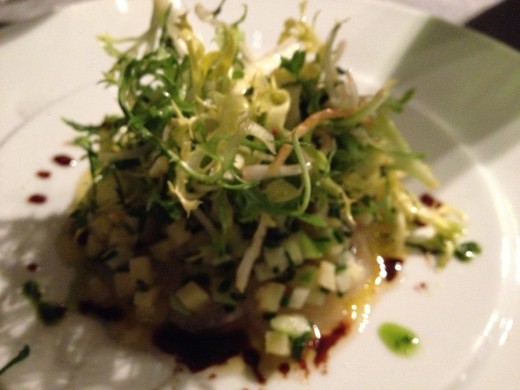 Doucet's menu for this handsome dining room rolled out some terrific new dishes I'd never seen before, too. What I really wanted was the creamy cauliflower, Stilton and bacon soup that Tina had, but since I'm still flogging some of the caloric discipline I learned during a week of low-calorie thalassotherapy in Brittany, i went with the marinated scallops with Granny Smith apples and aged Comte in a fine cubed hash adding texture and a gently acidic bite to the creamy scallops under a thatch of frisee dressed in chive oil. I also loved the quiet daring of pairing cheese with scallops, since according to conventional Gallic kitchen wisdom the only dairy produce appropriate for this shellfish is cream. Instead, the comte deliciously enunciated the natural creaminess (sic) of the scallops.
After our main courses, a few sticking points registered. When the delightful hotel manager excused himself and went home, service fell off a cliff in the dining room, with the waiters clustering behind the bar like a bunch of crows and almost pointedly ignoring their customers, and this was after they'd failed to present the complimentary terrine that's one of the signatures of a La Regalade meal without being prompted. The bread was also dull, and lighting in this dining room needs to be tweaked, since the built-in ceiling spots cast small short hard beams of light instead of illuminating the room gently and thoroughly. And as good as the food is and as attractive as Wilmotte's dining room may be, this place has very little atmosphere. All of these flaws will doubtless be remedied as the restaurant settles in, however.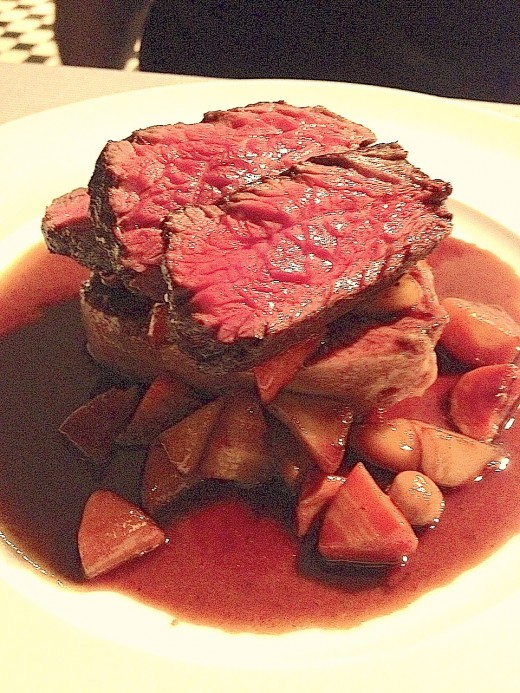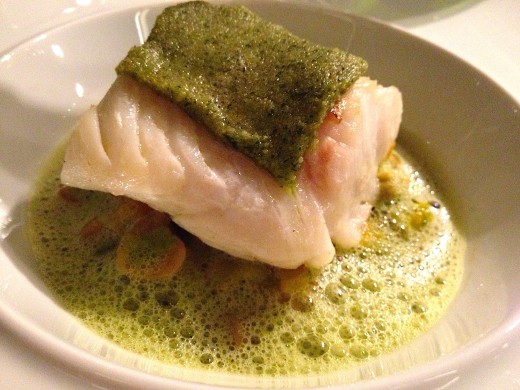 Our main courses were excellent. Francois tucked into a big juicy steak sliced and presented on a mound of stewed beef cheeks and carrots in a red-wine enriched jus; Bruno and loved our griddled half-salted cod with a pistachio crust on a bed of winter vgetables and shellfish (mussels and cockles) in a delicate shellfish bouillon, and Tina wolfed down a grilled breast of veal with winter vegetables.
Rice pudding with caramel sauce, a classic La Regalade dessert, and pomelo-and-pineapple fruit salad with excellent ginger sorbet concluded this very good meal, which had a particularly festive air for me and Bruno, since this new branch of La Regalade is a very easy walk from our front door.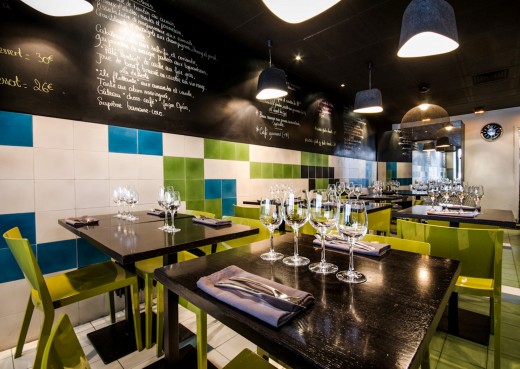 The following night, after we'd both had non-stop days during which neither of us had time to shop, we decided to meet for dinner somewhere midway between Bruno's office and our apartment. I asked Bruno if he had any ideas. "That's your job," he said. Oh, okay. Well, I left it until the last minute, and then was trying to think of someplace relaxed, pleasant and reasonable on the Left Bank, no small order, when it occurred to me that it had been years since we'd been to L'Affriole, a long-running and very good bistro in the 7th run by chef Thierry Verola, who'd worked with Alain Senderens a longtime ago. So I booked us there, and our first surprise was that the warm honey-and-ochre vaguely provencale dining room of yore had vanished in favor of a good-looking and much hipper decor that referenced various Fifties French classics–the green chairs have the shape and design of those found in public parks like the Jardins du Luxembourg or French classrooms, and the tile walls and factory-style suspension lamps also had an appealing retro look.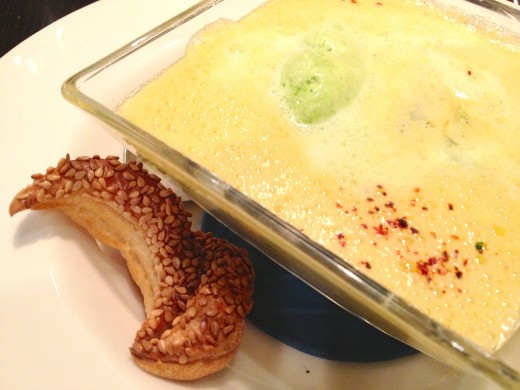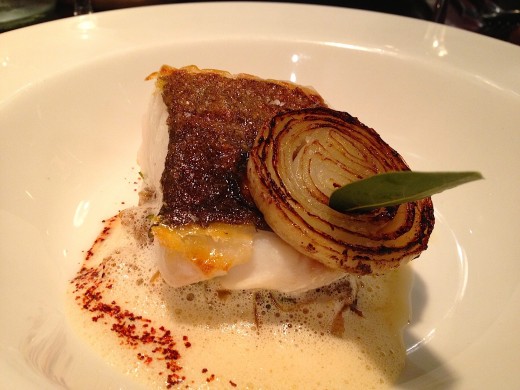 The chalkboard menu offered all sorts of appealing choices that night, but both of us started off with the butternut veloute, which was rich and pleasantly garnished with Savoy cabbage, and then Bruno had sea bass with a red wine sauce and winter vegetables en cocotte, and I continued on my cod bender with a perfectly cooked filet in a creamy soubise sauce. Our desserts were excellent as well–ile flottante with creme anglaise for Bruno and apple-and-raisin compote for me. All told, with its warm friendly service and reasonably priced wines, L'Affriole is a very good neighborhood bistro that well deserves its swarming crowd of regulars.
L'Affriolé, 17 Rue Malar, 7th, Lte. 01-44-18-31-33. Metro: Pont de l'Alma Closed Sunday and Monday. Lunch prix-fixe two-courses 26 Euros, three-courses 30 Euros; Dinner prix-fixe 36 Euros.
La Régalade Conservatoire, Hôtel de Nell, 7-9 rue du Conservatoire, 9th, Tel. 01-44-83-83-60. Metro: Bonne Nouvelle. Closed Saturday lunch and Sunday. Prix-fixe 35 Euros.