LE SHANG PALACE–What They Eat in Shangri-La, A-/B+
September 26, 2011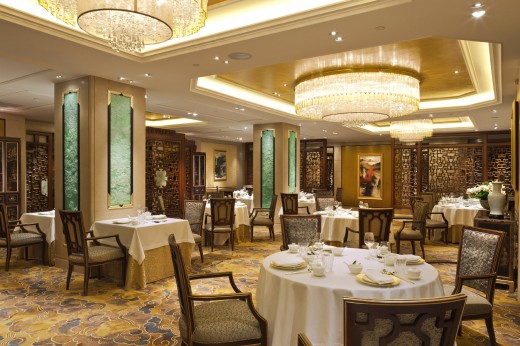 When a new luxury hotel opens in Paris, aside from filling beds, the utlimate goal is for the property to become a fixture in Parisian life. This aspiration explains the inevitable post-ribbon-cutting cycle of carefully cast cocktail parties–think movie stars, aristocrats, politicians and other brand-name personalities, which are then so breathlessly recounted in major French publications. Myself, I rather doubt that this sort of promotion really accomplishes much, since almost laughingly retouched photos of people like Jacques Lang or Emanuelle Beart sipping Champagne have never filled me with any desire to haunt the same premises. Instead, what attracts me to any new hotel is the perception that it may be birthing a myth or a mystery at the core of its new identity, and this is why I was fascinated by the new Shang Palace restaurant at the Shangri-La Paris hotel when I went to dinner there the other night. Whatever other feints this year-old Asian newcomer may have made at becoming Parisian, I suspect it's this excellent new "Chinese" restaurant that will accomplish the vital goal of drawing Parisians, so that this pricey palace, like any other new luxury hotel, doesn't end up feeling like an expensive mausoleum.
Why? There's simply no place like this in Paris, both in terms of the cooking and almost as importantly, the atmosphere, which so completely replicates the look, feel and tone of upmarket Chinese tables in major Asian cities that a meal here is completely transporting, or to wit, for a couple of hours, this restaurant offers an experience of the 21st century codes of luxury and hospitality that are making Asia the new benchmark in the global hospitality industry. And this despite the fact that it occupies a windowless basement space.
But you'll barely notice the subterranean setting, though, since the room itself is such a tour de force of modern Asian luxury dining–think contemporary crystal chandeliers overhead, gilded serving plates, silver-plated chop stick rests, and flawlessly attentive but exquisitely discreet service.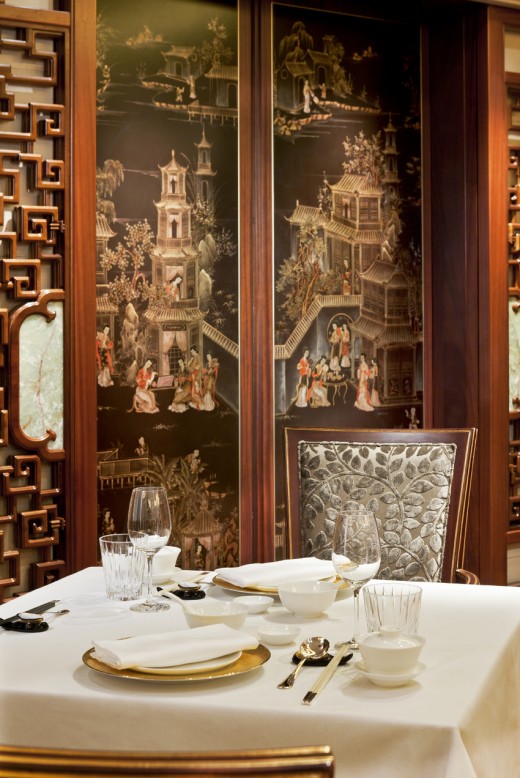 "This place really does feel just like Singapore or Hong Kong," said Bruno, and since we've traveled extensively in Asia during the last ten years, he knows what he's talking about. And he was right, too, since the first Shang Palace opened in Singapore in 1974, and more importantly, real Asian luxury has a different set of codes than the same beast in Europe or America, where the service culture too often shades from haughty to resentful (Europe) or nobly but wearisomely democratic (America)–"You still working on that?" Here you really are an honored guest, a drill that our delightful French waitress–a smart young woman who's traveled extensively in Asia and speaks Mandarin, has got down pat. And it was fun, too, to see a dining room filled with a crowd of Parisian early adapters, or those people who absolutely want to hit the hottest new place in town within a day or two of its opening.
My main hope, however, was that the food would be good, since a city as worldly and wealthy as Paris has sorely wanted for a really good Chinese restaurant for a longtime. So we started with the highly recommended salmon sashimi "Lo Hein," which came with finely shredded fruit, vegetables (too many carrots), and pleasantly crunchy dried jellyfish in a suave if slightly too sweet sesame based dressing. Wait–sashimi in a Chinese restaurant? Well, this is a modern Asian luxury hotel restaurant, so of course there will be a feint or two at the most likely clientele–this dish is probably targeted at Japanese travelers, but if the quality of the fish was excellent, and it tasted very good to me, my guess is that many Japanese diners would find the sauce too present and over-gilding the lily of some really nice fish.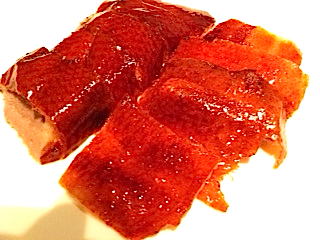 Next, a half a Peking duck for two, with the first course of course being the bird's beautifully roasted skin, which we wrapped up in delicate rice-flour pancakes with chopped scallions, cucumbers and a smear of plum sauce: sublime. Next, I was very keen to try the pork with baby clams sauteed with chives and served with steamed oatmeal buns, but our waitress discouraged this choice as being too similar to the duck. So we made a brief detour to a dish of plump scallops served with gingko nuts and sliced green asparagus that must have come from Australia, New Zealand or maybe Peru. Bad ecological karma, the off season asparagus, but a delicate and very pleasant dish–I loved the slight bitterness of the gingko nuts against the sweet creamy foil of the scallops. Then a second round of Peking duck, this time ground duck garnished with pine nuts and meant to be scooped up and eaten inside of parcels of iceberg lettuce. It was very good, but I found chef Frank Xu's seasoning to be a bit too timid in this preparation, and rather suspect that the overall palate of this kitchen will become bolder once they determine that there's a real market in Paris for authoritatively seasoned and unapologetically assertive Chinese cooking. That said, the showcased Chinese regional kitchen on offer here is mostly Cantonese, which is far more delicate than that from other parts of China.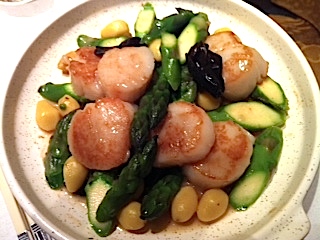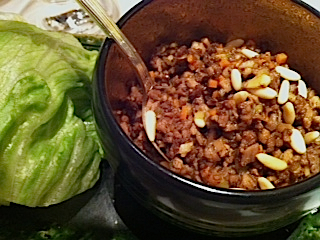 The fried rice 'chef's style' was excellent, too–light and generously garnished with shrimp and vegetables, and a side of braised black mushrooms and baby bok choy was impeccably cooked. Bruno loved his five-year-old fermented black tea–as did I, but I regretted that the only white wine proposed by the sommelier was an ice-cold (too bad) Puligny Montrachet. With cooking this good, I dreamt of enjoying a nice glass of Trimbach riesling all through the meal. Even the desserts were interesting, notably sticky rice balls filled with black sesame paste.
The Shang Palace is very expensive, so it will remain a very occasional treat for me, but I'm hoping that the presence of a seriously good upmarket Chinese restaurant in Paris will raise the bar on Chinese cooking at less exalted altitudes, and I can't wait to go back for lunch, when they serve dim sum.
Le Shang Palace, Shangri-La Paris Hotel, 10 Avenue d'Iéna, 16th, Tel. 01-53-67-19-92. Metro: Iéna. Open Thursday – Monday for lunch and dinner, closed on Tuesday and Wednesday. Average 100 Euros.