LISA ELMQVIST, Stockholm–If only it was in Paris, B+
October 1, 2011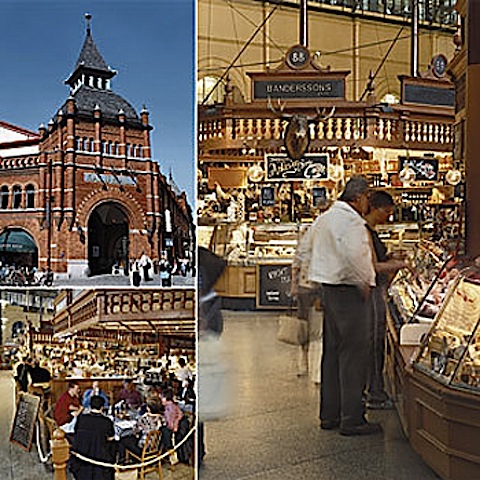 Today at noon, I was ready for a really good lunch, and I knew exactly where and what I wanted to eat. The problem, alas, is that the restaurant in question, the terrific Lisa Elmqvist, is in Stockholm.
I was up there a couple of weeks ago, and after several superb tasting menus at various restaurants, I was craving a good simple meal, so I decided to walk up to the beautiful red brick Östermalm Saluhall Market Hall and see if I could scare up a good picnic.
This bijou market was built in 1888 and it offers a superb cameo of how seriously interested the Swedes are in food these days. I was eyeing a terrific deli stand–they're a lot of them here, when I decided to do a complete tour of the place before doing any real shopping. This turns out to have been a really lucky decision, since during my rounds I noticed a long line of people waiting to get into one of the restaurants here, so I checked it out. They had a stand adjacent to the roped off dining area, and it sold gorgeous smoked salmon, all kinds of herring, salads, a real grand-slam of Scandinavian seafood (although most of the lobster was Canadian, since the Swedish lobstering season wouldn't open for another couple of weeks, and the local catch can't satisfy demand in this noticeably prosperous and wealthy country).
Since I was on my own I didn't really fancy sitting at one of the shared tables, so I waited until a space freed up at the bar. The bar staff were charming, as is the custom in Sweden–such a difference for anyone coming from Paris, and I ordered an excellent but exorbitant glass of Gruner Vertliner ($22! Due to huge Swedish taxes on alcohol and the state alcohol monopoly) and quickly went into a quiet panic reading the menu–there were so many things I wanted that I sent the waiter away twice before I finally made up my mind.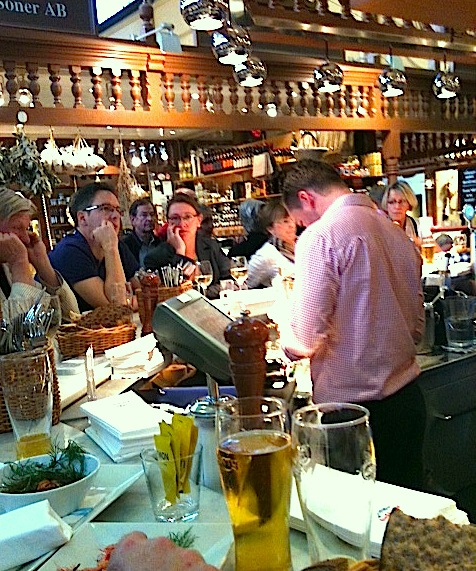 So I ordered a 200 gram version of Toast Skagen, a Swedish classic that was created by legendary local restauranteur Tore Wretman as a retort to the growing popularity of foreign food in Sweden during the fifties and sixties. Wretman championed local produce and recipes, and this dish, which is named for a Danish fishing port, comes as a generous mound of sweet pink Atlantic shrimp dressed in a light mustard-spiked mayonnaise with a dollop of orange whitefish eggs on a piece of white toast. It's dressed up by a few jaunty sprigs of dill and a slice of lemon, and it's something I could eat every other day.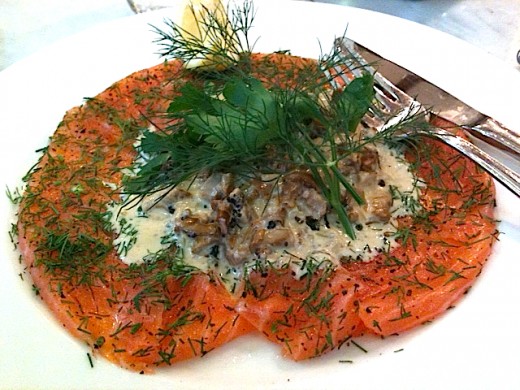 Moderate gluttony being the order of the day, as it is of most good ones, I couldn't resist a plate of smoked salmon with wild mushrooms. I sort of expected it to arrive as a filet of cold smoked salmon, but instead I received a plate of sublime thinly sliced salmon topped with chopped girolles that had been sauteed in a beurre blanc. This dish was so good that I immediately started trying to figure out a way of coming back again during my brief stay in Stockholm, but unfortunately this wasn't in the cards. Instead, I'm stuck with a new permanent food craving, or one of those built-in gastronomic yearnings you know you'll never be free from.
Walking back to the hotel after a double espresso on a sunny afternoon, I couldn't help but thinking that it's too bad that Paris doesn't have: 1) More counter dining–yes, there are some counter spots in the city, notably L'Atelier de Joel Robuchon, but most Parisians prefer proper tables 2) More in-market dining, like this superb Swedish market, many in Barcelona, and other cities, and that the renovation of the market in Saint-Germain-des-Pres was a colossal failure–it could, and should, have become a Gallic gastronomic temple in the same way that the Östermalm Saluhall Market Hall is a brilliant showcase of good food in Stockholm, and 3) that it's a real pity there's no branch of Lisa Elmqvist, seafood purveyor to the Swedish crown, in Paris.
Lisa Elmqvist, Östermalm Saluhall Market Hall, Östermalmstorg, Östermalm, 114 39 Stockholm, Sweden, Tel. (46) 08-553-40-400. Open Monday-Thursday 9.30am-6pm, Friday 9.30am-7pm, Saturday 9.30am-4pm. Closed Sundays. Average 65 Euros/$80, depending on what you order.