LE TINTILOU–Witty Modern French Cooking, B+
April 29, 2011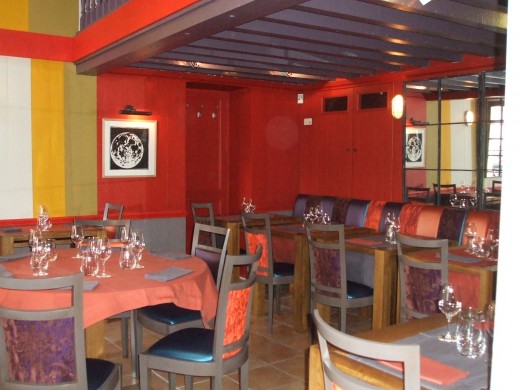 Le Tintilou, formerly known as l'Aiguière
For those who fret that the food in Paris isn't as good as it used to be, it's a pleasure for me to point out the remarkable ongoing renewal of the neighborhood restaurants which are the bedrock of Paris's gastronomic reputation. A perfect example of this delicious and accelerating phenomenon is Le Tintilou, which opened a few weeks ago in the former premises of a long-running but not very good restaurant called L'Aiguière.
Arriving on a rainy weekday night for dinner with Bruno, we were sipping a nice Entre-Deux-Mers as an aperitif and nibbling on some delicious brandade de morue when chef Jean-François Renard came into the attractive dining room to greet us and ask how we'd found the restaurant. I told him we'd always liked his cooking when he was at Carte Blanche near us in the 9th arrondissement, and that my avidly gourmet news agent had slipped me the tip that he'd opened a new place of his own in the 11th. After cracking a big grin and blushing slightly, he told us that he was flattered and invited us to get a have look around the premises before we ordered.
As Renard eagerly explained, this good-looking beamed dining room was originally a relais des mousquetaires, as the guards of King Louis XIII were known, with the regiment that once frequented this place being known as the mousquetaires à capes noires (musketeers with black capes). "I love the history of these old walls," Renard said, adding that they often film television scenes in the courtyard behind the restaurant, a rare bit of perfectly preserved Old Paris. Aside from the attractive ox-blood and cobalt blue dining room on the ground floor, the restaurant also has a cozy mezzanine, and two private dining rooms, one in the mezzanine that accomodates fourteen and another on the ground floor that could probably accomodate thirty. Renard's soon to re-do his kitchen–"When I took over there was only one small fridge and several big freezers, almost everything they used to serve here was frozen," he said shaking his head.
Settled back at our table, I ordered the intriguing sounding macaron a quatre epices avec daurade and passionfruit and Bruno the "ravioles vegetales." Neither of us had a clue as to what might be coming our way, but the dishes that arrived were pretty to look at and deliciously inventive.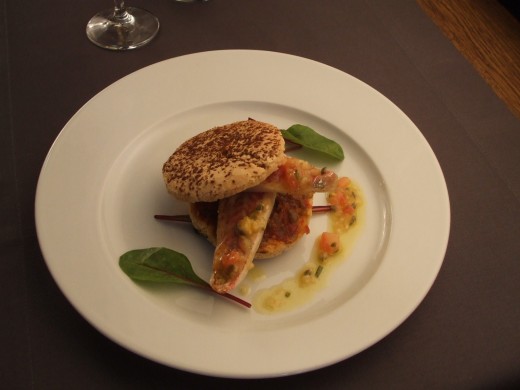 Macaron with four spices and sea bream Though I don't normally like pronouncedly sweet foods outside of the brackets of dessert, Renard's macaron was gently sugared, which amplified the main seasoning–a pleasant mix of peppercorns, and also the delicate
sweetness of the perfectly cooked fish. A dribbled passionfruit coulis added some bracing tartness, and the same fruit's seeds a bit of welcome crunch. Served on a bed of arugula, Bruno's ravioli were superb, too–delicate pasta pockets filled with a puree of fresh dates and garnished with tiny cubes of pink grapefruit. Both dishes were inventive, light and witty, which really whetted our appetites for our main courses.
Before they came, though, Renard sent out a complimentary fish course–perfectly cooked cod steak with a foamy sauce of red pepper, a dribble of sesame seed oil, and a sprinkling of toasted sesame seeds. Elegant and unexpected, it was a punchy but polite little miniature where all of the ingredients remained distinct but flattered each other with differing notes of taste and texture.
Though I couldn't quite fathom the logic of roast pigeon with baby squid, I couldn't resist the chef's suggestion that I sample same, and I'm awfully glad I did. The juicy little bird came on a bed of earthy epeautre (spelt) from Provence, and the curl cues of squid added pleasant texture to this excellent preparation.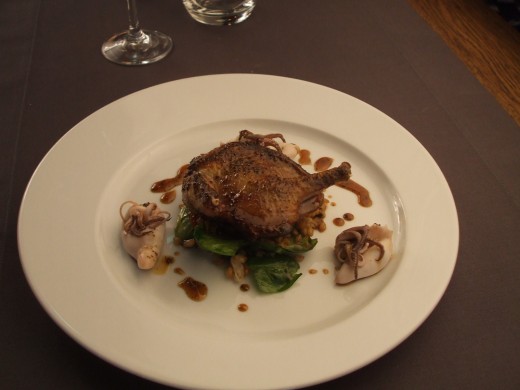 Pigeon on a bed of epeautre with squid As much as I liked my little bird, however, I really envied Bruno his "tajine" style cocotte of Aveyron lamb with spring vegetables. The lamb came in tender little chunks in a rich but nearly fat-free jus with a taunting hint of star anise and other spices, and the baby vegetables–a big nub of white asparagus, fennel, potatoes, and others were cooked al dente. Toasted pine nuts added wonderful punctuation to this generously served dish, and that fact that he ate every morsel caused the waiter to beam when he came to clear our plates. Renard plans a different cocotte every month, so I plan to get back to Le Tintilou while this dish is still on the menu.
Bruno finished up with two nutty slices of Comte and mesclun, while I followed the chef's suggestion that I sample the mysteriously named "Caramalo," which turned out to be a disk of shortbread pastry topped with poached apples lashed with salt-caramel sauce. Since I could happily drown in salt-caramel sauce, there wasn't enough for my tastes, but the dish, which included excellent homemade vanilla ice cream, was beautifully made.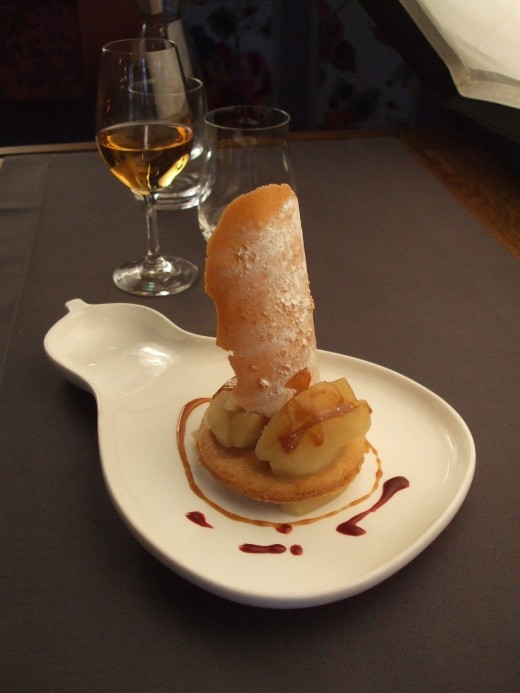 Le Caramalo
Adding to the pleasure of our meal here were the similarly enthusiastic reactions erupting from tables around ours–as I overheard one man say to his wife, "I had absolutely no desire to come here, but I'm very glad I did." If it had been me, he'd have won a slap for that one, but she seemed pleased.
With friendly young service, delicious food and fair prices, Le Tintilou is a delight. The only admonition I'd make, however, is that you stay away from the South African Shiraz on the brief wine list, because this southern hemisphere pour packs too much of a punch at 14% to pair well with food that's as subtle and playfully refined as Renard's. Oh, and don't be confused if the sign still reads "L'Aiguière," since the very busy Renard hasn't had time to get it changed yet.
Le Tintilou, 37 bis rue de Montreuil, 11th, Tel. 01-43-72-42-32. Metro: Faideherbe-Chaligny. Closed Saturday lunch and Sunday. Prix-fixe lunch bento box 25€, Prix-fixe three-course dinner 35€