Ore, Versailles | Ducasse's Shrewd Take on Democratic Gastronomy, B+
October 4, 2016
In the rather unlikely event you haven't noticed, Alain Ducasse is a very shrewd man. With the opening of Ore, the new cafe-restaurant he conceived and staffed at the chateau de Versailles, he's not only equipped the opulent chateau with a French restaurant that's worthy of such a prestigious setting, but offered an intriguing solution to what has previously been a mystifying French failure. To wit, given their spectacular Gallic gift for gastronomy, it's unfathomable the French have most recently been so unsuccessful at creating restaurant concepts that enable large numbers of people to eat good French food at reasonable prices.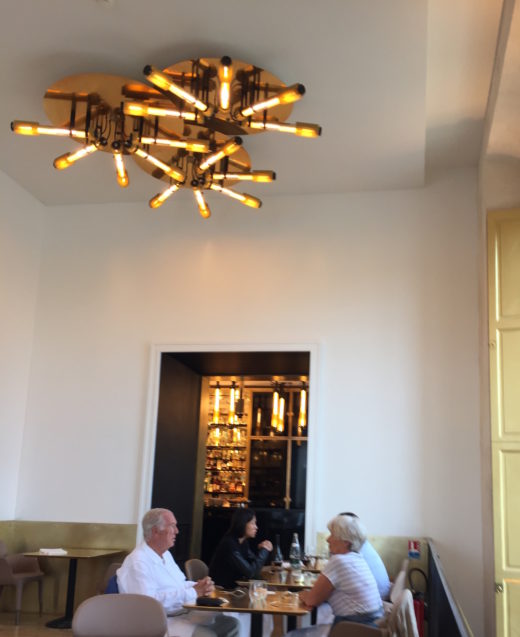 What makes me say this? Well, examine the gastronomic offer at any French airport, train station or highway rest stop, and you'll most often come away crestfallen by having found nothing but a gauntlet of international fast-food outlets and franchise restaurants run by big industrial restaurant groups. We're talking the usual culprits, Burger King and Pizza Hut, etc. If there's lately been a sort of half-hearted feint at offering healthier options with the appearance here and there of the EKKI chain, or even the proliferation of PAUL, which peddles an industrial but just acceptable French take on the quick eats sold by bakeries—sandwiches, quiches, salads, there's basically no proper place for a real meal at any airport and very few at train stations save an historical oddity like Le Train Bleu at the Gare de Lyon in Paris (N.B. This particular restaurant is recommended primarily for its spectacular Belle Epoque décor, with the kitchen running a very distant second, so order simply). It's even more puzzling, too, when you remember that the brasserie, that sexy restaurant idiom that incarnates urban glamour and also traditionally assured a prompt feed at a fair price, was originally a French invention.
Surely there had to be some modern way of conjugating French cooking that would be successful in both commercial and culinary terms. Well, as Ducasse has freshly proven at Ore, it turns out there is, and it's pretty wonderful. To wit, this restaurant on the first floor of the Pavilion Dufour just inside the gates of Versailles serves very good freshly cooked high-quality relatively affordable Gallic grub. It's also open non-stop from 8am to 6.30pm, so that you have breakfast before you tackle the chateau, reward yourself with a really good lunch after many fascinating but foot-sore hours ogling the opulence, duck in for tea with sandwiches or stop by for a pastry or a Croque Monsieur later in the afternoon.
The menu has also been designed to cater as broadly as possible to all comers, so they're good options for vegetarians, children, and people coming from culinary cultures very different from those of France. But the lede idea, of course, is to showcase a certain idea of French gastronomy that references both its glorious history and its thriving and innovative present, and Ore does this very well.
Discovering this table during a recent Saturday lunch with Bruno a few days after it opened in September, I was immediately surprised by the monastic minimalism of the décor by interior architect Dominique Perrault and impressed by how warm, welcoming and well-briefed the dining room staff are. What makes this especially important here is that many people emerging from the elevator exhibited a certain wary shyness, because perhaps they'd heard that Alain Ducasse is a famous chef with an international empire of restaurants, but had never been to any of them and didn't know what to expect restaurants.
Their two big fears? That they'd be patronized, and it would be too expensive. Instead, everyone is warmly welcomed.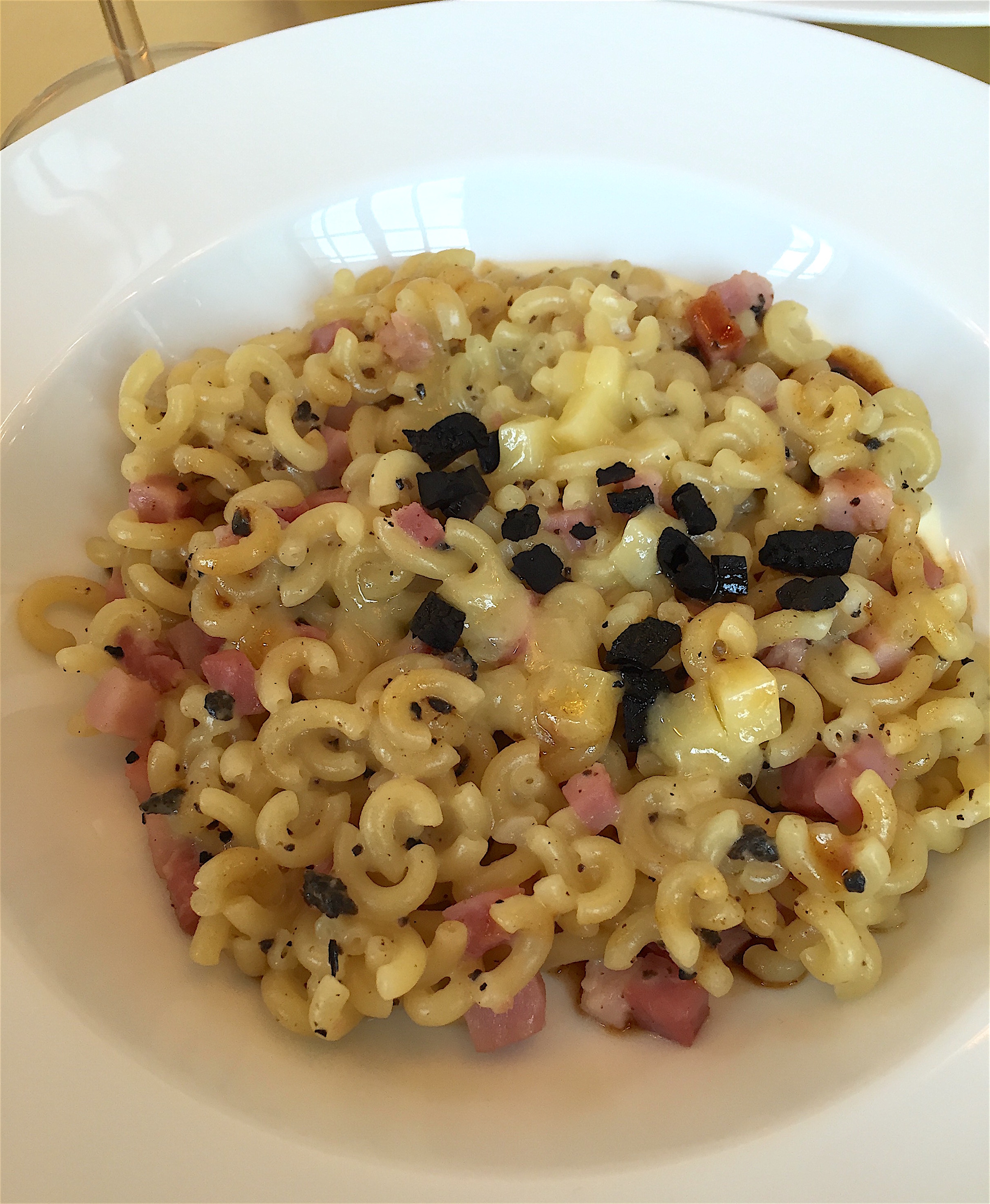 Over a glass of Champagne served in broad shallow hollow-stemmed antique flutes the waiter told us Ducasse himself had scored at a flea-market left nameless (where does he find the time?!), we warmed to the austere elegance of the space as well. The solid oak floors, bare oak tables and brass wainscoting were doubtless deliberately chosen not to compete with the palace next door. Instead, these dining rooms offer an oasis of visual serenity after a good dose of head-spinning grandeur.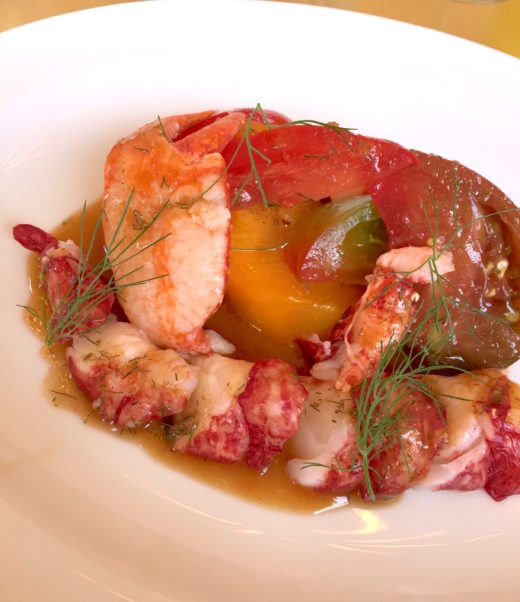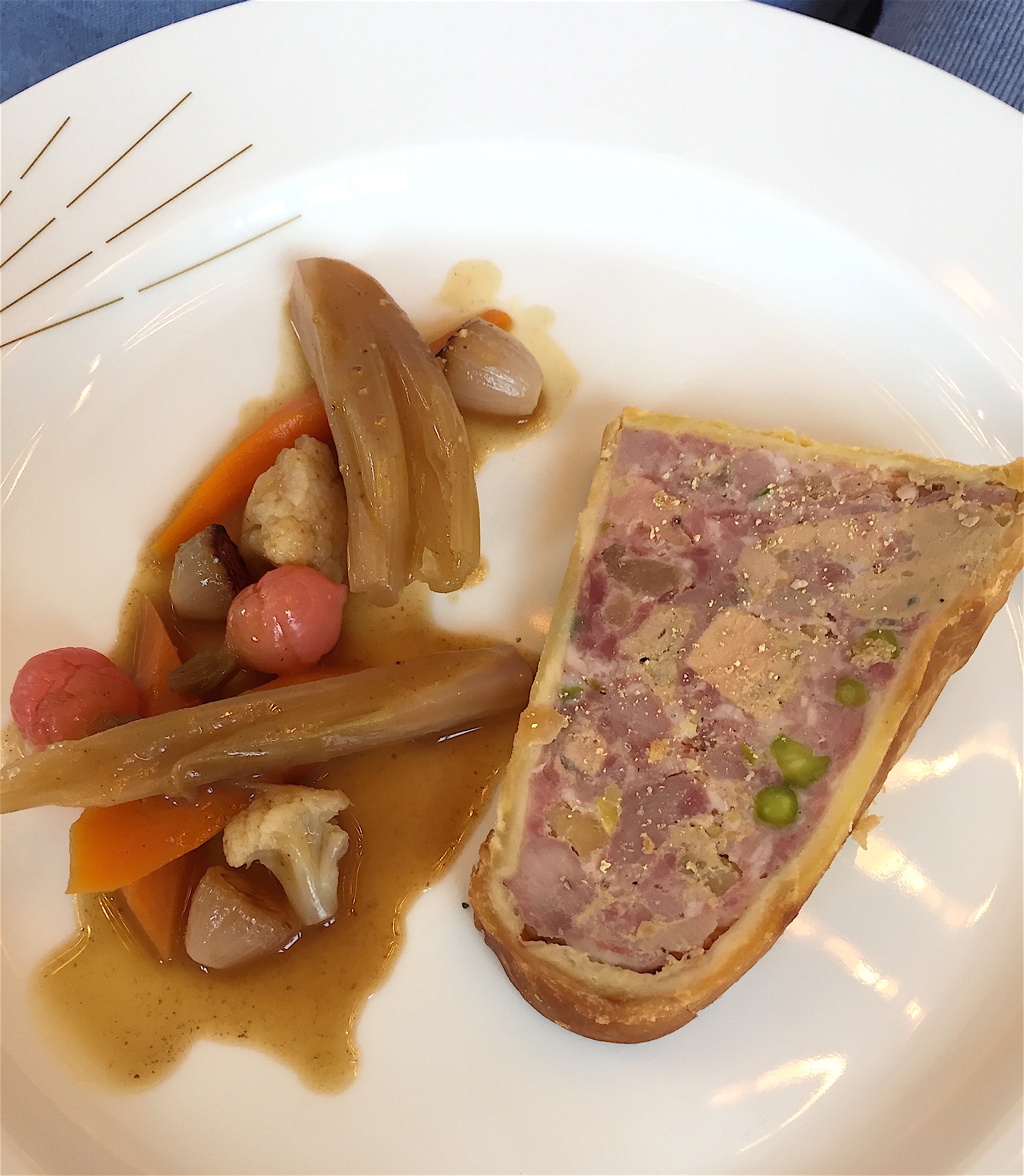 We fenced back and forth about who'd have what, but finally reached a perfect peace as we always do at the table. So we began with three starters, each of which represented a different declension of gastronomic temptation. Ducasse likes to pull people's legs with an occasional nod at the eternal pleasures of certain childhood favorites, and so it was easy to succumb to the elbow macaroni with cubes of Prince de Paris ham, grated black truffles and soft savory rivers of melted Compte cheese. I mean, it's just impossible to believe that a dish like this wouldn't make anyone weak in the knees. Then an indulgent but pleasantly light salad of shelled lobster and heirloom tomatoes with an appropriately gentle vinaigrette that quietly back dropped the succulent natural tastes of these two products, and an impeccably made pate en croute with pickled vegetables.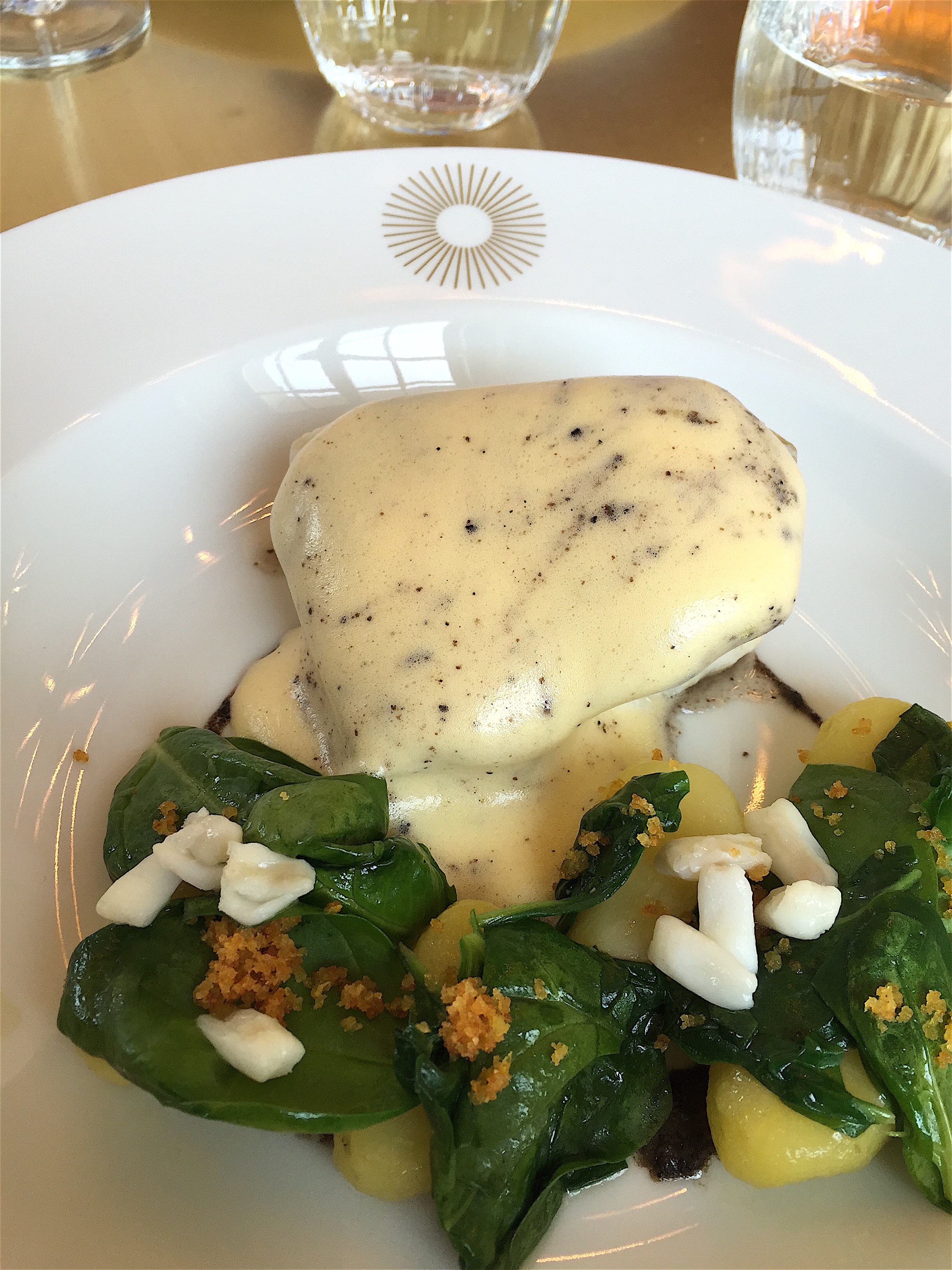 Next, choosing from the list of dishes that are only served from 11.30am to 2.30pm, I decided to test the tantalizing extravagance promised by the steamed turbot with truffled Hollandaise sauce. This generous cut of fish arrived in a pale yellow robe of airy and very gently acidulated Hollandaise sauce that was speckled with fine black blazes of truffle and escorted by wonderfully waxy baby potatoes and wilted spinach. Despite the luxuriousness of the sauce, there was something earnestly healthy and tonifying about this dish, which made it an intellectual pleasure as well as a gustatory one.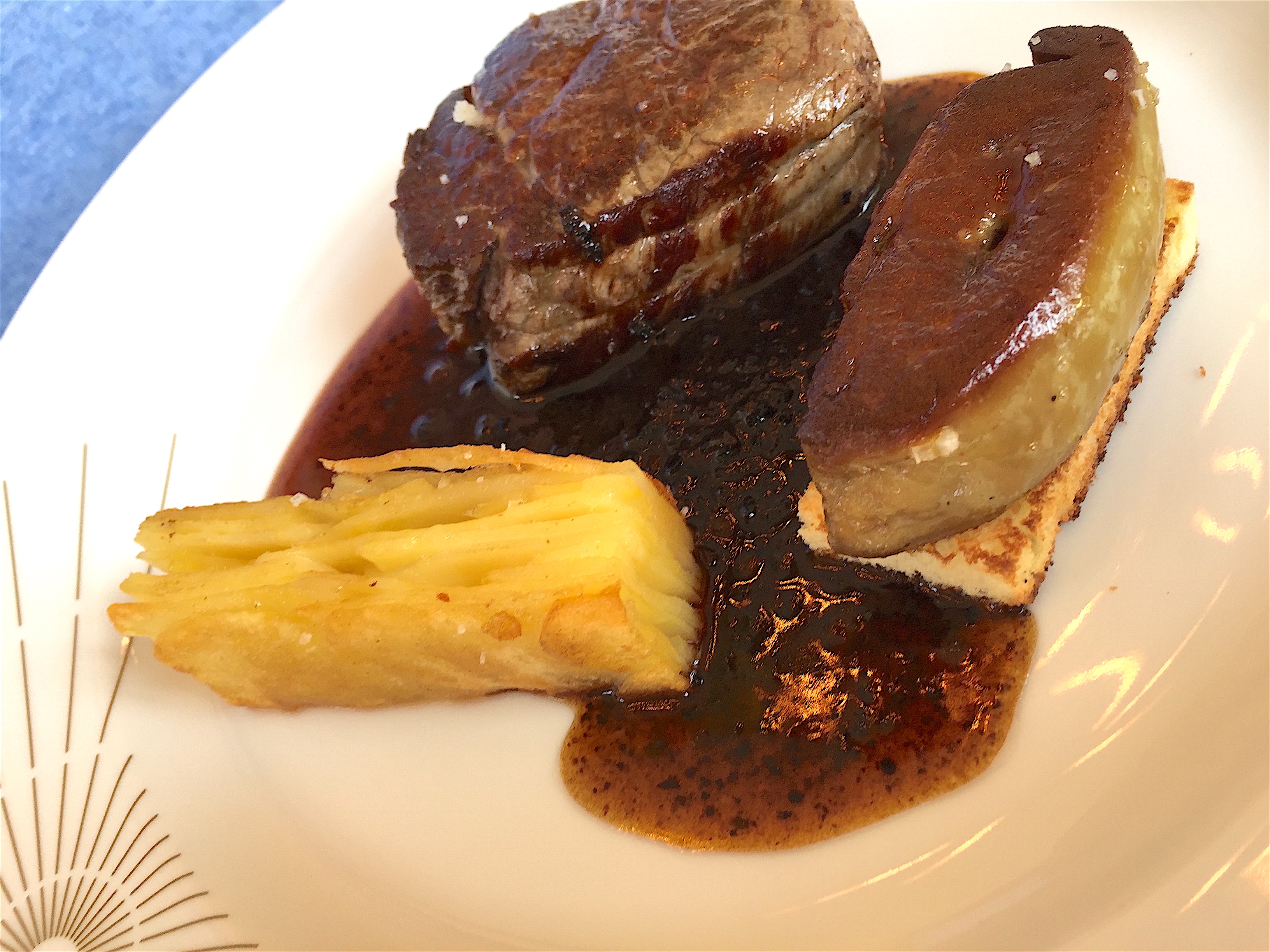 Meanwhile, across the table, Bruno was tucking into a classic tournedo Rossini, or a beef filet with seared duck foie gras on a canapé and a magnificent mahogany sauce redolent of truffles and wine. A wedge of buttery pommes Anna (finely sliced potatoes baked with lashings of butter) gilded the lily of this go for broke indulgence, and again the cooking was flawless.
These two dishes actually brought to mind a conversation I'd recently had with Alain Ducasse during he reminisced about how a now long vanished moment in the gastronomic geography of the Ile de France, the region that contains and surrounds Paris, when there was a branch of Maxim's at Orly airport. As he recalled, the food was actually very good there, and it was a particular pleasure to enjoy some foie gras and a steak there with a glass or two of good Bordeaux before boarding your plane. "I think we need to revive the availability of really good food in such settings," the chef observed. While we were waiting for our desserts at the end of an excellent lunch, I couldn't help but thinking that the menu at Ore could serve as a sort of sublime boilerplate for what could be possible once again at train stations, airports, and why not even onboard trains, in France. And knowing Monsieur Ducasse, I won't be surprised if this is already in the works.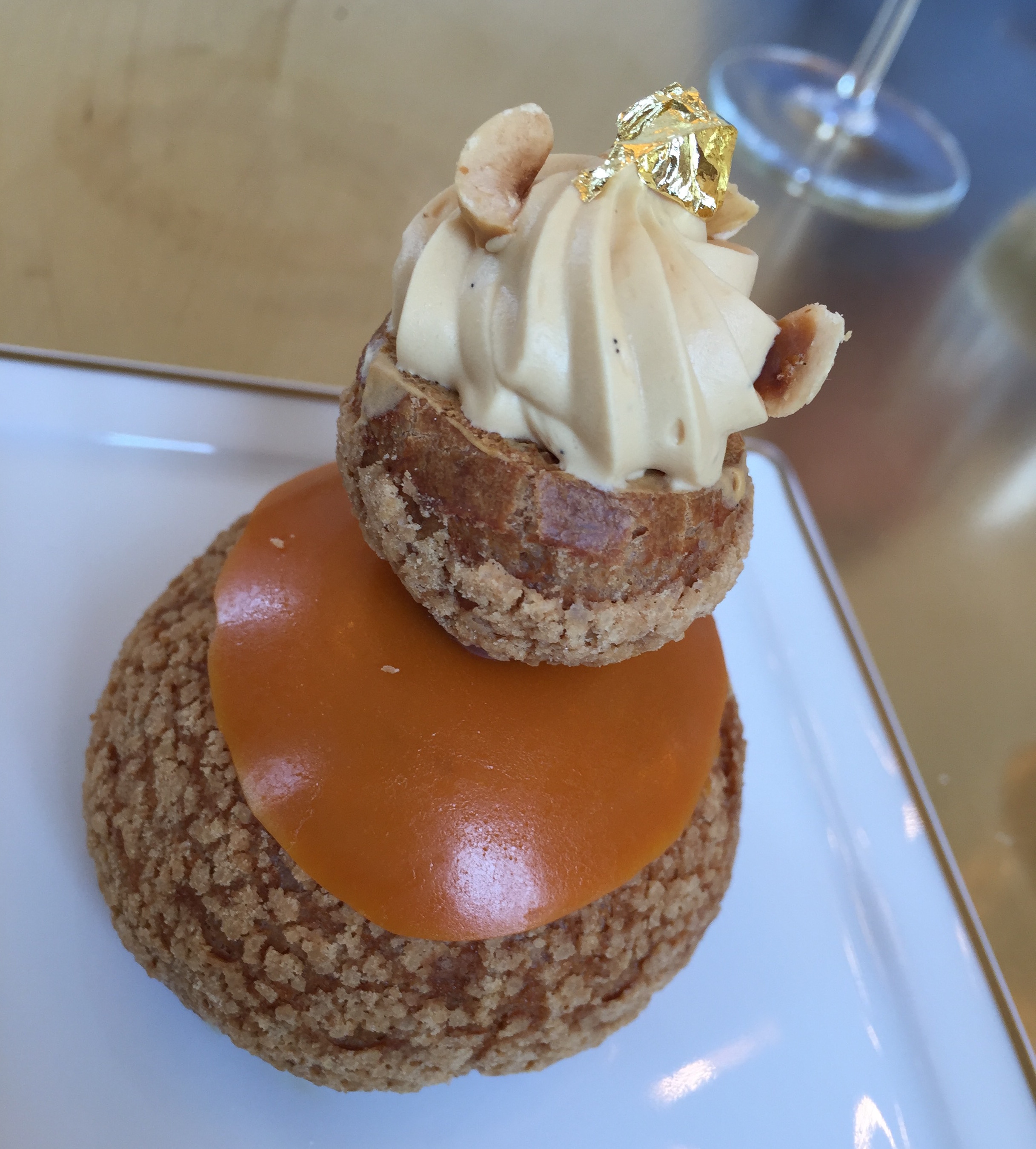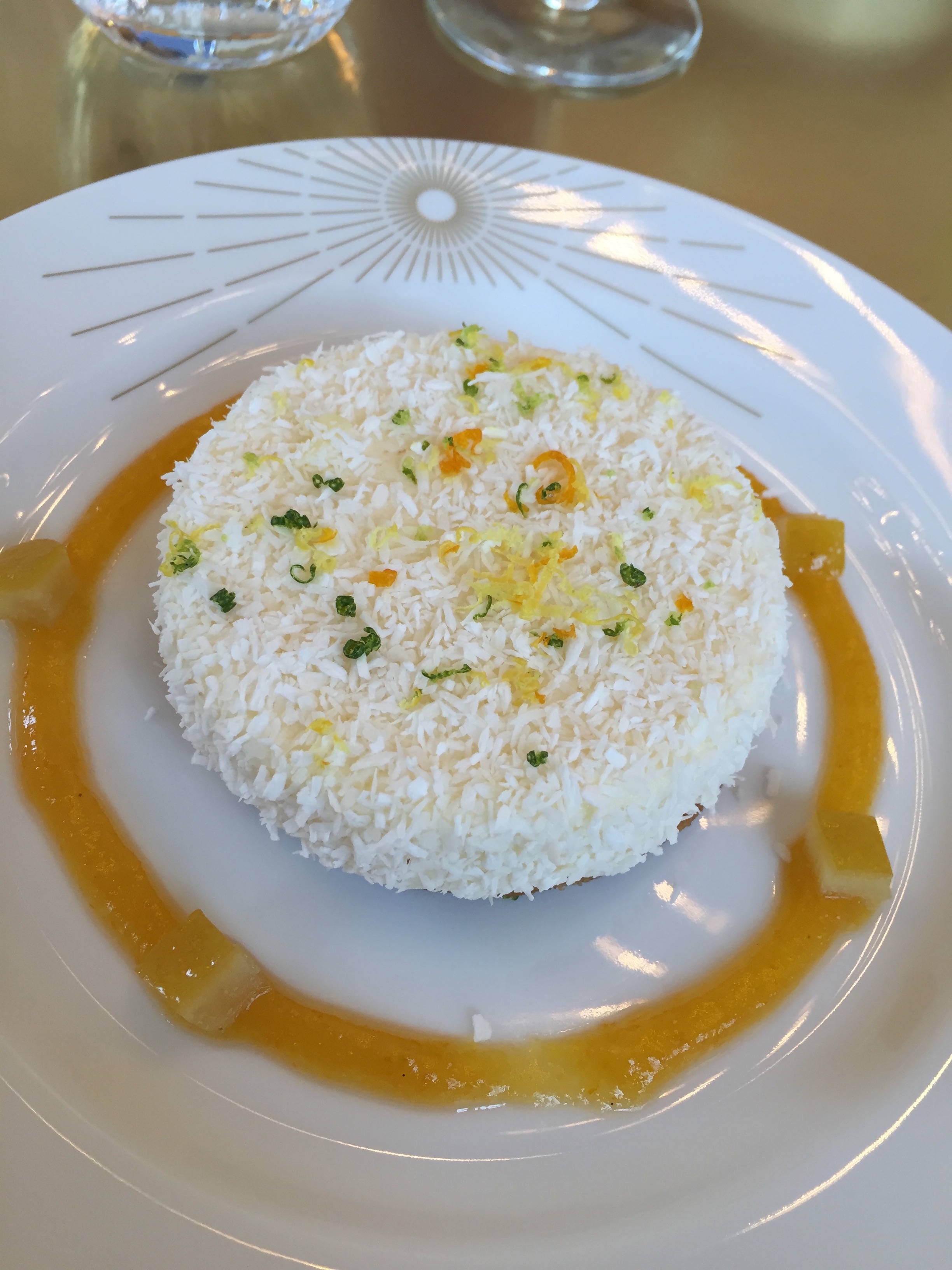 Desserts were, well, fit for a king or a queen. In fact I was really impressed by the quality of the pastry here, since the choux pastry of my La Religieuse was immaculate, the pastry cream was light but delivered a fine taste of freshly caramelised sugar, and the little caramel cape draped on the bottom orb was regally rich. Bruno's gateau au fromage blanc, agrumes confits was a decidedly elegant French rendition of the idiom of desserts made with fresh cheese and was further brightened and lightened by lime zest, tiny chunks of candied orange peel, and a collar of citrus puree with cubes of candied grapefruit.
Ore is a very good restaurant, and also one that I fervently hope will serve as the new model for dining in institutional settings in France. Oh, and just in case you're a big spender, Ore can be reserved for private dinners that feed anywhere from 2 to 120 guests.
Ore, Château de Versailles, Place d'Armes, Pavillon Dufour – 1st floor, Versailles, Tel. (33) 01-30-84-12-96, Open Tuesday to Sunday from 8am to 6.30pm. Closed Monday. Average lunch 35 Euros. www.ducasse-chateauversailles.com